Increase Organic Sales with Ecommerce SEO
Published on Apr 18, 2019
Everyone who builds a website wants visitor traffic to flow freely and frequently, but attracting the right kind of crowd is especially important for ecommerce sites. There are many ways you can pull people into your online store, including social media, pay-per-click advertising, and email campaigns. One of the best ways to find fresh new customers, however, is by appearing in organic search results.
Organic search is highly cost-effective because it's free. You earn your place on the search results page through relevance, not by bidding on clicks. That means paying attention to your Search Engine Optimization (SEO).
For ecommerce sites, SEO helps you communicate with Google, Bing, and DuckDuckGo, and gives them an accurate picture of the products you have for sale. SEO is also essential for customer engagement, as it helps you find words and phrases that people are already using to discover sites like yours.
When a person or search algorithm reads your website content for the first time, it is critical that it helps them understand exactly what your products have to offer. SEO helps you create strategic marketing messages that not only bring in new customers, but also the right kind of qualified buyers you need.
By following SEO best practices, your site is more likely to rank higher on search engine results pages (SERPs) than competitors. Sure, these rankings are highly competitive, but a robust framework that includes the right header tags, meta information, keywords, and clean website code will give you an edge over stores who pay no attention to SEO.
If you've been in the ecommerce space for long, you've heard some opinions about the effectiveness of SEO. You'll find proponents and detractors out there, but websites that optimize their content for search engine results usually earn better rankings, especially for highly-relevant keywords.
Every second, Google and other search engines make millions of calculations about what users are searching for, and deciding which web pages are the best options to serve. It's in a search engine's best interest to serve links that are valuable to consumers which in turn, brings in more ad revenue.
To some degree, the search algorithm guesses the website most likely to answer the query entered by the user. Over time, factors like the number of clicks on a particular link and time spent on those sites will influence which pages that search engine will serve in the future. That's why optimizing your website for accuracy, relevance, and technical speed is so important.
Here are five powerful optimization tips that can help your website get discovered, and better yet, see higher levels of sales conversion.
1. Make sure your ecommerce site is mobile-friendly
If you sell products online, having a website that is easy to use on mobile devices is crucial. In early 2018, Google announced a transition to mobile-first indexing, which means the company now crawls and indexes all websites using the mobile version of the site.
If you use a content management system like Drupal or WordPress to manage your site, you want to pick a responsive design theme. Responsive designs automatically adjust your website's look and feel for the display it's being viewed on.
This change is significant because it increases the importance of having images that load quickly on 4G connections, and text suitable for reading on smaller screens. There are dozens of factors to consider when optimizing for mobile-friendliness. Luckily, Google has a free tool you can use to scan your site and get detailed tips for improvement.
Aside from Google's tool, it's always a good practice to pull up your actual website on your mobile phone, and pretend to be a brand new customer. Visit pages as if you were shopping, and see if it is difficult to zoom in on product images or add things to your shopping cart. Have a friend do the same thing, and give you feedback on their user experience.
2. Use keyword tools to learn the phrases your customers use.
As a manufacturer, specialty retailer, or service provider, you probably have developed ways to talk about the products that make sense to you. However, customers may not use this same language when shopping online. The classic illustration of this divergence comes from the car industry. As the urban legend goes, dealers were commonly using the phrase "pre-owned vehicles" on their websites, but customers were searching "used cars." Once the smart car dealers did a little keyword research, they realized what needed to change.
By using keyword tools to explore the words and phrases customers are using, you can make the smart decision to include those exact words. By having exact-match phrases for the right high-volume search queries on your pages, you increase the likelihood of those people getting to your site.
Keywords are the key to success for two significant reasons. First, computers "speak" in numbers and letters, not feelings and sentiments (yet!). When you use text on your website that matches what qualified customers are typing into search boxes, search engines can see there is a potential match.
If all other factors also align, Google, for example, will try serving your web page the next time someone searches that phrase. If the user clicks your link, Google will then try serving your page on the subsequent search. The most popular your website becomes, the more often Google will consider your page for top placement.
The second big reason to use strategic keywords is to create a spot-on connection with the people searching. Humans naturally respond to the most recognizable signals. Sure, you may be proud of your innovative new aromatic wax illuminants, but your most qualified customers are searching for "scented candles." Your customers are much more likely to click on results that mirror their words.
There are many free dedicated keyword tools, but the best place to start is just by searching for similar products. Google and Bing both offer related suggestions when you search. Keywords Everywhere is a Chrome and Firefox extension that puts keyword ideas right on the page, almost everywhere. Keywordtool.io uses autocomplete suggestions from several major websites to curate lists of interesting target phrases.
Take a close look at these lists, and identify words and phrases that have a similar search intent, but may not currently appear on your product pages.
3. Thoughtfully organize your products and pages.
As you introduce more products and services to the marketplace, keeping your store organized is highly essential. If an unruly website structure prevents customers from finding the products they need, Google will begin to down-rank your pages in search results.
How does Google know your website is hard to navigate? If customers come to your site and leave quickly, without visiting any other pages, Google's crawlers will infer that the page content was not satisfactory. Also, if a search user clicks on your website, then hits the browser back button, Google will assume the page was not relevant to their search.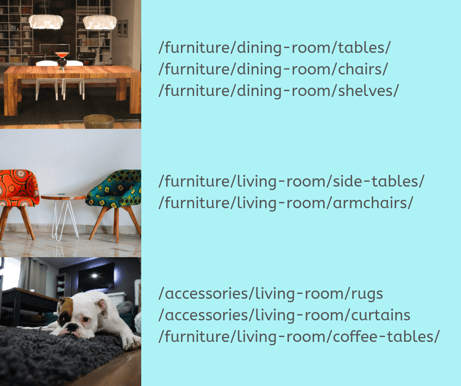 If, however, users spend lots of time on your website, effortlessly clicking from page to page, Google takes this as a sign that your product pages are engaging and useful. Consumer behavior online is similar to that in a real store, where people look at several related options before making a purchase decision. Having a cohesive, organized site structure leads to longer session duration, and frequently, better search rankings over time.
The structure of your website also helps search engine crawlers understand which pages are related and which are not. If you operate an online gift store, structuring your URLs and pages by category gives Google clues about the overall product selection on your website. If you have 30 pages with /candles/ in the URL, and 30 more pages with /bedroom-furniture/, this helps to make clear that you specialize in home decor.
4. Create descriptive page titles, meta descriptions, and image file names.
While the on-page copy is of the utmost importance, page elements such as titles, meta, and images also play a significant role in your sites search rankings. By including the top keywords from your research into these areas, you reinforce your pages' relevance to a given search.
Text marked-up within the title tag will appear in the browser tab as the name of the page. This text often appears as the most substantial text in your search listing. Therefore this must always be carefully written. The page title should concisely identify what the user will find on the page, focusing only on the most relevant words and phrases. As a rule of thumb, the title tag should be no longer than 60 characters. It's also a good practice to include your brand name at the end, to help distinguish your site from others.
Meta descriptions appear within the HTML code of a page and do not necessarily show up to visitors after they arrive on your site. Search engines frequently show meta descriptions within search results, below the page title. The text used for a meta description should be in the form of an easy-to-read sentence or two that includes at least one relevant keyword to the product or service featured on the page. The text in this field should be no longer than 160 characters.
Image file names, along with ALT text, are one of the hidden secrets of SEO. By using keyword rich names for your photos and illustrations, you can communicate to search crawlers what is pictured. So if you have a photo of a blue candle with the current file name of 00123546-98665666.jpg, change it to ocean-blue-scented-candle.jpg to increase your chances of that photo ranking in search. You should also use ALT text that describes your photo in a user-friendly way. This practice is known to help page rank, and also lets visually impaired customers understand what's shown.
5. Connect your online store with proprietary search engine tools.
Search engines want to serve the best results, and actually, give business owners many free tools to help with optimization. While it's not 100% required to connect with these tools, they will provide you with critical information that can help you move up in rankings.
Google offers the incredibly popular Google Analytics service, which gives enterprise-level traffic insights to webmasters of any size. Even with hundreds of premium website monitoring tools available, most marketers and webmasters rely heavily on Analytics. To access this dashboard, you must add a small piece of tracking code. Once verification is complete, Google does all the tracking for you. This data can give you clues over time as to how customers are behaving, and possibly uncover problems you didn't even know existed.
Google Search Console and Bing Webmaster Tools are free services that give you keyword and page performance insights. Like Analytics, a simple tracking code must be added to your site and verified to begin. Search Console and Webmaster Tools also have the option to add a sitemap. This addition ensures Google and Bing will always pick up new pages during their next crawl, provided XML sitemap is up-to-date.
Following these five steps will help any e-commerce site engage qualified traffic and secure more sales. There are hundreds of things to look out for when working to improve search rankings, so if these don't work for you, consult a professional SEO service. The results provided by Google, Bing, and other search engines change regularly, so be patient following any changes, and give the algorithms a chance to adjust accordingly. Make a note of the date of all changes, so you can pinpoint how each edit affects the keywords you are targeting.
This post was written by Rodney Brazil, Content SEO Manager at Namecheap.
Subscribe for Updates
Get our best content on ecommerce marketing in your inbox 2 times a week.
Subscribe for Updates
Get our best content on ecommerce marketing in your inbox 2 times a week.