Black Friday 2020 Email And Offer Examples You Can Steal From These 7 Brands
Published on Nov 19, 2020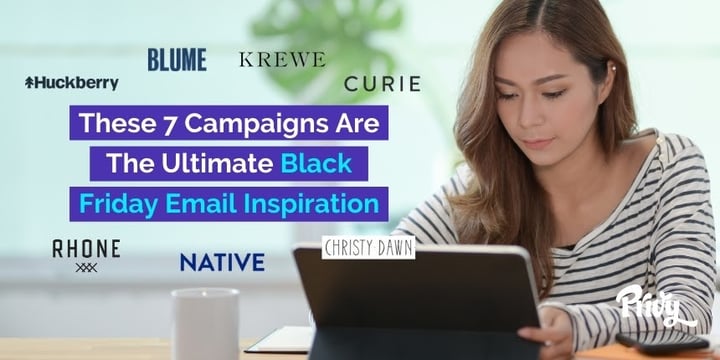 I don't know about you, but my inbox is already bursting at the seams with sale, early access, and Black Friday/Cyber Monday emails.
So I went through my inbox to find some of my favorites.
Just in case, you know, you need some last-minute email ideas.
But it doesn't stop there…
You'll get popup examples, social posts, and homepage screenshots. So you can steal from 7 amazing ecommerce brands.
Get our best content on ecommerce marketing in your inbox 2 times a week
1. Blume's BOGO Black Friday Offer
Blume, a self care brand, launched their Black Friday sale early this year.
It's a Buy 2 Get 1 offer.
And the email starts off with "In the spirit of slowing down, we're dropping our annual Black Friday sale early."
It feels really authentic, but it's also really simple.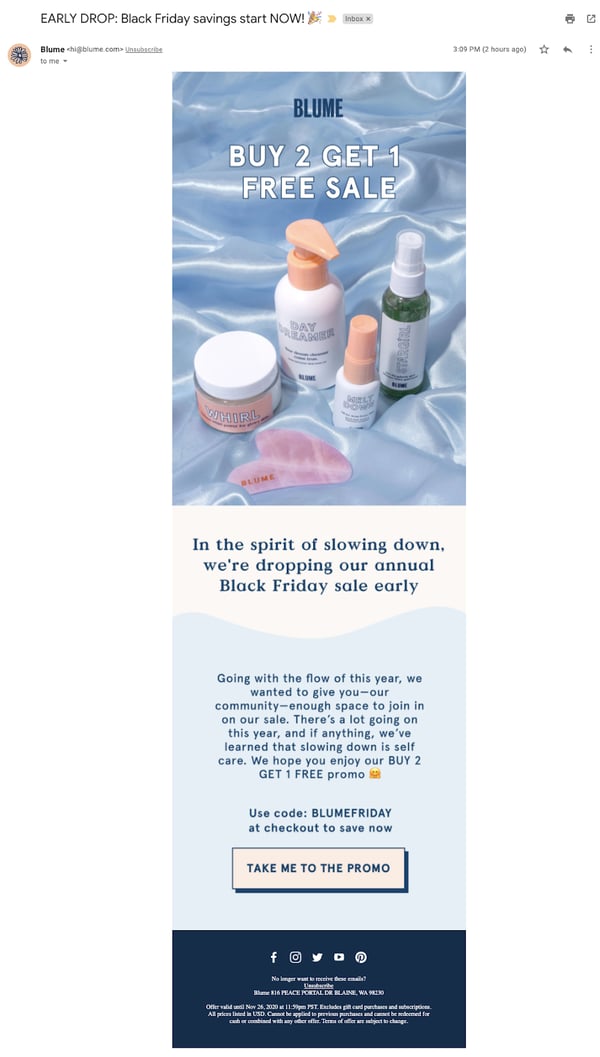 And they tell the same message across every channel. Starting with their homepage.

And they also have a bar at the very top of their site that stays with their visitors no matter what page they're on and includes the discount code to make it extra easy (and improve the chances that people make a purchase).

Pssst. You can use our Free Shipping Bar to create something like this. 👆
But they don't stop there…
The same message is also shared on social media.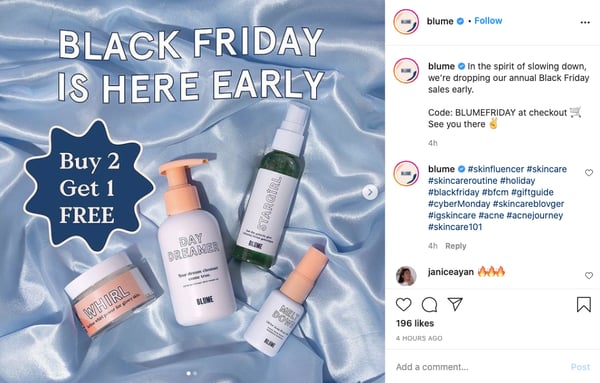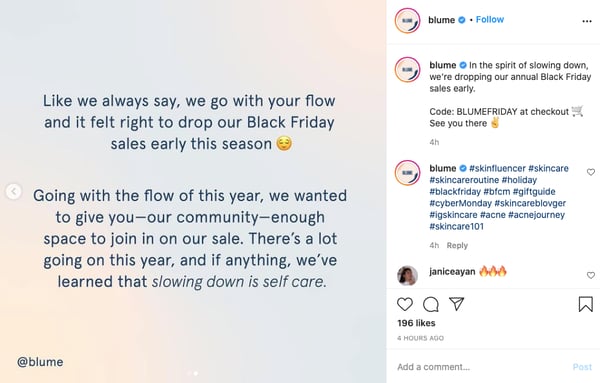 Takeaway: Tell a consistent story across every channel and make it feel authentic.
2. Christy Dawn's Black Friday Collection
Rather than offering a sitewide discount, Christy Dawn launched a 30% offer on a specific collection of items.
Like Blume, Christy Dawn's message feels sincere. "We're entering the holiday season with full, open hearts and a tremendous amount of gratitude."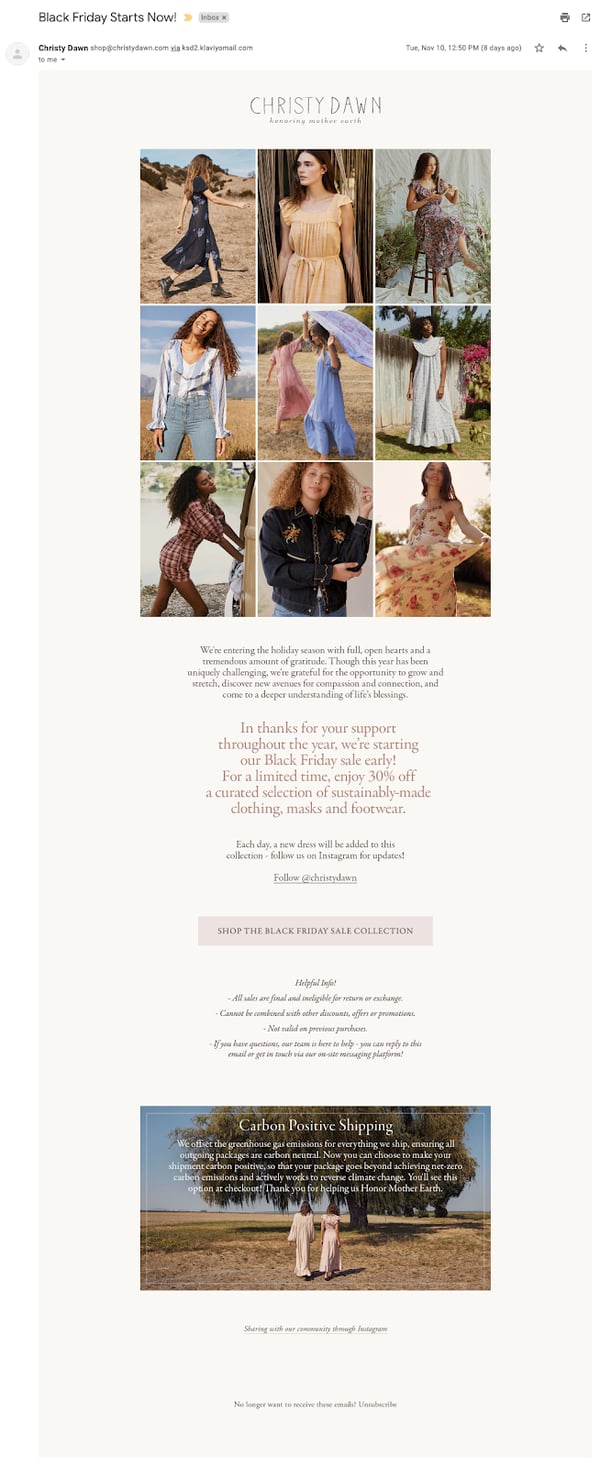 But what makes it extra interesting is the fact that they add to it every day…
And you have to check their Instagram to find out what's new. So not only are they encouraging people to keep coming back to see what's new, they're also getting new followers on Instagram. Pretty clever, right?
Here's an example of one of their new sale drop announcements.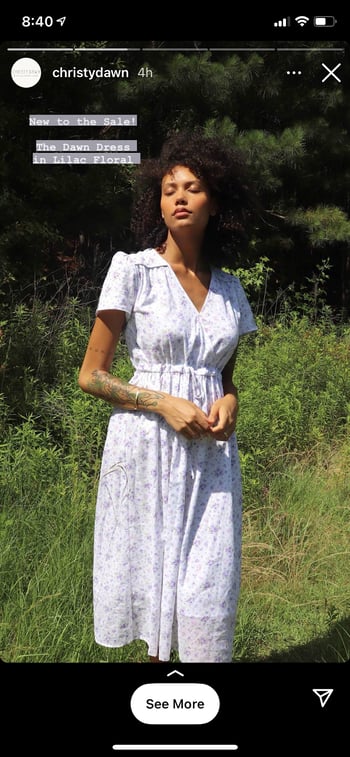 They also have a bar at the top of their site that points visitors to their sale collection. But they use the top of the collection page to reiterate the same message.

Takeaway: You can gain new followers on social by pointing your subscribers there to get new sale drops first. *The only thing I want to mention here, is that if they still sent emails (even if it were the next day) to their list about the latest sale additions, it would drive even more traffic and purchases.
3. Curie Day: Sitewide Promo
This one from Curie is a great example of creating your own holiday.
Theirs just happens to be right around Black Friday...
And you can steal everything they've done for this sitewide sale for your BFCM campaign.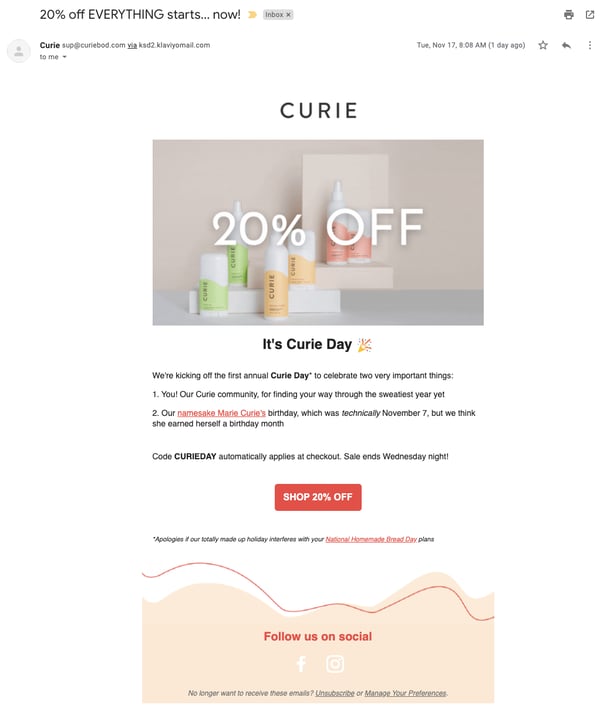 My favorite line of the email is, "Apologies if our totally made up holiday interferes with your National Homemade Bread Day plans."
And when you land on their site, they have this popup to point you to the sale. No form, nothing. Just an easy way to get to the sale.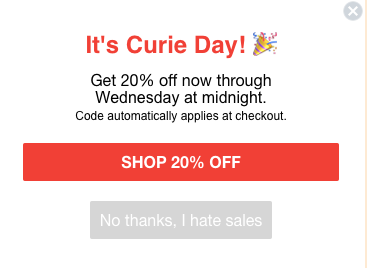 And just in case you missed their first email, they sent a reminder email to let you know the sale ends soon.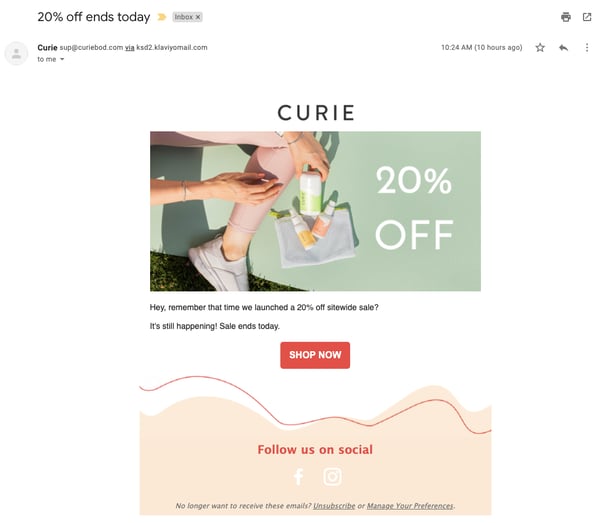 Takeaway: Send reminder emails. And if you create your own holiday, give your subscribers some context. For example, their sale is in honor of their namesake's birthday.
4. Huckberry's Only Sitewide Sale Of The Year
Yes, sitewide sales are really common.
But I love the way Huckberry positions theirs. "You know how many sitewide sales we've had this year? Zero. You've been waiting this whole year, and it's time that patience finally paid off. For one day only, get up to 15% off the entire site. We don't do this often, in fact it's our only sitewide sale of the year."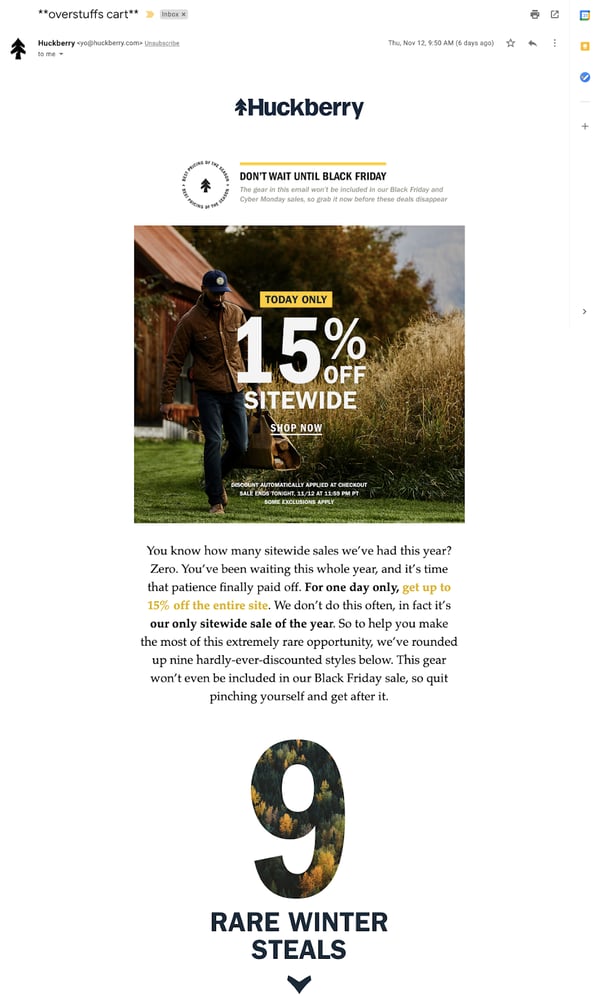 Then, later the same day (because it was only a 24-hour sale), they forwarded the same message from earlier in the day, with a plain text note from a real person.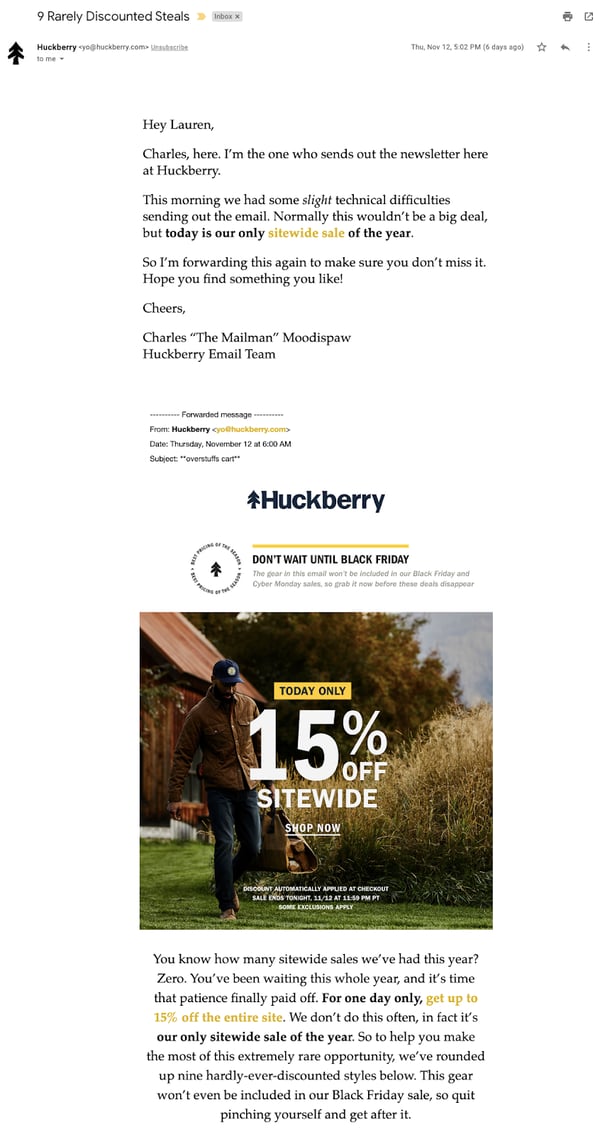 I love that he introduces himself and is up front about why you're hearing from him again. "This morning we had some slight technical difficulties sending out the email. Normally this wouldn't be a big deal, but today is our only sitewide sale of the year."
Such a great play. 👏
Key Takeaway: If you don't run sales frequently, lean into that. Hard. Just like Huckberry did.
5. Krewe's Deep Discounts
Every year, Krewe, runs an up to 70% off sale.
The email has a bold design, but is really simple and does a great job driving urgency. "TBH we expect to sell out – get shopping."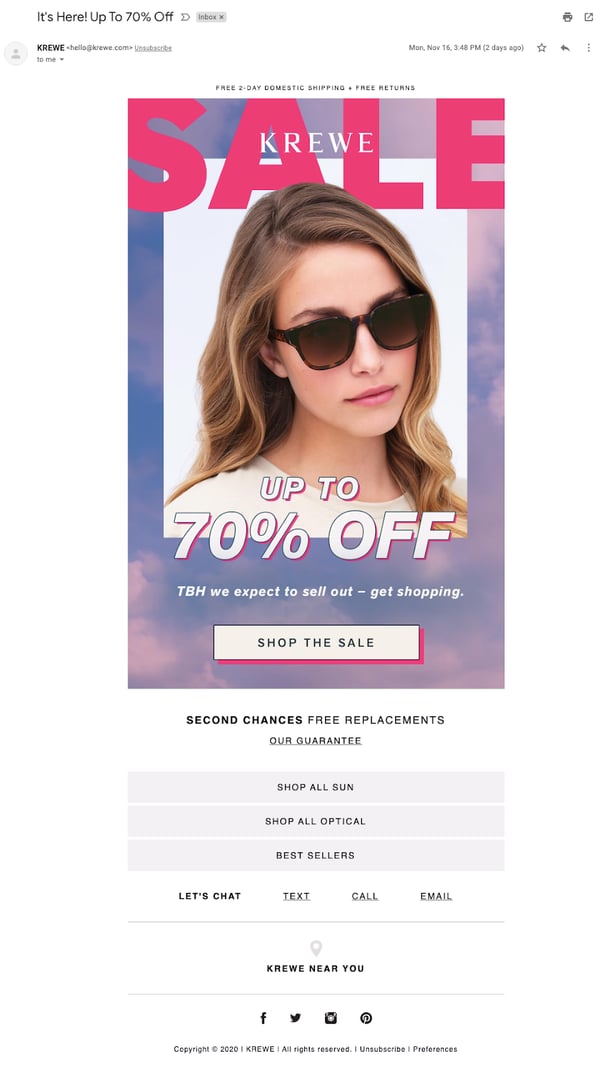 But even before I got that email, I saw this text come through.
And you'll see they send a second, followup text later in the day.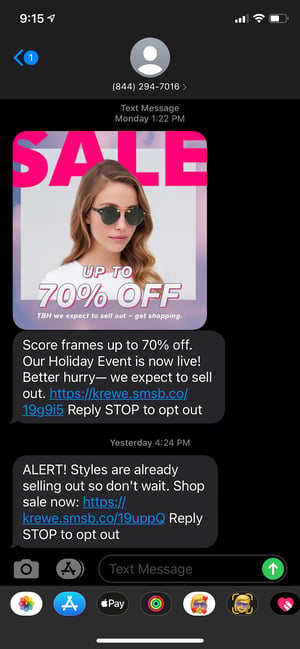 They also made the sale front and center on their homepage.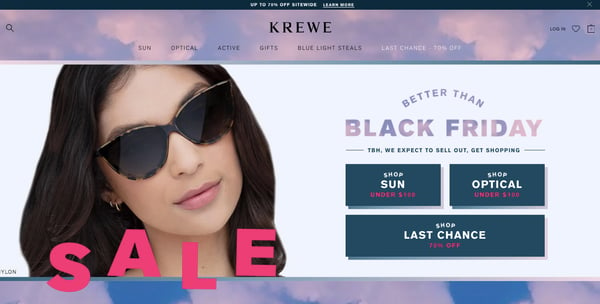 You really can't miss it, can you?
Key Takeaway: If you have a text list, there's never been a better time to use it. Just make sure you're supplementing that with all the other tactics (email, onsite, etc.).
6. Native's Early Sitewide Discount & Holiday Sets
Native launched an early bird 20% off sitewide sale.
But they also used that email to showcase their holiday gift sets.
Which is pretty smart - because even if you open the email after the sale has ended (like I did), you'll see their holiday collection and potentially still purchase.

Key Takeaway: Use your emails to showcase bundles and gift sets to make sure your subscribers know if you have any holiday-specific products.
7. Rhone's Sitewide Sale & Their Holiday Contest
The Rhone team launched their 30% off sitewide sale early this year. And it's the biggest sale they've ever had.
But in the announcement email, they also shared a contest.
They're hiding characters in each of their emails (which encourages people to open, look for, and engage with any email they see from Rhone) and the 10 winners will get free Rhone merch. I LOVE this play.

Then for the actual launch of the sale, they sent this email and reminded subscribers that it's their biggest sale.

And it's worth noting that so far, I've received 6 emails from them about this offer. And guess what. It hasn't felt overwhelming. Remember that as you finalize your BFCM emails.
Like a few of the other brands, Rhone also makes it incredibly clear what the offer is the second you land on their site.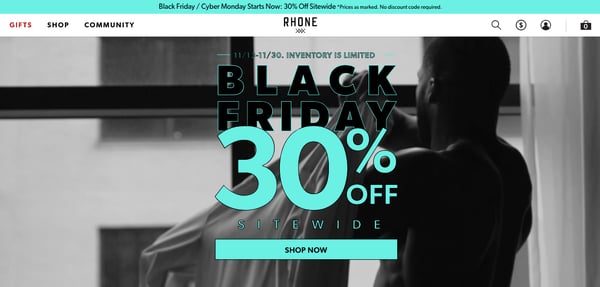 Key Takeaway: Get creative. Rhone is encouraging subscribers to be on the lookout for all their emails with this contest they're running.
Key Takeaways For Your 2020 BFCM Campaign
Make sure you're telling a cohesive story across every channel (email, social, on your site, everywhere).
Send reminder emails. People's inboxes are especially crowded right now. Remember that and make it easy for them to find your messages (AKA: You can't just send 1 email and expect to drive insane sales).
If you don't run sales often, tell people that!.
Get creative with your campaigns (like Christy Dawn and Rhone).
Subscribe for Updates
Get our best content on ecommerce marketing in your inbox 2 times a week.
Written by Lauren Hall
Lauren is a Brand Marketing Associate at Privy. She's the brains behind all things content. When she's offline, she's obsessing over her Bernedoodle pup, Monster, and plotting ways to being a full-time Vermonter ASAP.
Subscribe for Updates
Get our best content on ecommerce marketing in your inbox 2 times a week.