2020 Email Marketing Benchmarks & Tactics To Improve Your Email Metrics
Written by Daniel J. Murphy
At this point, you get the basics of email marketing. You know how to use an email marketing platform and track campaign performance. And while it's been exciting to see your email list grow, sometimes you wonder...

Is my email marketing performance as good as other brands?

Don't worry—comparing yourself to others is a good thing in email marketing. If you know how other companies' emails perform on average, you have a framework for evaluating and improving your own messages.

Here, we've laid out the latest email marketing benchmarks by aggregating data from notable sources like Mailchimp, Campaign Monitor, and GetResponse. These figures have been pulled from 30+ billion emails, and many of the senders have 1,000+ contacts. Along with this data, we've got some email marketing tips to help improve your conversion metrics if they aren't quite meeting the mark.
Here is what we will be covering in this article:
Get our best content on ecommerce marketing in your inbox 2 times a week
What is the average email open rate benchmark & how to improve it?
Average email open rate benchmark: 20.4%.
The most basic email performance metric is the email open rate. This metric represents the percentage of recipients who (you guessed it) opened the message.

On average, companies see an open rate of about 20%.

Here's two things you can do if your average open rate falls well under 20%: revamp your subject lines and test your send time.
Fix #1: Change your email subject line length and content
For a subject line to motivate an open, it needs to be fully viewable on any screen. Sounds obvious, but you'd be surprised by how many brands send an email with a cut off subject line.

Avoid this email copywriting mistake by keeping your subject lines brief. Mailchimp suggests using no more than 9 words or 60 characters. If you stick to this short length, recipients should be able to see your entire subject line, no matter what device they're using.

Besides length, the language of your subject line matters. Many brands don't take subject line writing seriously because it involves few words. But you have to remember: people receive tens, if not hundreds, of emails a day. Why should they open your message if the subject line isn't compelling?

Grab shoppers' attention by following these subject line writing tips:
Stick to your unique brand voice instead of relying on the same trendy phrasing that every other company uses. Last Christmas, Everlane gave their email a sassy, punchy subject line. Many brands use cheery holiday puns in their subject lines at that time of year, so Everlane's direct, funny language was a standout in inboxes.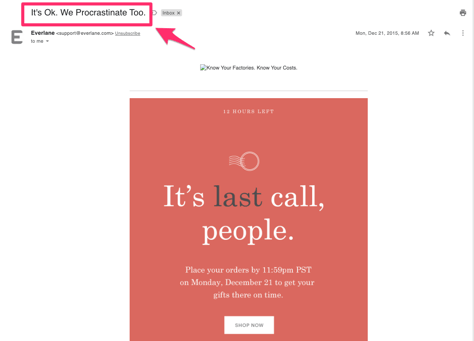 Minimize punctuation. You want readers to be excited about your message after reading the subject line—but that doesn't mean it needs to include a million question marks and exclamation points. Overdo the punctuation and your subject line will read as spam.
Try out emojis. GetResponse found that messages with emojis had a 3% higher open rate than those that didn't.
Subject lines play a huge role in shoppers' decision to read emails. Encourage more opens with subject lines that are to-the-point and playful.
Fix #2: Test the time and day of your email send
Imagine opening your inbox. You see emails from two of your favorite brands. One was sent minutes before; the other was sent hours ago. Which one are you more likely to open?

For most of us, the answer is the most recent message. You won't dig through your inbox to read every promotional email you receive. But if the message was sent recently, it's easy to click on because it's right at the top of your inbox. In fact, GetResponse's data shows that most email opens happen within the first hour a message is sent.

What does this trend mean for brands? Send emails when shoppers are most likely to be checking their inboxes. If you catch them just as they sign on, they're more likely to open your message.

The two times with the highest open rates are 10 a.m. and 1 p.m. Presumably, people check their emails just as they settle into work and when they take their lunch breaks. These times may not apply to your target customer, though, if they don't have a 9-to-5 job or go to school. Consider your audience's unique schedules to guess when they might be reading their emails.
What is the average click-to-open rate and how to improve it?
Click-to-open rate bencmark: 14.9%
A high open rate is a great start, but it isn't the end goal of a campaign. What you ultimately want to see is that people are engaging with your message, not just opening it.

To measure this engagement, track your campaign's click-to-open rate (CTOR)—the percentage of people who clicked on a link in your message, out of everyone who opened the email.

CTOR is often confused with click-through rate (CTR), but they're distinct. Your CTR measures the percentage of people who clicked out of all recipients, so it can be impacted by a number of factors. CTOR is a pure measure of how engaging the message's body is, plain and simple.

On average, companies see a CTOR of nearly 15%.

If your campaign's CTOR is well below 15%, take a hard look at the body of your email. Is there room to make it more engaging? Consider adjusting the placement and the text of your CTA button to make it more noticeable and enticing. And segment your campaigns, if you aren't already, so your campaigns are relevant and useful for recipients.
Fix #1: Optimize your CTA placement and text
For every marketing campaign, there is an action you want recipients to take, whether that's using a discount code or browsing your new line of products. Businesses guide shoppers to take that desired action with call-to-action buttons in their emails.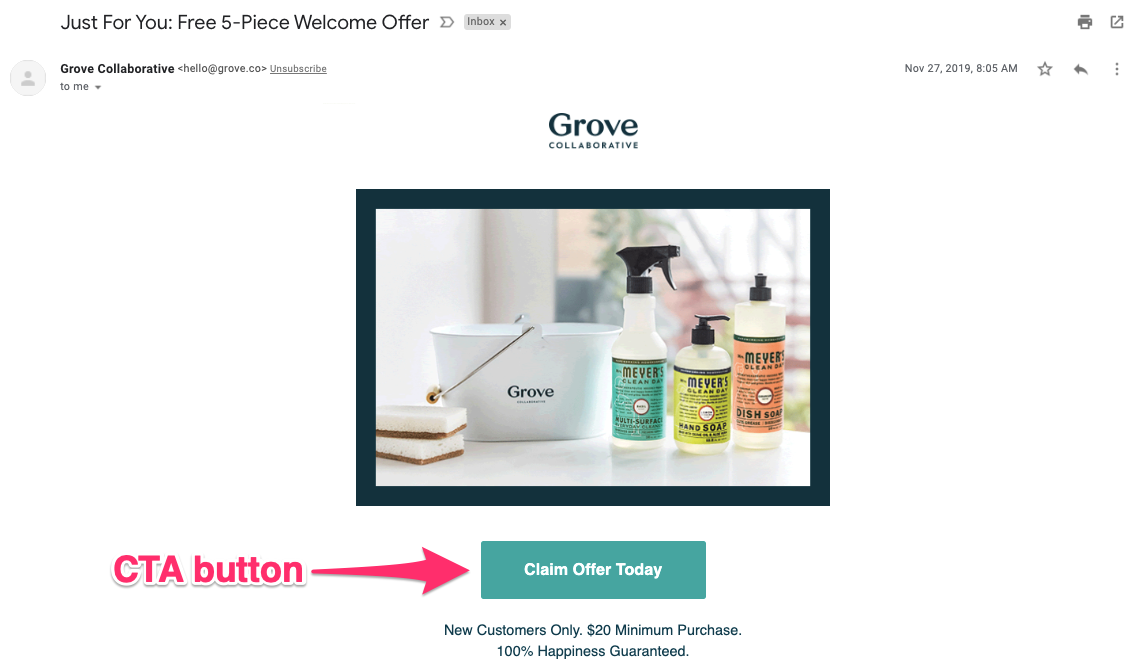 The household cleaning products company Grove grabs shoppers' attention with a bold, sea green CTA button.

But you won't drive people to click with just any CTA button. The design element has to be easy for shoppers to notice, even if they're quickly scrolling through messages. Equally important, the text on the CTA button has to be motivational. If it promises something valuable to shoppers, they're more likely to click.

Craft CTA buttons that stand out and drive clicks with these tips:
Size: Apple recommends that CTA buttons be 44x44 points so they're easily touchable on mobile.
Contrast: Choose bold colors that stand out against the rest of the message.
Language: Don't just tell the reader what to do ("click here"). Use descriptive language to tell the reader why they should click ("Get 75% off today").
Create your CTA with the goal of enticing shoppers—through both the design and the text—and they'll be more likely to click on your message.
Fix #2: Segmentation for relevant content
Don't expect shoppers to engage with your email if it isn't relevant to their lives. People engage with messages that are curated around their needs and interests. According to Experian, personalized promotional emails have 41% higher unique clicks.

Drive clicks by segmenting emails. Instead of sending the same messages to your entire email list, deliver campaigns based these recipient factors:
Demographics, such as location, occupation, and age. A clothing brand might send a promotional email about their puffer jackets to Midwestern shoppers but not to buyers on the West Coast.
Product preferences. Remind shoppers about products that they left in their carts or previously viewed. Or you might recommend products that are similar to ones from their order history. The wine subscription company Winc suggests four bottles for customers to try in the email below.

Email engagement history. Deliver messages based on what recipients clicked on in the past. Say you're planning to send an email with video. You could check to see which recipients clicked on past emails with video, and then send the newest message to those recipients.
People aren't going to click on content that they don't connect with. Send messages to shoppers based on their individual needs and interests and they'll be much more likely to click your CTA.
What is the average unsubscribe rate benchmark and how to improve it?
Unsubscribe rate benchmark: 0.19%
If a high CTOR is the dream email metric, a high unsubscribe rate is the nightmare of campaign results.

Your campaign's unsubscribe rate is the percentage of recipients who opt out of your email list after receiving your message. Once someone unsubscribes, the chances of getting them to sign up again are low.

On average, companies see an unsubscribe rate of nearly 0.2%.

A high unsubscribe rate is a sign that shoppers aren't happy with your campaigns. They might not find your messages relevant, in which case, you should review your email segmentation (see the last section). Shoppers are also likely to unsubscribe if they think your brand sends too many emails.
Fix #1: Make sure the number of emails you send meets expectations
People don't mind occasional emails from brands, but they also want to keep their inboxes clean. If you constantly send messages, they're going to opt out of your list.

So how often should you send emails? There isn't a clear-cut answer, but, generally speaking, weekly campaigns seem to be safe. In a MarketingSherpa study, the majority of respondents said they wanted emails "at least monthly," "at least weekly," or "weekly."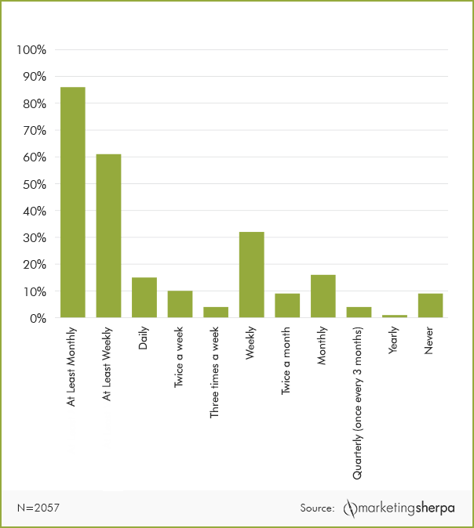 [Source]

And in a GetResponse report, weekly emails received the highest number of opens. The report didn't include data on unsubscribes, but the high open rate suggests that people are responsive to weekly emails.

Instead of setting a single email cadence, you can also let shoppers decide how often they want to receive messages. Many brands include an "update subscriber preferences" link at the bottom of their messages.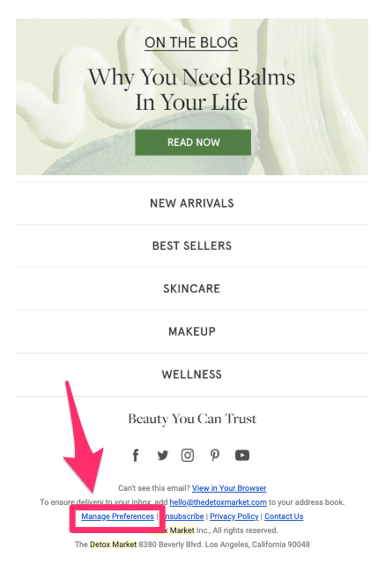 The skincare and makeup brand Detox Market allows users to set their email preferences with a link at the bottom of the email.

If shoppers click the link, they can set the frequency and content of campaigns they receive.

A constant stream of promotional emails doesn't build brand affinity—it drives shoppers away. Limit unsubscribes by sticking to a weekly email cadence or by letting shoppers set their own email frequency.
Fix #2: Reengage your email list with new email campaigns
Even if you include an "update subscriber preferences" link in your messages, there's no guarantee that unhappy recipients will click it. Be proactive by sending a reengagement email to people who haven't engaged with your messages for a significant chunk of time.

This message should gauge what recipients want out of your emails—how often they want to receive messages and what types of emails they want to receive. With this input, you have a chance to win back their engagement and potentially avoid unsubscribes.

To drive responses, a reengagement email should include:
A reminder of why the recipient might have initially subscribed. Describe what makes your brand's messages valuable, whether that's discounts or new product announcements.
A CTA to update their email preferences. Direct shoppers to a page where they can set how often they receive emails and the types of email campaigns they want to receive.
Ways to connect with your company on social. Email may not be the preferred type of communication for all of your shoppers. Tell shoppers about the social platforms your brand uses, in case they would rather connect via those channels.
The reengagement email for the outdoor retailer L.L.Bean meets all of those criteria.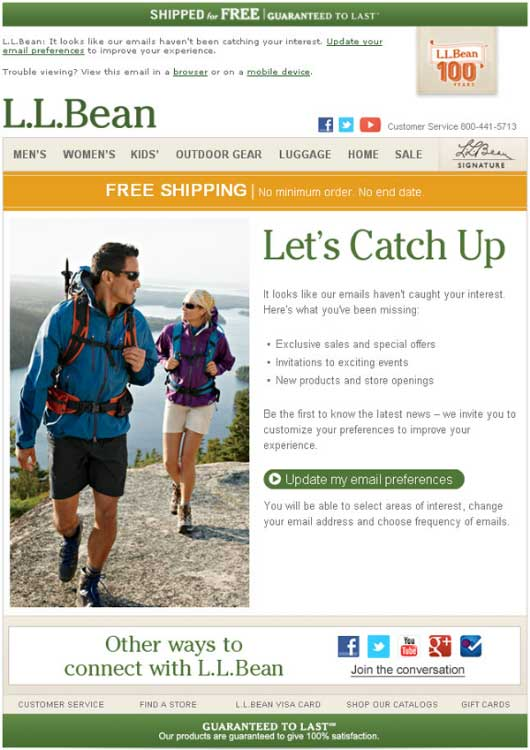 [Source]

The brand reminds shoppers why their campaigns are worth receiving—they include special offers, event invitations, and more. There's a clear, noticeable CTA to update preferences, and the bottom of the email shows other ways to connect with L.L.Bean.

Unsubscribes will happen, but some are avoidable. Keep your unsubscribe rate healthy by asking shoppers about their email preferences and sending messages at the frequency they want.
What is the average bounce rate benchmark and how to improve it?
Bounce rate benchmark: 0.64%
Like unsubscribes, your campaign's bounce rate is a metric you want to minimize. It's the percentage of messages that weren't delivered to recipients either for a permanent reason (a hard bounce) or a temporary reason (a soft bounce).

A hard bounce often happens because the recipient's email address is invalid or they have marked your email address as spam. A soft bounce is usually due to an issue with the recipient's email, like their mailbox being full or their email server being down.

On average, brands see a bounce rate of 0.64%.

If you're hoping to lower your bounce rate, recognize that there are limits to what you can do. No, you can't control whether your recipients' inboxes will be full or if their email servers are working. But you can lower your bounce rate by removing invalid addresses from your list and crafting your emails to not look like spam.
Fix #1: Prioritize email list health to ensure email deliverability
The easiest way to lower your bounce rate? Remove invalid email addresses from your contacts list.

This cleanup improves your entire email reporting, not just your bounce rate. Invalid contacts won't be factored into your performance, so you should see higher engagement numbers.

Regularly check and update your email list by using an email verifier tool, such as Never Bounce.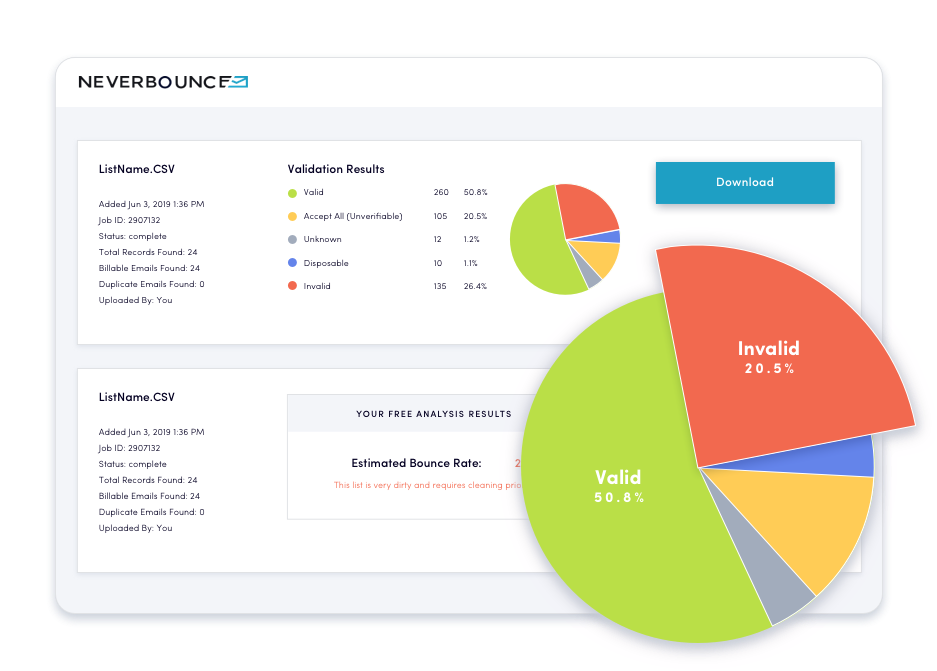 [Source]


This paid tool automatically cleans your email lists and checks whether addresses are valid when added to your contacts. There is also a free tool from Email Hippo, but it only allows you to manually check one email at a time.

A double opt-in sign-up process is another way to keep your email list clean. With this setup, people have to confirm their subscriptions by clicking on an email sent to their inbox.

Double opt-ins add friction, but they also attract active subscribers. People who take the time to confirm will most likely be engaged recipients, and fake email addresses won't be able to confirm their subscription.
Fix #2: Maintain message quality to increase engagement rates
After removing invalid email addresses, you may find that your bounce rate is still high. In that case, you'll want to evaluate whether your messages seem spammy to your email recipients or email filters, leading them to block your address.

"Spammy" may sound subjective, but spam filters have surprisingly clear criteria for messages to block. Here are a few factors to avoid when writing your campaigns:
A large number of links. Filters check for a high text-to-link ratio, so only include essential links in your message, like your CTA button.
Overuse of punctuation. A large number of exclamation points and question marks is a clear red flag for spam filters.
Large, dense files, like a high-resolution photo. Filters often mark emails with large attachments as spam, in case the files have viruses. Compress images and files so your message isn't marked as spam.
For your email to reach as many people on your list as possible, you have to take a hard look at your bounce rate. Start by cleaning your email list. If your messages are still being blocked, rework your campaigns to look less spammy.
A/B test your email marketing strategy to meet benchmarks
There is no single solution for improving your email performance.This is why A/B testing your email campaigns is the best way to understand what works for your business and audience. Further to external benchmark data, benchmarking your own email marketing performance is the best indicator where you can improve and how to get there.
Your audience is going to respond differently to campaigns over time, so you can't rely on the same email tricks forever. Instead, experiment with new tactics based on the suggestions in this guide to keep things fresh.
Once you see improvements, keep tracking your email performance. If you keep a vigilant eye on your data, you'll see the early signs of slumping performance and be quick to adjust your campaigns.
Email Marketing Benchmark FAQ
What are email marketing metrics?
Key email marketing metrics to pay attention to are: open rates, click to open rates, unsubscribe rate, bounce rate and list growth rate. These email marketing metrics should be taken into consideration in relation to your goals. They should also be considered together to indicate the health of your email list.
What is a good CTR for email marketing?
A good click through rate (CTR) for email marketing really depends on your industry. However, it is widely accepted that a 2.5% is an acceptable click through rate for emails.
What is a good open rate for emails?
A good open rate for emails is within the range of 15-25%. It's important to note email metric averages vary by industry and audience.
How do I improve my email conversion rate?
To improve email conversion rates, you need to think about your target audience and make the content easy to read and relevant. Key factors that impact email conversion rates are: proper list segmentation, optimizing emails for mobile, implementing behavioral targeting, personalized email copy, and to-the-point messaging.
Subscribe for Updates
Get our best content on ecommerce marketing in your inbox 2 times a week.
Written by Daniel J. Murphy
Dan is a B2B marketing leader with over 7 years of experience helping SaaS startups grow. Before joining Privy, Dan was the Director of Product Marketing at Drift. He's also worked in demand generation, brand marketing and marketing ops. Dan loves to geek out over marketing strategies and technology. He co-authored "This Won't Scale" with Privy's CMO, Dave Gerhardt at their previous company.
Subscribe for Updates
Get our best content on ecommerce marketing in your inbox 2 times a week.