Double Down: Why Now Is The Time To Focus On Your Existing Customers
Published on Mar 31, 2020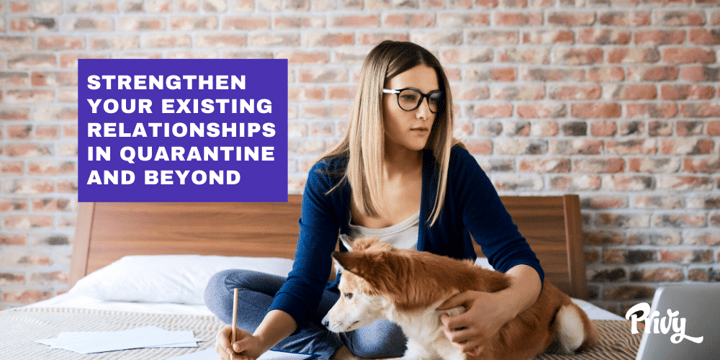 Last week, I was listening to an episode of Playing for Keeps with Kristen LaFrance and Val Geisler about how ecommerce brands should be handling the current crisis.
They talked a lot about why now is such a good time to focus on strengthening your relationship with current customers.
And how some of their favorite brands are doing it.
But I wanted to pick Kristen's brain a little more. And luckily, she was game.
Get our best content on ecommerce marketing in your inbox 2 times a week
So she shared a ton of advice about how ecommerce brands can be using the time to build lasting relationships and market to current customers even if their product doesn't necessarily align with the current WFH lifestyle.
[Lauren] With everything that's going on right now, it's never been more important to focus on the customers you already have. What you're doing today can impact how people support you when the market bounces back. Does this mean that you touch on what's going on in some small way every time you reach out to customers or can you send one email and be OK sending regular emails/posting regularly on social, etc. after that?
[Kristen] The bad news: This is a really tough question without a clear black or white answer.
The good news: That can be considered a real challenge, or an opportunity for ecommerce brands right now. Your mindset is the most important thing as we deal with this unprecedented change in our world.

Unfortunately, I cannot give you a point-blank yes or no here. How you communicate the current situation with your customers (and how you choose to continually communicate) will depend greatly on your brand voice, positioning, product, and current community engagement.
In the end, I cannot give you the right answer, but your customers can.
The best advice I can give you is to be really thoughtful, considerate, and show lots of empathy for your customers. Ask yourself: What does our community need right now? And what are we uniquely positioned to provide?
As you consider communication right now, keep a pulse on how customers are responding. Oui the People, for example, sent one email to their highest engaged tier — then point-blank explained that it would be the only time they really talk about COVID-19.

Karen Young, CEO and Founder of Oui the People, shared her strategy behind this move:

"I think it's important to understand that our customers are flooded with information right now and as a bodycare brand, telling them more about COVID isn't our lane. They're also overstimulated and scared! They didn't come to us for fear, they come to us because we offer great products that work. We made that promise because it's an early trust exercise between us and our customers. We're saying "when you open your email and it's from us there will be no fear included. Instead...how can we help?"
The important piece to remember is that Karen is not saying "back to business as usual." She understands that her community doesn't need more COVID-19-specific email content from Oui the People right now.

But that doesn't mean they're going back to autopilot, either.
They are still analyzing each email, social post, etc. to ensure they are providing something of value during this time.

In short: Spend more time connecting with your audience and working to understand what they're looking for, then approach each communication point with that lens.
[Lauren] What advice do you have for brands whose products don't necessarily fit into staying at home? How can they be building rapport with customers right now?
[Kristen] Something that's really important to remember is that we are not just selling products to customers. You are selling an idea, a solution, or a version of your customers that they want to become.
Let's use hiking boots as an example:

This week, I purchased a new pair of $170 hiking boots. If we look at that purchase on a surface level, you would say I purchased them because I needed better grip and tread for my hikes.

But in reality, the deeper motivation had more to do with how I align my (future) self with those shoes.
By investing in nice hiking boots, I'm actually investing in myself — the idea that better gear will make me a better hiker, which will make me a better Kristen (because I value exercise and getting outside).
Those motivations and values don't necessarily halt because the world has. Even if I can't wear them for a while, I feel intrinsically good about the purchase because my values have not changed.

Right now, understanding your customers' deepest motivations is more important than ever. Even if your product doesn't directly fit into the "stay at home" era, there's still opportunity to connect.

Let me give you a tactical example.

Back to hiking boots: This is a fully out-of-the-home product by nature (pun intended). And yet… we could say "Okay no one is buying this now, halt everything," OR we could say "How can our brand and products still connect during this time?"

In this case, this could be a great opportunity for valuable product education. For example, HOKA could explain why it's beneficial to break in your hiking boots inside first, then create a guide for doing it right.
Suddenly, buying an out-of-the-home product seems like a good idea. Powerful stuff, right?

Ben Jabbawy, Founder and CEO of Privy, really said it best here: "The people who are looking for a desk for their office, or new shoes, are still looking for those things."

AKA: If you understand what your customer is actually buying (beyond your product), you have a better chance of surviving through this time.

To play devils' advocate, though, there will be brands who are going to have a bigger hill to climb. That is inevitable.

So no matter what camp your products sit in, commit to the long-term plays. Do whatever you need to extend your runway as far as possible (without harming your customers or employees) and then plan for recovery.

You've worked to build the customer relationships that you have right now. Focus on fostering them for the long-term rather than squeezing everything you can out of them now.
[Lauren] How do you think about sending discount codes right now? Because SO many businesses out there are doing that, it might get lost. What else can brands be doing to stand out?
[Kristen] Discounting is a really hot topic right now, and how to approach it is a really difficult choice for DTC brands. LIke just about everything else, there's not necessarily a right or wrong move (but there are pitfalls to avoid).

For most companies, deciding whether to discount is going to come down to extending your runway. How far can you sustain with your current cash flow? Do you need to build more? If so, what discount will actually provide that without being detrimental to your long-term brand value?
(Perceived value vs. actual value is an important concept to understand. Here's an email I wrote about this.)

Discounting should not be your first move, even if you do decide to add in some specific discounts. Think creatively about other ways you can encourage shopping (like we talked about above). Or focus long-term if you have the runway to do so and focus solely on other areas.

Battlbox and Carnivore Club, for example, have done some sales in the last week, but they were only announced to certain audiences (i.e. their most engaged and loyal customers). On top of that, John Roman, Head of Growth for both companies, explained a product shift they have done in lieu of heavy discounting:

"Instead of just adding additional discounts, we instead came up with some new kitted SKUs."

Carnivore Club created an 18 snack bundle and Battlbox launched a Big Prepper and Prepper Starter Kit.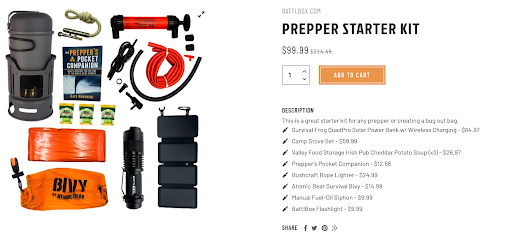 Simply put: Instead of slashing prices, they leveled up to match the situation, while keeping their focus on value.

Damian Soong of Form Nutrition has a really great approach right now: "We're not doing anything publicly but offering to support existing repeat customers. For me this is a time to double down on retention and content."

Form saves discounting only as a reward for its loyal customers, keeping the brand image and value up while encouraging longer LTVs. Something to consider.
To hear more about Damian's approach, tune into this interview I did with him a few weeks ago.

Kaitlin Holliday, Head of eCommerce + Data at Four Sigmatic, also shared how they've approached this issue:

"We're not doing site-wide discounting right now. We're doing some product-specific discounting and bundles that might support our customers through this tough time.We're focusing more on supporting through relevant content – emails, social, webinars. Trying to think about what our customers are going through (which we're all going through, so not hard). The most authentic way we can support is through immune supporting products & content. We have an herbalist on staff and she's been instrumental in not only speaking to how functional mushrooms can support immunity but also what else we can be doing.
TLDR: we're making our immune-supporting products easy to find but not focusing on discounting and providing a ton of free, relevant content."
At the end of the day, you may have to choose to discount in order to extend your runway. That's understandable and acceptable, but think strategically and creatively about your options and how you can approach discounting without undercutting your brand value or seeming insensitive to the scale of the crisis.
[Lauren] For brands out there who haven't historically used email as a way to build community, is it just about getting started? Or is there any other advice you have to help them make this pivot?
[Kristen] I actually think brands who are newer to email have an advantage right now. Something we talk a lot about in email marketing is the subtle training that happens with your customers.

When a company sends sales email after sales email, providing 0 value for the customer, they ultimately build a negative expectation for their customers. Essentially, these brands are training them to simply delete emails when they come in.

On the flip side, brands who start out with value and consistently send amazing emails train their customers to expect that. Meaning higher open rates, more engagement, and yes, more sales. Because they're building trust.
So, if you're just getting started with email marketing, you have the opportunity to start right. To make your first impressions amazing instead of backtracking and fixing errors.

Think about email as a key channel for building up brand equity with potential customers, even if the immediate sales results aren't clear.

If you need some more inbox inspiration, you can join this exclusive Trello board where I'm sharing the best of the best in DTC on a weekly basis. And here's another piece I wrote on building engagement in the inbox.
[Lauren] As I was listening to your podcast episode with Val, I loved what you said about making sure you're not operating on autopilot. Double check the automated emails you're sending because they might not land in a tasteful way right now. Do you have any other advice for brands?
[Kristen] Along with their automated campaigns, brands really need to look closely at the processes they have in place and see where they might be on autopilot. It's really important to go through each step of the customer journey and make sure you're not coming across as tone deaf.
That means taking deep dives into your advertising and social media posts – both scheduled and regular. Are you doing upsells at checkout? Pop ups on your home page? Look at those and see how they come across in this new context.
The customer journey is going to look really different for a while, and you'll need to take steps to match that. People are shopping differently and for different reasons, and the little micro interactions need to shift to stay relevant.
Order confirmation and delivery emails are little areas that can have a big impact.
It's not just about speaking to the current realities of your customer's lives. Even your standard messaging is going to impact people in a really different way right now.
Battlbox, for instance, really has to work to avoid coming across as fear-mongering right now – even with the same copy they've used for years.
A lot of brands are opting for radical transparency as a response. Carnivore Club, for example, is focusing on getting snacks out to customers quickly. Here's their reasoning:
This will be offered for a limited time (we are dedicating all existing snack inventory towards this but obviously have finite amounts). This inventory was previously going to be used in upcoming subscription boxes. We are discounting these bundles because we feel it's the right thing to do.
Few other thoughts on the bigger picture:
This gets cured, shelf-stable meats to your home allowing you to promote social distancing
This generates revenue for us, which allows us to purchase additional meats from our artisans sooner than already planned, which in turn stimulates many other businesses, which in turn keeps employees working.
In a nutshell: now's the time to put some really painstaking care into your messaging. It matters more than ever.
[Lauren] You and Val mentioned some of your favorite brands and what they're doing right now – have there been any others you've been super impressed by?
[Kristen] I was just writing a teardown of an email that Patrick Coddou from Supply sent out a few days ago, and I want to talk about that one for a minute. It's this incredibly personal message that's all about the people behind the brand.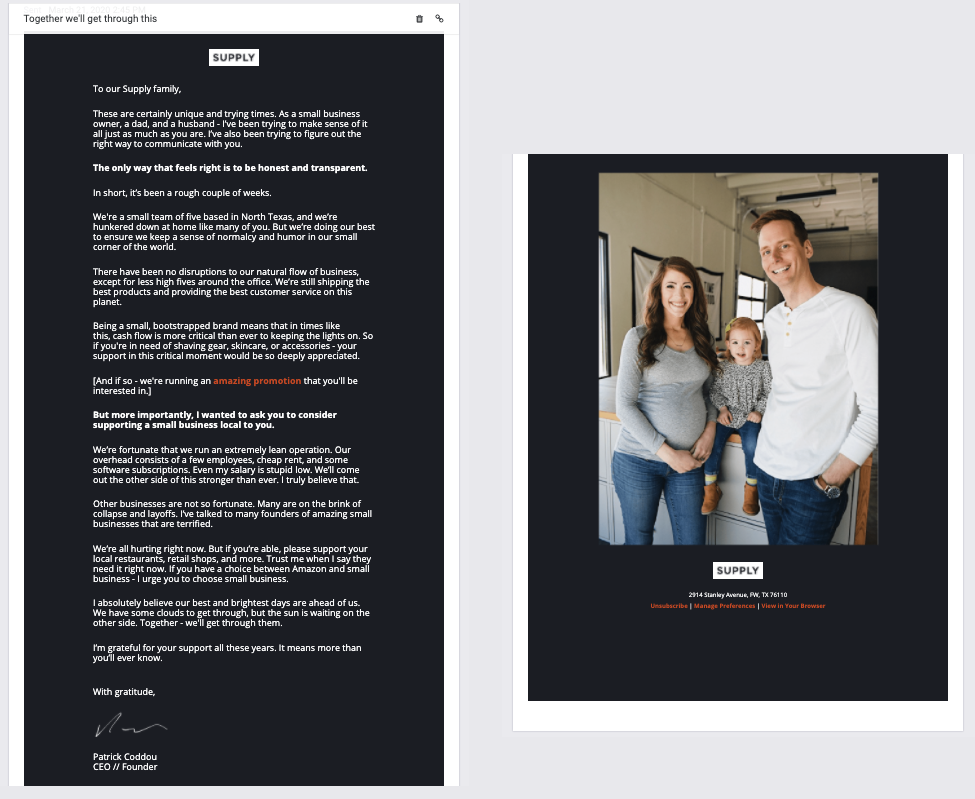 What I love most about it, though, is that it focuses on small business really broadly. The real call-to-action here isn't to shop Supply – it's to support the businesses in your community.
There's a lot of gratitude in this email, and I think the best brands are leaning into that right now. They're giving more to their communities than they're asking in return. They're tying their mission directly into the ways that they can serve their people.
Pattern Brands is doing a great job with this – donating to food banks, opening up their Text-a-Chef service for free, and providing free support for people looking to organize their homes. It's all extensions of Pattern's daily work.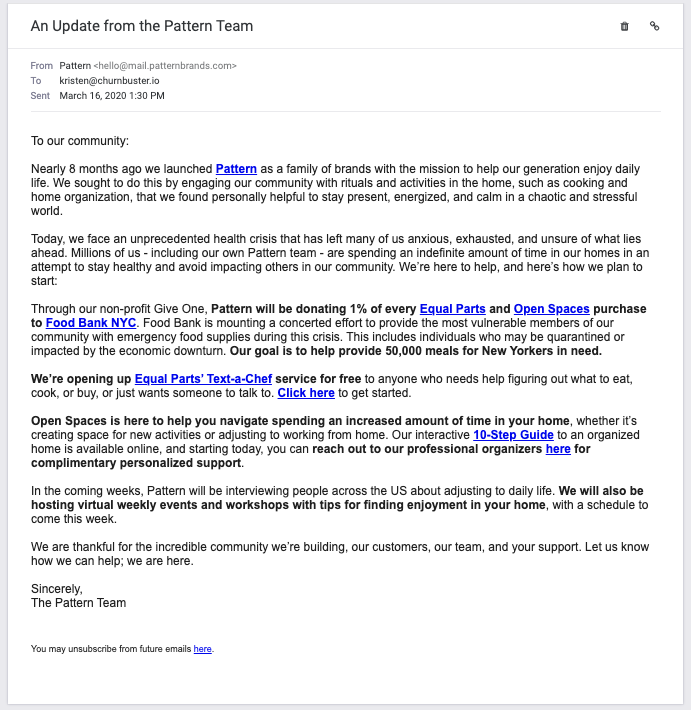 When brands do send a product-based email, it's meeting a really specific need. Beardbrand sent a great message recently that highlights their Utility Bars, which are basically really gentle skin and hair cleansers.
The central premise of the email is this: BeardBrand is discounting this specific SKU right now because we're all washing our hands a lot and could use something that takes care of that without drying out our skin.

In this post, I walk through some more brands I've been impressed with in the last few weeks, plus quotes from the teams themselves so you can really understand their thought processes.
Focus on your existing customers
As you're scrambling to adjust your strategy on a daily basis, make your life a little easier by narrowing the focus.
Rather than trying to reach a new audience right now, double down and shift your focus to the loyal customers you already have. Email is an amazing way to do it.
Just don't become a brand they delete emails from without thinking twice. What can you do to become a brand that Kristen features? She's constantly sharing brands that are getting it right on Twitter (and mixing in some amazing dog content) so go follow her and tell her how much you loved her responses.
Subscribe for Updates
Get our best content on ecommerce marketing in your inbox 2 times a week.
Written by Lauren Hall
Lauren is a Brand Marketing Associate at Privy. She's the brains behind all things content. When she's offline, she's obsessing over her Bernedoodle pup, Monster, and plotting ways to being a full-time Vermonter ASAP.
Subscribe for Updates
Get our best content on ecommerce marketing in your inbox 2 times a week.