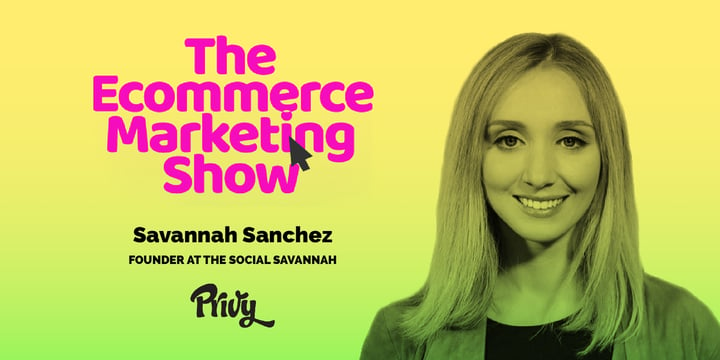 To run successful ad campaigns in the past, you pretty much had to be an expert.

You had to know exactly which people to be targeting and have a serious media buying strategy.
But as platforms have continued to lower the barriers to entry and make it easier for anyone to get involved, the creative has become more important than ever.
So we wanted to talk to ecommerce advertising expert, Savannah Sanchez, about how to build an ad strategy with amazing creative.
And we couldn't talk about advertising right now without getting into how to adjust your strategy during a crisis.
Should you be pulling back? Spending more?
You can tune in above👆 on Apple Podcasts, Spotify, Stitcher, or anywhere you get your podcasts.
Get our best content on ecommerce marketing in your inbox 2 times a week
On this episode, you'll learn:
Why testing your creative matters more than your targeting.
How to think about what your budget should be.
How to get testimonials from your customers.
How to manage your ads during a time of crisis.
What to listen for:
[4:21] Why you don't need to be an ad guru to get started.
[6:06] What should your ad budget look like?
[7:32] Why Snapchat and Instagram are such great channels.
[10:06] Why content that looks native to the platform is so important.
[11:24] How to narrow in on the ads that are working best.
[13:16] The biggest mistake brands make when it comes to creating ads.
[14:33] How to get ad creative if you're not comfortable in front of the camera.
[24:15] What's happening across your accounts due to COVID-19?
[26:55] What to do if you're not selling an essential product like hand sanitizer, toilet paper, etc.
[29:52] The two things to keep an eye on right now.
[31:30] How to keep your ads relevant and compassionate.
[33:10] How not to run an ad right now.
Links to love👇👇