Here's Everything We Shipped In Privy This Month To Help You Grow Your Email List, Drive More People Back To Your Website & Close More Sales
Published on Apr 27, 2020
Written by Daniel J. Murphy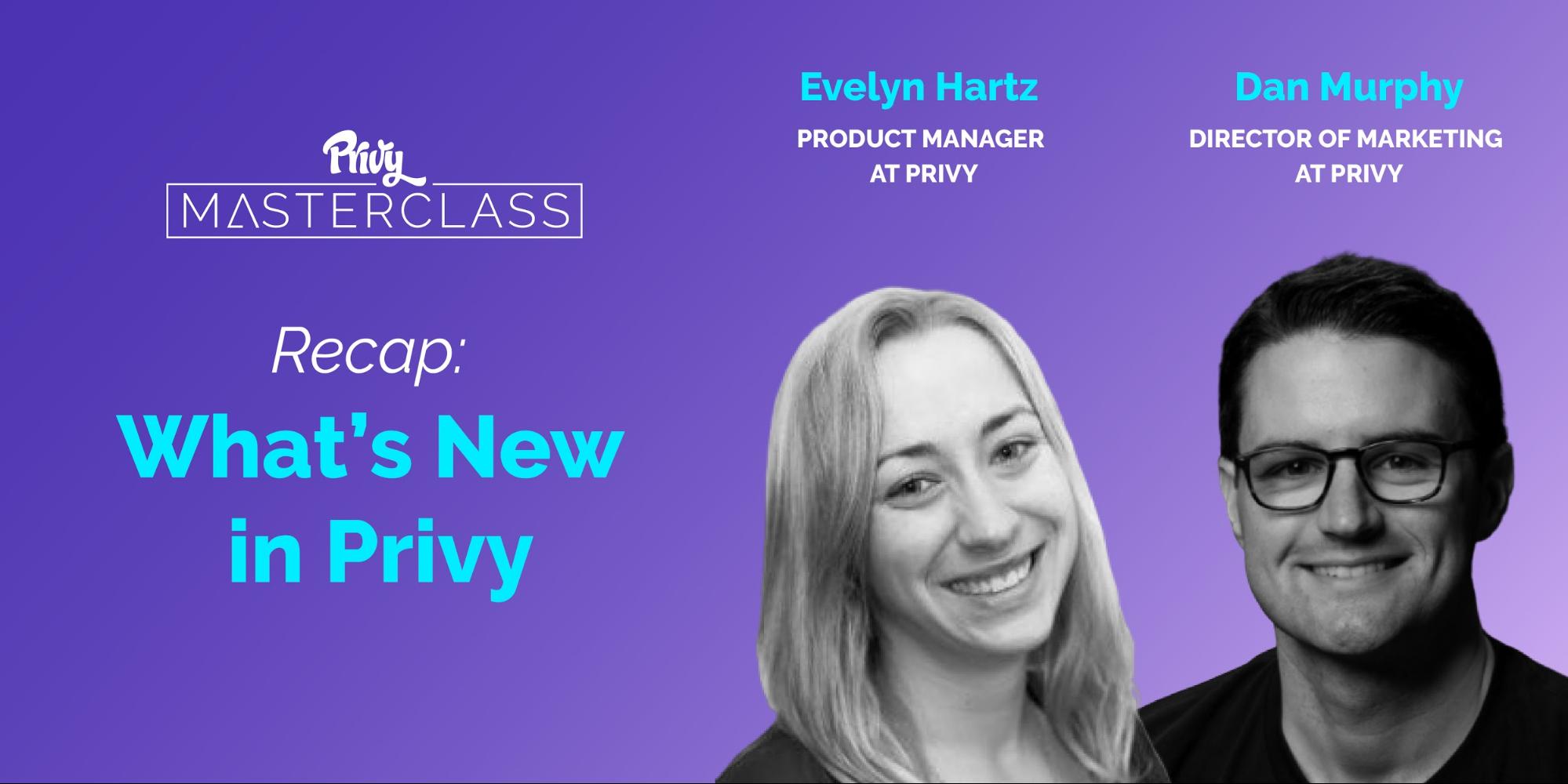 On Friday, we hosted our first ever "What's New In Privy" masterclass session. Evelyn Hartz (our product manager) and I spent 60 minutes reviewing everything new in Privy's three products: Convert, Email and Text.
We also took questions from attendees and demo'd how to use these features to grow your email list, drive people back to your website and close more sales.
Here's a recap of what we covered.
Okay let's start with the three big new features you need to know about:

1. Cross selling in Privy - This is one of the fastest ways you can increase your average order value without spending more money or offering more discounts. This feature lets you offer your buyers an additional product to add to their cart in the checkout process. Check out this blog post for details.

2. Product segmentation - Drive more people back to your website to complete their purchase with personalized emails and text messages. With product segmentation, you can set up your email or text automation to send abandoned cart email based on the product they abandoned. This works for both Privy Email and Privy Text. And it actually works for order follow up emails too. Check out this blog post for details.
3. Unique coupons in Privy Text - Now you can send single-use coupons via text messaging. 70% of buyers abandon their cart, try using coupons in text messages to complete more purchases.
And here's a few other things you should know about:

Email templates - we launched 12 new email templates in Privy Email for newsletters, cart abandonment and order follow up. Check out this blog post with the templates. They are FREE to Privy Email customers :)


New Privy campaign builder - we launched a new campaign builder to make creating a new display easier and fasters. It's only three steps now: Create, Target and Follow-up.

Recommend campaigns - we also launched this new assistant that will suggest to you which campaigns you should build next, based on best performance we've seen work with 500,000 other merchants.

Also we discussed something coming soon:
Unique coupons in email newsletters! This has been highly requested by Privy Email customers, so we're excited to ship this feature. We expect this to be live in your Privy account soon.
Okay if you want to watch the full recording of the Masterclass session go here.
If you want to click through the slides from the Masterclass presentation, here you go:
Subscribe for Updates
Get our best content on ecommerce marketing in your inbox 2 times a week.
Written by Daniel J. Murphy
Dan is a B2B marketing leader with over 7 years of experience helping SaaS startups grow. Before joining Privy, Dan was the Director of Product Marketing at Drift. He's also worked in demand generation, brand marketing and marketing ops. Dan loves to geek out over marketing strategies and technology. He co-authored "This Won't Scale" with Privy's CMO, Dave Gerhardt at their previous company.
Subscribe for Updates
Get our best content on ecommerce marketing in your inbox 2 times a week.