What Does Apple's iOS 14 Privacy Update Mean For Your Facebook Advertising? Here's What You Need To Know.
Published on Jan 19, 2021
Written by Kristina Simonson
Have you been keeping up with the drama between Facebook and Apple?
I don't know about you, but I've been thoroughly entertained.
And even though I've had my fair share of Facebook advertising experience, it took me writing this blog post to finally wrap my head around what it all means.
(Btw, I run our Facebook ads here at Privy...)
So, the goal of this post is to break it all down for you in the simplest terms.
I want you to understand exactly what's changing, what it means for you, and what you should do to continue seeing success with your Facebook ads.
So, let's get into it.
Get our best content on ecommerce marketing in your inbox 2 times a week
First things first, what the h*ll is the iOS 14 update?
Apple's iOS 14 privacy policy will have two new requirements for apps on their App Store:
1. Apps must provide information about their data collection practices on their product page.
2. Apps will need to ask iOS users for their permission to track them across apps and websites owned by other companies.
Now, why is Apple doing this?
Basically, Apple is looking to improve trust on the App Store.
They say they are on a mission to make it a "safe and trusted place for users to discover apps created by talented developers around the world".
This means apps on the App Store will be held to a new standard.
So, what's changing exactly?
In today's world, you're used to being automatically opted into ad tracking. In most cases only seeing a way to "opt out" of tracking or marketing communications.
Now, this update is completely changing the game for iOS users.
As users will now be given a prompt to opt in to being tracked for advertising purposes.
Apps will now be required to display a message like this: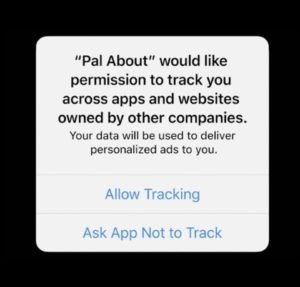 If they do not "allow tracking" with the app, they cannot be tracked (as they are today) for advertising purposes.
Now if you saw this message, what would you say?
Honestly, I'm not sure I'd accept the open invitation to be tracked...
Soooo, how'd we get here?
Now before we get into how this impacts Facebook, let's quickly cover the timeline of events:
Since then, there's been a ton of chatter in the community, but no concrete date about when this change will officially go live.
So why is Facebook so vocal about these changes?
Well, when you first hear Facebook, you probably think of its core family of apps first — Facebook, Instagram, WhatsApp, and Messenger.
But it's important to note that Facebook also owns the Audience Network. Which spans millions of apps, allowing publishers to monetize their apps by serving ads a part of the network.
So the scale of Facebook's data collection today is insane.
That massive scale is what has enabled Facebook to turn into the advertising platform powerhouse that it is today.
But clearly a major key to that success has been built off a reliance on data collection.
And the iOS 14 update will surely limit that data collection for Facebook.
Just think about Facebook's business model:
The more data that Facebook digests, the better it is at delivering results for advertisers.
The more successful advertisers are, the more they are likely to invest more in Facebook.
The more advertisers spend on Facebook, the more ad revenue they make.
So, there's clearly a lot of $$ at stake with these iOS 14 updates. 😉
But Facebook isn't the only one with revenue on the line...
It's likely all advertisers will feel some sort of impact on performance.
The impact for advertisers: 4 things to expect
Like I mentioned, success with Facebook ads is largely driven by the ability to track and understand how users behave online.
Ultimately, advertisers rely on Facebook's data collection to:
Target the right users.
Track how users engage with their ads.
Optimize their return from their ad spend.
As these new updates rollout, Facebook is sharing the implications with their advertisers.
Here are the 4 things you should expect:
1. Changes in your cost per result
Ultimately, Facebook is going to be digesting less data around its users and advertiser's performance. This means it's going to take some time for Facebook to adjust to these changes. So, as the updates settle in, I would expect to see your cost per result increase.
Analogy break: Clearly, the Facebook algorithm is a powerful engine. Think of data collection as the gas for that engine - it keeps the algorithm delivering results for advertisers. Now today, the Facebook algorithm is running off of premier gas. And as the iOS updates roll in, the algorithm is going to be switching to regular gas. It's not going to stop running, it's just not going to be as smooth as a ride.
2. Loss in visibility into performance.
Expect to see delays in reporting and do not rely on any real-time results.
And you'll have new limitations in your ability to segment performance data (there will no longer be support for age, gender, region, or placement breakdown for both app and conversion data).
3. Changes to conversion tracking.
Ad accounts will now be limited to a maximum of 8 conversion events.
And the new default conversion window will be 7-day click (👋 bye to 28-day click-through, 28-day view-through, and 7-day view-through attribution windows).
4. Lastly, expect a drop in your custom audience sizes.
As more people opt out of tracking on iOS 14 devices, the size of your app and website audiences may decrease.
So what should you do to prepare?
Don't panic.
Honestly, with all of the attention on this, this update seems bigger than it is.
Keep in mind that this will only impact iOS mobile devices (as of right now) and Facebook is already putting together solutions to help advertisers continue to find success.
But as you start preparing, I'd recommend hopping in your account to assess potential impact:
Navigate to Ads Manager and select "impression device" in the breakdown view: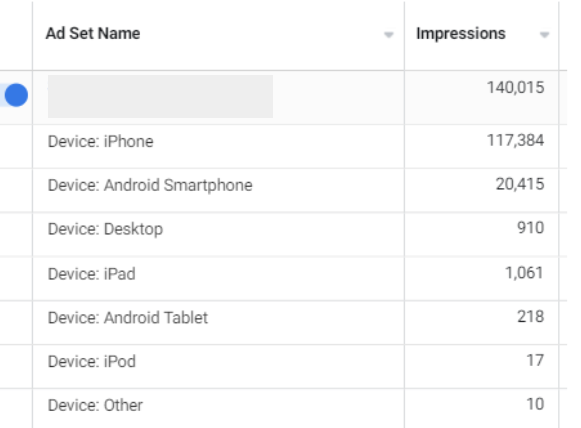 Here you can see the breakdown in device type of your ads. In this case, for this ad set, 83% of our impressions are on iPhone devices. Yes, that's a very significant portion. But it doesn't mean 100% of those users will be on iOS 14 immediately or that they'll all opt out of tracking.
And remember, even if users are not opting in, Facebook will still be able to connect the dots for your ads with updates like Aggregated Events Measurement.
So there's no need to panic, but here are some actions I recommend:
Go into Facebook Business Manager and verify your domain if you haven't done so yet.
Check in on your conversion tracking and create an action plan to operate with 8 conversion events if you're using more today.
Benchmark your performance today and expect to see these fluctuate as the updates rollout.

Side Note:

Don't panic

and make major changes to your account if you see significant drops in performance after this update rolls out. It's only going to confuse the Facebook algorithm more and take longer to regulate your performance.
Revisit your remarketing strategy. As your custom audiences drop in size, you may need to consider broadening your targeting rules. Ultimately, if your audience is too small, your ads won't deliver.
Now those are the recommended first steps, but I've also seen a ton of creative ideas out there for the DTC Facebook Ads space.
So I wanted to share some of my favorites:
Key Takeaways: How to win when this goes live
At the end of the day, updates like these show how important it is to have reliable channels that you own (like your website or email list).
While you'll likely experience some disruptions in ad performance with these updates, the basics will still apply.
A strong offer and scroll-stopping ad creative will always be the way to win on Facebook.
Subscribe for Updates
Get our best content on ecommerce marketing in your inbox 2 times a week.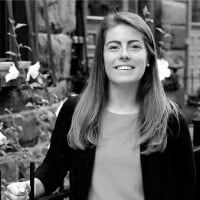 Written by Kristina Simonson
Kristina leads the marketing team here at Privy. She enjoys diving into the latest trends in ecommerce (and writing about them here) and is passionate about supporting independent Shopify brands. Outside of work, you can find Kristina either hanging out with her nieces or training for her next marathon.
Subscribe for Updates
Get our best content on ecommerce marketing in your inbox 2 times a week.