What Are No-Form Campaigns and Why Do They Matter?
Published on May 10, 2019
Written by Lauren Shepherd
Capturing emails is important. Like, really important.
But what do you do once you have already captured someone's email? Or if you want to remove as much friction as possible in the buying process? Or if you have an additional message you want to get front and center? That's where no-form messaging comes in.
What are no-form campaigns?
No-form campaigns employ targeted messaging based on what you know about a user already, and it does not require them to fill out a form in order to get something of value, whether that is a piece of content, a discount, or knowledge about something they might be interested in.
By combining this tactic with the information capture you're already doing, you'll be able to more effectively guide your visitors through the customer journey. Let's dive into some examples of effective no-form campaigns.
No-form campaign idea #1: Run a flash sale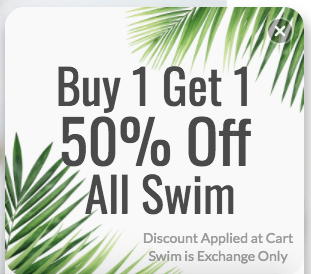 Using "no-form" messages for a site-wide flash sale is probably the simplest and most widely used method. These types of campaigns drive urgency, point your visitors directly at the shopping experience, and are relevant to every visitor on your site.
This is a great example because it accomplishes every goal of this type of campaign. If you're running a flash sale on your site, you'll want to make sure to do the following:
Simple targeting. The message launches almost instantly when you land on the site, making it virtually impossible to miss.

The offer is clear. The 50% off is clear and the focal point of the message. Restrictions do exist and they are easy to see, but the offer is the star of the show.

Clear, compelling design. The contrast of colors and simplicity of design make it easy for a reader to digest quickly and take action on the offer.

Strong call to action. Let customers know how they can redeem the offer and what the next steps are.

The start and end date of the offer is clear. For example, 8 AM to 10 PM, or today only.
No-form campaign idea #2: Showcase related content and products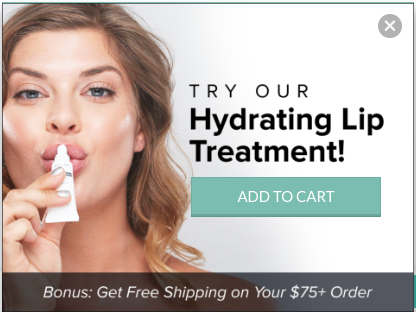 Using "related content" campaigns can help increase readership and page views, while "related product" campaigns can help increase your average order value. Based on what someone is already reading or viewing, build in suggestions for what they're likely be interested in, which will keep them engaged with you and your brand longer.
The example above is from Urban Skin Rx, and encourages the shopper to add one of their most popular items to their cart. The offer is simple, and the CTA is very clear, adding this particular item directly to the cart with the click of a button.
You could also promote related content. For example, if you sell baby products, you could run an onsite campaign to direct visitors to your blog on tips for the early days of parenthood.
This type of campaign suggests content that speaks directly to the audience and problems that parents are likely trying to solve.
No-form campaign idea #3: Grow your social following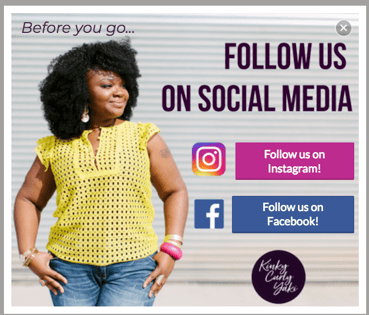 Social media is pretty important to your business: It helps build your brand and drives people back to your site. But most of us rely on some subtle social buttons at the bottom of our sites to encourage people to join our social following.
Instead of hoping they'll find those buttons, you can be proactive. Using a flyout or pop up to encourage people to follow you is a great way to drive interest among your visitors without spending money on social advertising.
How to build a social following campaign
In general, these campaigns work best when you have someone who has already shown real interest in what you do.
For example, only show the campaign to people who have signed up through a prior campaign and have visited the site 3 or more times. That way you know that they care and that they are ready to invest more in a relationship with your brand.
Keep these designs really simple, basically bringing those same follow buttons in your website's footer up front and center for your visitor to actually take action on them.
Messaging like, "Let's get social!" or, "Come say hello on social," are easy asks for people that are already pretty interested in your brand.
No-form campaign idea #4: Make an announcement

Announcement campaigns can let your entire audience know about something important going on for your brand. Using a simple bar at the top or bottom of the page can get your message in front of everyone who needs to see it. Just use these sparingly so that frequent visitors don't tune them out.
When to Use Announcements
If something out of the ordinary is happening, use announcements proactively inform them before it becomes a support issue. For example, you might want to let people know if a product is out of stock, your support team is not available, or you are planning for some system downtime.
No-form campaign idea #5: Promote an event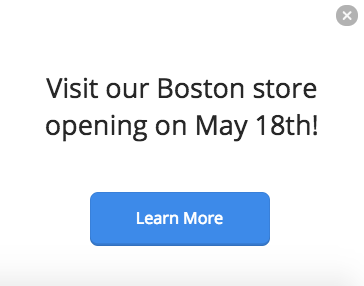 Another great way to use "no-form" campaign is to create a flyout or banner that promotes upcoming events—like a webinar or an in-store tasting—where you want people to register in advance.
Here are some suggestions for successfully promoting an event on your site:
Make it easy
The key here is very similar to what we talked about for flash sales. You'll want to make it easy for people to know why they should attend and how to register using a clear call-to-action button that links directly to your registration page.
Be intentional with timing and targeting
You'll also want to think about the most appropriate time to promote the event. Generally, someone on their first visit hasn't been "sold enough" to commit to a block of time, but people who have come back a few times are a great target. Similarly, you don't want to interrupt someone who has come to accomplish a task or is in the process of making a purchase (don't lose sight of the ultimate goal!)
Want to learn more about targeting your onsite displays based on what you know about your visitors (like whether they came from an Instagram ad)? Check out our advanced targeting guide!
Subscribe for Updates
Get our best content on ecommerce marketing in your inbox 2 times a week.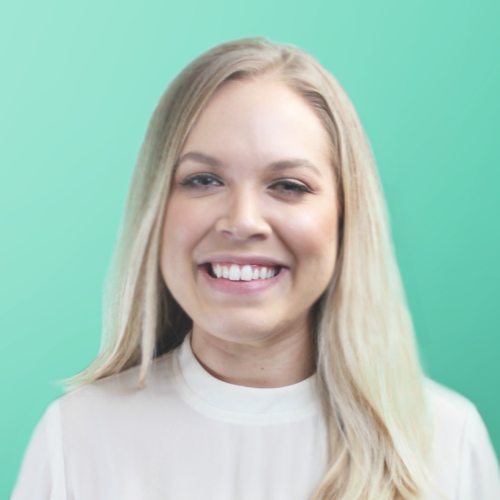 Written by Lauren Shepherd
Lauren is our Senior Marketing Manager. Coming all the way from Minnesota, she's earned her spot on the east coast by working for companies like Brainshark and Teikametrics to create content and lead generation strategies that increase website traffic and build brand awareness. Lauren's passion for small businesses and content creation is what brought her to Privy, but her enthusiasm and love of good beer and all things Justin Timberlake are what make her the perfect fit for our team.
Subscribe for Updates
Get our best content on ecommerce marketing in your inbox 2 times a week.