The Ultimate 2022 Planning Guide: How To Set Goals And Raise The Bar For Your Shopify Store This Year
Published on Jan 26, 2022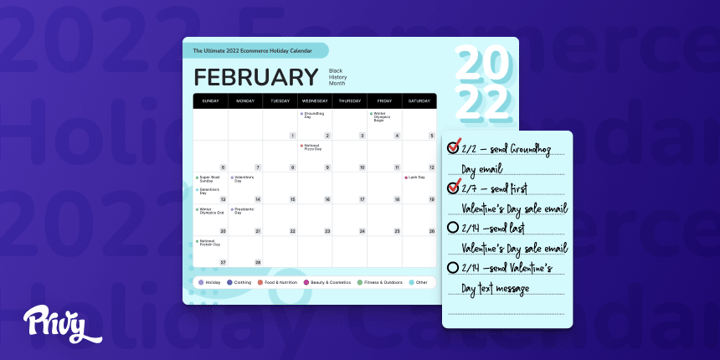 Planning your campaigns around holidays is the fastest way to fill your marketing for the entire year.
But to turn 2022 into your biggest year ever, you also need to make sure you're setting goals.
They should feel like a stretch, but still achievable. There's nothing worse than setting the bar way too high and getting discouraged when it wasn't realistic in the first place.
In this guide, you're going to get campaign ideas for the whole year plus an overview on goal-setting so you have everything you need to crush the year.
And if you want reminders throughout the year for important holidays, sign up to get our 2022 calendar sent to your inbox so you're prepared for an all-star year.
Get our best content on ecommerce marketing in your inbox 2 times a week
First Quarter: Plan out your strategy for the year
At the beginning of the year, sit down and create your goals for the entire year. Think about your goals for revenue, marketing, hiring, and more. Try to set SMART goals, which are:
Specific
Measurable
Achievable
Relevant
Time-bound
With these types of goals, you'll be able to track and measure your successes or failures so you can adjust as you progress throughout the year.

A goal like, "Increase email subscriber list by 3% in the first quarter" is time-bound, it's measurable, and it's achievable.
But something along the lines of, "Improve email marketing" doesn't give you anything specific or measurable. Which means it's really hard to track success. That's why SMART goals are best.
It's also a great time to assess the tools you're using. If you need inspiration, check out the top 20 apps we recommend for your Shopify store.
Formulate a plan for the supply chain and labor crises
A recent report by IHS Markit indicates that supply chain issues will continue well into 2022. Since these issues affect every part of your business, you will need to account for them when you set your goals.

Use tools like ShipBob to stay up-to-date on average shipping times, so your customers know when to expect their items. If you find yourself in a crunch and can't get inventory when you need it, send out an email promoting digital gift cards so you still have a way to keep bringing in sales.

Along with supply chain concerns, you have to consider the current labor shortages as well. It may be difficult to find employees when you need them (especially during the last quarter seasonal rush), so factor that into your 2022 plans. Again, if you can't find anyone, this could be an ideal time to promote gift cards so that order fulfillment isn't squarely placed on your shoulders during a busy time.
January
Since you've recovered from the holiday season and the chaos that comes with it, it's time to look at what you need to get done in January. Set up a promotion for New Year's, such as an email about New Year's resolutions and how your products could help people meet them. Or you could offer savings if someone subscribes for a whole year upfront as Shipt does in this email: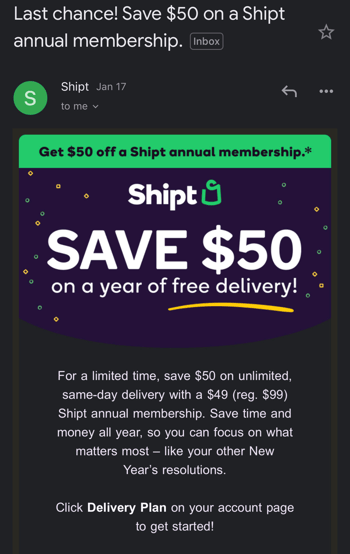 Consider planning for these January moments as well:
Dry January
Martin Luther King, Jr. Day: January 17
National Keto Day: January 5
National Gluten-Free Day: January 13
National Puzzle Day: January 29
February
In February, create a comprehensive marketing plan around Valentine's Day, like paid ads on Google or social, social media posts, SMS messages, email blasts, and themed popups on your website.

Other days and events to plan for in February include:
Black History Month
Winter Olympics: start February 4, end February 20
Groundhog Day: February 2
Super Bowl Sunday: February 13
Galentine's Day: February 13
President's Day: February 21
March
During March, it's time to start preparing for spring sales and clearing out any remaining winter items. Have a clearance/spring cleaning sale and advertise it via email, social, and welcome popups on your site.
This year, the first day of spring falls on March 20, and you could use that to promote your store. Levoit uses the first day of spring and all the allergens it can bring to advertise its product in this spring-themed email: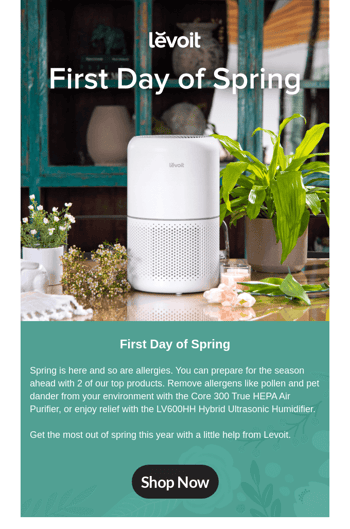 Other events to consider in March are:
Women's History Month
Mardi Gras: March 1
St. Patrick's Day: March 17
International Women's Day: March 8
Daylight Savings Time: March 13
Second Quarter: Find out what's working and make adjustments
By this time, you have three months of data to look at. Check in on your progress for the goals you've set. If something isn't working, it's time to shift and make an adjustment.

If you need to adjust your goals because you couldn't meet them, examine your data and determine what the root cause might be. For example, if you didn't meet your goal of increasing email subscribers by 3%, then look into why. Did you offer an incentive to subscribe? Or you may have sent too many emails. Check your open rate and click-through rate on your emails to see which ones were effective.

At this point, you can see how your sales are lining up against your forecasts for the quarter. From there, you can plan your inventory accordingly, so you're not left with too much or too little product in stock.
April
At the beginning of April, start sending out any Easter-themed emails or marketing you have. If you have items that could go in an Easter basket, create a gift guide for your customers, so they can easily choose products for their children or others.
Here, Rifle Paper Co. offers a discount on their Easter greetings and select gifts. They also put a limited timeframe on the discount to give people a reason to shop as soon as possible: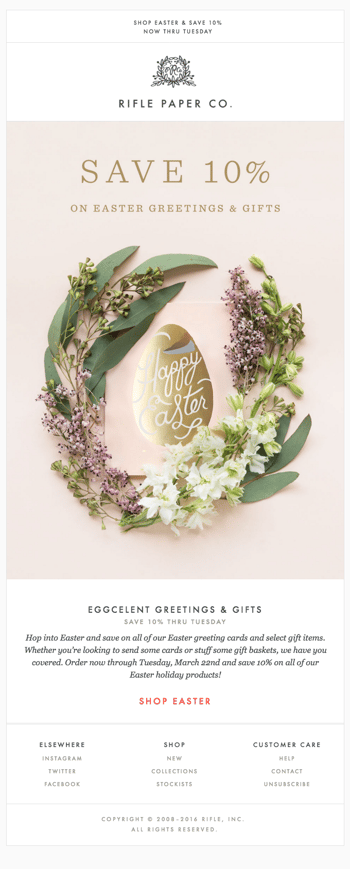 Other days or events in April include:
Autism Awareness Month
Ramadan: Starts April 2
World Health Day: April 7
Passover: starts April 15, ends April 23
April Fool's Day: April 1
May
The big holiday in May is Mother's Day, and this year it falls on May 8. Keep in mind you may need to advertise for the day in April, especially if you're still experiencing issues with the supply chain or long delivery times.
In this email, The Landmark Project sent out a small gift guide for moms – along with a 20% off discount – so customers could easily find what they needed.




Other days or events in May to plan for:
Asian American and Pacific Islander Heritage Month
Ramadan Ends: May 2
Cinco de Mayo: May 5
Memorial Day: May 30
National Wine Day: May 25
Fair Trade Day: May 13
Star Wars Day: May 4
June
In June, switch gears to Father's Day. You can probably use the same strategies that worked for Mother's Day, like sending a gift guide or giving a discount for the holiday.
June is also Pride Month, so if you sell any items for LGBTQ folks or allies, advertise those on your social media with a discount. You can also point out any organizations you support that help any of these populations.
For example, in this email, Yelp tells users that they'll point out LGBTQ-owned businesses so they can easily find them.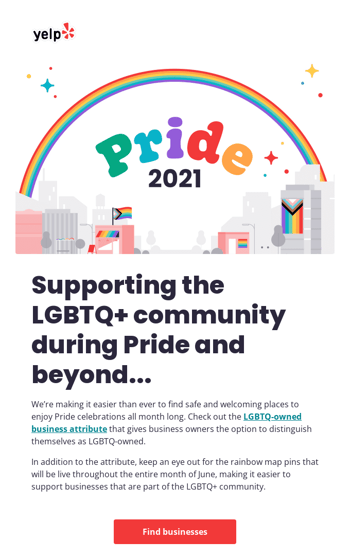 Other days to plan for in June are:
Juneteenth: June 19
First Day of Summer: June 21
National Donut Day: June 3
International Yoga Day: June 21
Third Quarter: Start prepping for the busiest time of year
Right now is the perfect time to begin planning out your strategies for the final quarter, whether email campaigns, social media blasts, or holiday sales.
That time will be busy enough, so getting a plan in place now can help you get ahead. Set up automation, such as automated email campaigns in Privy, wherever possible to save yourself time and labor.
Map out your holiday emails now, so it's off your plate later in the year.
July
In the United States, the biggest holiday during this month is Independence Day. If you have any American-themed products, start pushing those in mid-June to account for delayed shipping times.

Other days or events to celebrate in July include:
National Picnic Month
Fashion Day: July 9
National Ice Cream Day: July 17
National Self-Care Day: July 24
National Avocado Day: July 31
International Day of Friendship: July 30
August
August is Back to School Month, so focus your marketing on supporting kids and their parents.
Epic, an ebook and educational video company, chose to offer a promo for 40% savings on an annual plan.




Throughout August, there are some other days you may want to market for:
International Beer Day: August 5
International Cat Day: August 8
National Dog Day: August 26
World Plant Milk Day: August 22
September
In early September, Labor Day weekend signifies the end of summer for many. Use this for your monthly promos and create a Labor Day sale.
Remember, fall is just around the corner, so put your fall-related items on sale and tell customers to get prepared for pumpkin spice and everything nice.
Here, BioLite advertises a sale for Labor Day focused on fall camping supplies and offers a 15% off code.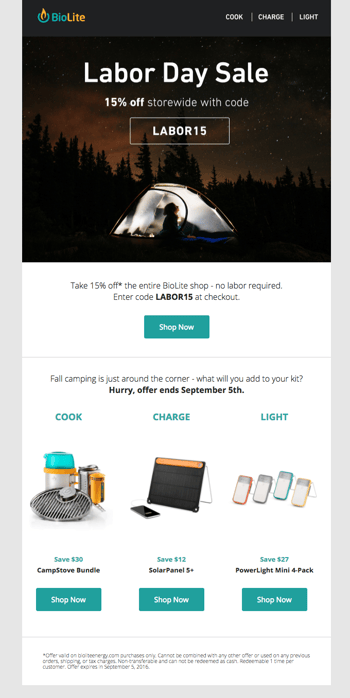 Here are a few other days or events to focus on in September:
Hispanic Heritage Month
World Beard Day: September 3
Grandparents Day: September 11
National Coffee Day: September 29
First Day of Fall: September 22
Fourth Quarter: It's crunch time
It may be the most wonderful time of the year, but it's also the busiest time for ecommerce stores. People begin their holiday shopping in October and continue through Black Friday Cyber Monday, and more. It's likely time to ramp up your marketing before customers' inboxes become inundated with emails. If you want to stand out, try some new marketing techniques, like live commerce streams or social media ads.

Remember those automated emails you set up in the third quarter? Take a look at their metrics as the quarter progresses and compare the high performers to the low performers. Is the difference the time of day you're sending them? The audience segments? The content itself? Once you've figured out the secret sauce, you can tweak your strategy with time to spare before the holidays.
October
The end of October is when 43% of Americans begin their holiday shopping, according to Statista, so it's a good time to increase your paid ads on both search and social media.
You'll also want to do some Halloween marketing, with discounts, holiday popups on your site, and social posts. In this Halloween-themed example email, Allset adds an extra $10 to their customers' accounts to put toward a food order for their employees.




Other days or events in October that you could advertise are:
Breast Cancer Awareness Month
National Hair Day: October 1
National Taco Day: October 4
World Mental Health Day: October 10
National Chocolate Day: October 28
Boss's Day: October 17
Diwali: October 24
November
Here comes the gauntlet – the month that is poised to be your busiest of the year. Like last year, combat the shipping and supply chain issues by starting your Black Friday sales and marketing campaigns as soon as possible.
On top of that, you also have Small Business Saturday, Cyber Monday, and Giving Tuesday to plan for. Set up welcome popups for your site that will change each day, use free shipping bars so customers know how much they need to order to qualify for free shipping, and add holiday design elements to your site.

Hopefully, the emails you planned in the third quarter can take some stress off your plate, so you're available to answer customer inquiries or address any issues. Keep an eye on those emails, though, as these days go on – you might want to send out an email that updates customers on your sale or any items that may go out of stock.

Other days in November that you could incorporate into your marketing plan are:
National Candy Day: November 4
Veterans' Day: November 11
Singles' Day: November 11
Take a Hike Day: November 17
World Vegan Day: November 1
World Kindness Day: November 13
December
One more month to go, and then you'll get to start planning for 2023 😅. But before that, you have December to stay focused on. Even after Black Friday, shoppers will be looking for some gift ideas. Meet them in their inbox, text messages, and social media feeds with your products and discounts, so they'll see you first without having to search for you during a time of year when they're already likely distracted by many other things.

You'll also want to clearly communicate shipping deadlines and inventory issues to them – be proactive so that they're informed. In this example, Moment states their shipping deadlines right off the bat.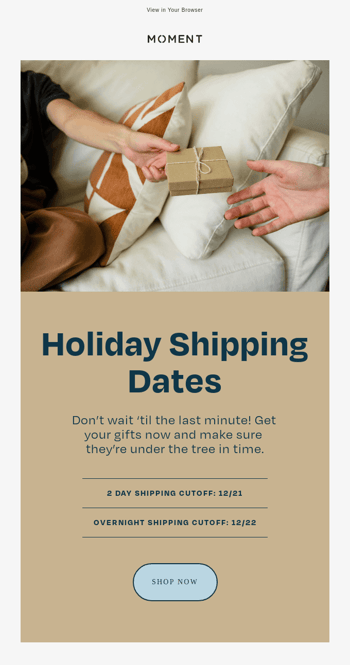 Other days to highlight in December are:
National Sock Day: December 4
National Candle Day: December 4
Green Monday: December 12
Hanukkah: starts December 18, ends December 26
First Day of Winter: December 21
Boxing Day: December 26
New Year's Eve: December 31
Make 2022 your best year ever
Hopefully, after reading this guide, you're full of ideas on how to reach your goals in 2022. But instead of taking everything on yourself, consider using some marketing tools to help you.
Ecommerce marketing platforms like Privy can automate your email and SMS marketing so you can bring in sales while you sleep.
And make sure to sign up for our calendar reminders so that you won't forget important holidays this year!
Subscribe for Updates
Get our best content on ecommerce marketing in your inbox 2 times a week.
Written by Lauren Hall
Lauren is a Brand Marketing Associate at Privy. She's the brains behind all things content. When she's offline, she's obsessing over her Bernedoodle pup, Monster, and plotting ways to being a full-time Vermonter ASAP.
Subscribe for Updates
Get our best content on ecommerce marketing in your inbox 2 times a week.