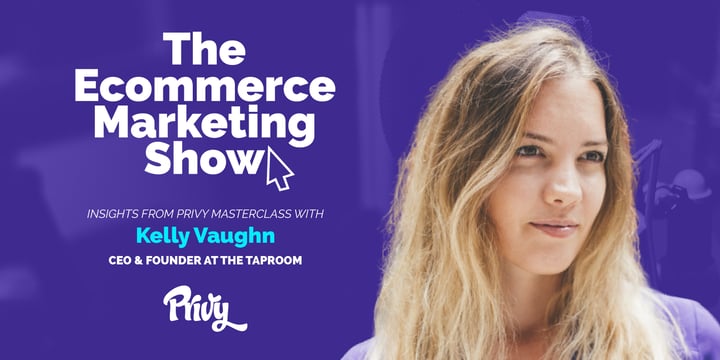 Kelly Vaughn learned to code when she was 11.
I don't know what you were doing at 11, but I definitely wasn't learning to code.
Today, she spends her time working with Shopify brands that bring in anywhere from $2–$20 million.
So who better to give feedback on websites than Kelly?
We had over 100 brands submit their stores to be reviewed. And Kelly did not disappoint.
And even though we couldn't get to all 100 in an hour, you can still apply all her feedback to your own store.
Because putting your own spin on what the best brands in the biz are doing is the only true shortcut when it comes to marketing.
You can tune in above👆 on Apple Podcasts, Spotify, Stitcher, or anywhere you get your podcasts.
Get our best content on ecommerce marketing in your inbox 2 times a week
On this episode, you'll learn:
The goal of your website.

Why you need to treat your product pages as their own landing page.

Why you should be spending more time on content.

The most important pages on your site.

Kelly's favorite Shopify themes.
What to listen for:
[2:45] The benefits of using Shopify.

[4:21] Teardown #1.

[6:42] Why you should lean into being a small business.

[7:28] Why you shouldn't add text directly on images.

[12:07] Teardown #2.

[12:53] The information that actually belongs in your navigation.

[16:56] Why you need to think about your homepage as landing page.

[20:01] Teardown #3.

[21:17] Why the product description needs to be below the add to cart button.

[23:14] Why you need an app for product reviews even if you don't have a single review yet.

[24:16] The benefit of including shipping information on your product pages.

[26:15] Kelly's favorite apps for social proof.

[29:08] Where should testimonials live?

[30:40] Teardown #4.

[31:56] Why you should offer a subscription if it makes sense for your brand.

[35:54] The most effective ways to get more reviews.

[40:19] Q&A

[42:14] Should you increase prices to be able to offer free shipping?

[43:45] How to measure improvement when you make changes to your site.

[45:51] Kelly's favorite Shopify themes.

[48:32] How to get traffic without paying tons of money.
Links to love👇👇