4 Lessons From 1,438+ Shopify Stores (Results From Our Shopify Store Grader)
Published on Jun 17, 2021
Written by Daniel J. Murphy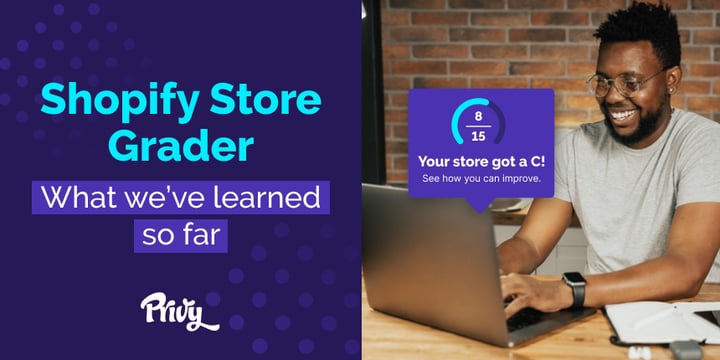 So a couple weeks ago we launched
our
Shopify Store Grader
to help small Shopify stores improve their websites and make more sales.
As of writing this, over 1,400 Shopify store owners have tested their websites. Pretty awesome.
And the results have been pretty interesting. Here's a quick recap of what we've learned so far.
Get our best content on ecommerce marketing in your inbox 2 times a week
1. The average store grade is a D+
That probably sounds worse than it is...
After working with 600,000 businesses, we know there are lots of small things that can make a big difference when it comes to website conversion, search rank, and overall usability of the site.
The good news is, many of these things are easy fixes, like including a link to your FAQs into your footer, adding a "Buy Now" button to your homepage, or including
cross-sell
opportunities (think "people also bought") on your product pages.
The even better news is, many people already made these improvements and their store has improved.
If you haven't tried the
Store Grader
yet, you should right now. It only takes a few seconds. And who knows how many small things you can fix
today
that will help you make more sales.
2. Only 57% of stores have a welcome popup
We actually thought this would be higher, although more than half isn't bad...
This is the #1 play customers use Privy for, and we call it the
welcome discount
.
It does two things: helps you
build your email list
by offering a small discount, and incentivizes a first time purchase with that discount code.
3. 68% of stores are using a free shipping bar
That's good news! Free shipping bars are a great (and super easy) way to increase spend on your store.
But make sure your free shipping bar is dynamic, so it updates as someone adds items to their cart. Which means if you offer free shipping at $50 and someone has $35 in their cart, it will tell them they only have to spend $15 more to get that free shipping. It's a much better incentive than using a static message that says $50 free shipping no matter how much a shopper has in their cart.
4. 40% of stores have an exit intent offer
That's not bad, especially since exit intent offers are considered a slightly more advanced conversion rate optimization strategy. But we highly encourage everyone, no matter what you sell or how many different products you have, to have an exit intent offer running to help save more sales before shoppers with items in their cart have left your store.
Privy makes that easy. And it doesn't always have to be a coupon. You might be able to offer something else to help get them over the hump: something like a phone call, email support, a piece of content, etc.
If you haven't tried the Shopify Store Grader yet, it's free, it takes 10 seconds to run, and will give you the recommendations you need to improve your store and get more sales.
Check it out
today.
Already know your Shopify grade and want to level up? Learn more about the Shopify email tools available to you.
Subscribe for Updates
Get our best content on ecommerce marketing in your inbox 2 times a week.
Written by Daniel J. Murphy
Dan is a B2B marketing leader with over 7 years of experience helping SaaS startups grow. Before joining Privy, Dan was the Director of Product Marketing at Drift. He's also worked in demand generation, brand marketing and marketing ops. Dan loves to geek out over marketing strategies and technology. He co-authored "This Won't Scale" with Privy's CMO, Dave Gerhardt at their previous company.
Subscribe for Updates
Get our best content on ecommerce marketing in your inbox 2 times a week.