Privy Product Roundup: What's New From July
Written by Josh Mendelsohn
The product team at Privy has been heads down so far this summer and have been pumping out awesome new features to improve the Privy experience, give you more integrations, and enhance our audience targeting rules. Here are some of the highlights from July!
Missed our last update? Check it out here.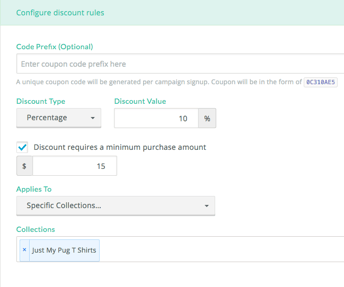 1. Create Collection-Specific Shopify Discounts:
You can now create collection specific discounts for your Shopify or Shopify Store to use in your pop ups, flyouts, and more without ever leaving Privy. That means that if you are offering discounts to your customers to encourage them to join your list or complete a purchase, you can now make those Master or Unique codes apply only to a specific product collection or collections instead of site wide. Read more.




2. New Zaius Integration:

If you use Zaius, you can now sync new contacts directly to lists within your account, giving you a powerful way to convert visitors to your website into subscribers and customers.
Read more.
3. Home Page Targeting and Builder Cleanup: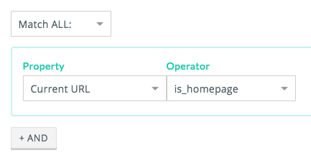 We've added a simple targeting rule to our page-based display targeting to include or exclude displays from showing on your homepage without you having to type in your URL. We've also tweaked the audience targeting rule interface to make it even even easier to build simple and complex targeting rules.
4. New Home for Privy Announcements: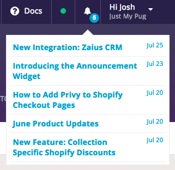 We've added a new place within Privy to find feature releases, upcoming webinars, and more important information. Just click when you see a number above the alarm bell and you'll be able to access whatever you want to read.
5. Filter Newsletters by Status:
It's now easier to sort through your email newsletters and announcements by sorting based on status (draft, sent, scheduled).
6. Use Zapier to Sync New Contacts to Facebook Leads: You can now sync new subscribers that sign up through your Privy campaigns to a designated Facebook Lead Ads custom audience in your Facebook Ads account. See the Zap here.
7. New Tutorials Page: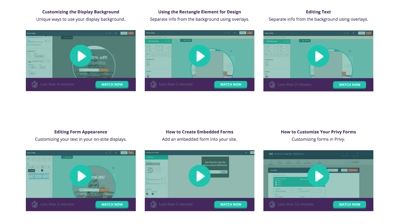 Our customer success team has begun updating a ton of our educational content and we've put over 20 new tutorials on our tutorial video page. Whether you're just getting started or need a refresher you can see how to use each element of the Privy platform. Check it out.
Subscribe for Updates
Get our best content on ecommerce marketing in your inbox 2 times a week.
Written by Josh Mendelsohn
Josh brings his marketing chops and lifelong passion for jam bands, craft beer, and SMBs to the team at Privy. Having spent time working at SMB and ecommerce leaders like Constant Contact and Salsify, he has a deep understanding of how to help small and medium sized ecommerce businesses be all that they can be. In addition to leading Privy's marketing team, Josh spends too much of his time managing his pug Marvin's instagram account.
Subscribe for Updates
Get our best content on ecommerce marketing in your inbox 2 times a week.