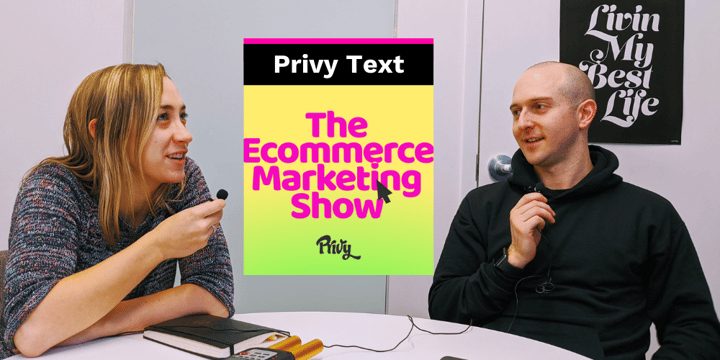 Shhh. 🤫🤫

Privy Text doesn't launch until next week, but we wanted to give you a sneak peek on this special episode of The Ecommerce Marketing Show.

Our Product Marketing Manager, Evelyn, has been working on Privy Text for months. And when she first heard Ben mention it, she was skeptical…

But she's worked with a lot of early users and seen it work well in her own life. And now she's convinced it can become the #1 sales channel for your ecommerce business.
And give you a leg up on the competition.

And it's another channel YOU own. You're not at the mercy of Facebook or Google.

You can tune in above👆 on Apple Podcasts, Spotify, Stitcher, or anywhere you get your podcasts.

Get our best content on ecommerce marketing in your inbox 2 times a week
On this episode, you'll learn:
Why texting customers allows you to skip the line.
The text flow that worked on Evelyn as a consumer.
Why text is another channel like email and your website that you own fully.
Why text isn't a replacement for your email strategy.
What to listen for:
[1:53] Why were you unsure about Privy Text at first?
[7:07] How do you turn skeptics into believers?
[9:30] Why text is a channel you own.
[11:33] Why text should be used sparingly.
[13:36] Why Privy Text *not* Privy SMS? (Do you know what SMS stands for? Same...til about 5 seconds ago.)
[15:41] Text plays.
Links to love ❤️