19 LGBTQ+ Owned Brands to Support This Pride Month and Beyond
Published on Jun 22, 2021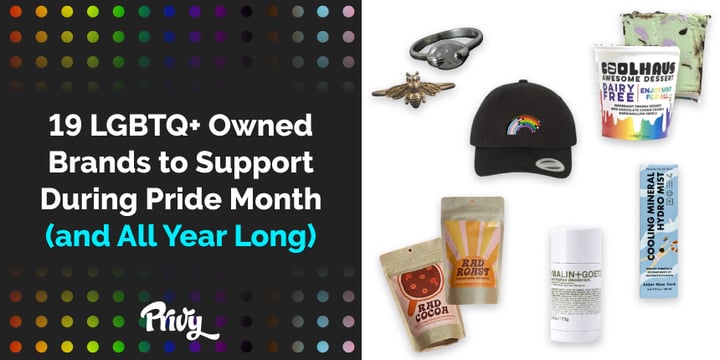 In honor of Pride Month, Privy is shining a light on some amazing LGBTQ+ owned brands to shop this month (and the rest of the year).
Also included in this article is a list of foundations to donate to if you're looking to further support the LGBTQ+ community.
Get our best content on ecommerce marketing in your inbox 2 times a week
1.
Pride in a Box
When Pride parades were cancelled in 2020 due to COVID, Pride in a Box founder, Elise Lindborg, wanted to give people a way to safely celebrate Pride at home. So, Pride in a Box was born. Her namesake product is a specially curated "starter kit" box, filled with balloons, a progress flag, and other pride-themed goodies.
Lindborg's mission is to help amplify the LGBTQ+ community's enduring fight for equality. She furthers this mission by thoughtfully sourcing her products – 95% of the products included in Pride in a Box are sourced from LGBTQ+ suppliers.
Their Pride Starter Kit starts at $39.99, with options to add more items to the bundle.
2.
Bianca's Design Shop
Artist Bianca Negron's Queens-based, Bianca's Design Shop, features a wide variety of pins, stickers, and other creative goods. In addition to her products being well designed, inclusive, and adorable, the proceeds of several of her pins are donated to organizations like the Marsha P. Johnson Institute.
For example, 50% of the proceeds from her Love Knows No Gender pin go to a different LGBTQ+ foundation every month.
And her shop even includes hats, like this The Future is Inclusive baseball cap, which is available for pre-order.
3.
Wildfang
Wildfang is a clothing line out of Portland, Oregon that is committed to rethinking outdated gender norms in fashion (like, why are fake pockets even a thing??). Their line includes coveralls, button down shirts, blazers, and more, in all sorts of prints ranging from neutral to vibrant.
The Essential Short Sleeve Coverall is the ultimate easygoing wardrobe staple:
And their best-selling Short Sleeve Button Up is offered in a variety of vibrant prints, like this fun wink pattern:
4.
MOMO Metals
MOMO Metals is a Philadelphia-based jewelry brand founded by jeweler and metalsmith, Monique Peterson. The line consists of hand-carved and fabricated sterling silver pieces, all of which fit a minimal, gender-neutral aesthetic.
The hand-carved Knock Necklace is a stunning statement piece, and has a free-moving silver ring.
And the Hold Me ring features a beautiful opal cabochon set in between two adorably tiny carved hands.
5.
Yeah Dawg!!! Vegan
Yeah Dawg!!! Vegan hot dogs and bratwurst was started by founder and chef Maria Benedetto as a way of reinventing the idea of "classic American" food in a healthy, healing way. Each hot dog or brat is soy-free, gluten-free, and made with ingredients like beets, sweet potatoes, carrots, chickpeas, and mushrooms.
Yeah Dawg!!!'s frozen variety pack of both hot dogs and bratwurst is sure to be a hit with any veggie-lovers at your next summer cookout:
And their CocoNOT Bacon is a healthy, plant based alternative to bacon bits:
6.
Malin and Goetz
The Malin and Goetz tagline, "uncomplicate your regimen," perfectly sums up their line of simple, yet high-quality skincare products. With backgrounds in the beauty and design industries, founders Matthew Malin and Andrew Goetz produce products that are safe, gentle, and effective. And with minimalistic apothecary-inspired packaging, you'll never be left wondering what's in the products you're using.
Their #1 best selling product for over 10 years has been their natural eucalyptus deodorant. Infused with natural eucalyptus extract and odor-neutralizing citronellyl, the natural formula is aluminum-free and effective on even the most sensitive of skin types.
And they even offer fragrances. Try a boxed set of their six signature scents, formulated for gender-neutral appeal and everyday wear.
7.
OtherWild
Otherwild is a queer-identified woman-owned store and design studio, which also holds an event space in LA. The brand was founded in 2012 with the goal of showcasing and celebrating the work of their vast community of artists and designers. In addition, they also offer an array of refillable household and low/no waste products, showcasing their passion for sustainability and conscious consumerism.
Their Eat/drink toolkit is a great alternative to plastic utensils, (especially useful if you're going back to the office).
And these reusable bags are an adorable and much more sustainable alternative to the traditional single-use "thank you" bags.
8.
Third Culture Bakery
Third Culture Bakery was started by Chef Sam Butarbutar and Wenter Shyu, who wanted to offer pastries reflective of their childhoods in Indonesia and Taiwan.
The brand's name is derived from their shared experience growing up in a culture different from that of their parents, and the baked goods they sell mirror this multicultural background.
Together, the duo found success with their trademarked, Original Mochi Muffin, a rice flour-based baked good inspired by an Indonesian dessert that Sam's mom used to make. The muffin is offered in several flavors, including ube, matcha, chocolate brownie, and black sesame, or you can give the original white and black sesame seed-topped version a try:
And for Pride month, Third Culture Bakery is offering pride-themed merchandise including sticker packs and a tote bag. In addition, 25% of the proceeds from these items will go toward non-profit groups that benefit queer and trans communities.
9. Humankind Swim
Humankind Swim is an LA-based gender-inclusive swimwear and apparel brand that strives to make wearers feel comfortable and confident. Their swimwear sets are supportive and offer coverage that's suitable for many body types.
Their current swim collection includes swim tops, shirts, and trunks in a variety of cool blue shades, all made from their signature quick-dry fabric blend.
And you can even opt for their limited edition Pride set, which features either a bright rainbow stripe or a "love is love" print. To top it off, 15% of the proceeds go toward The Trevor Project, a non-profit focused on suicide-prevention efforts among LGBTQ+ youth.

10. Automic Gold
Automic Gold is a jewelry brand that defines itself as "radically wearable fine jewelry for everyone." Inclusivity and reform are at the core of everything they do, from the design and creation of their jewelry, to the models they hire to display it.
Sustainability and ethics are another huge part of their ethos, so all pieces are made from solid reclaimed gold with recyclable packaging.
Their Chain Loop Earrings are dainty and subtle:
And I personally am obsessed with this adorable Bee Ring:
11.
Rad Foods
Rad Foods offers mushroom-based coffee alternatives that provide sustained, balanced energy without the harmful side effects of caffeine. Rad Foods' beverages are made up of lion's mane and reishi mushrooms, as well as plants like chicory, dandelion, cinnamon, and cacao. And in addition to being naturally vegan, grain-free, and gluten-free, the ingredients are ethically sourced and 5% of the proceeds go toward social change.
Take a break from your large Dunkin iced with an extra shot and give Rad Roast a try:
And if you can't quit the coffee but are still looking for some immunity-boosting antioxidant packed goodness, opt for a cup of Rad Cocoa instead:
12.
Dapper Boi
Dapper Boi is a line of gender-neutral apparel designed to inclusively fit a wide range of body types. The line was founded by Vicky and Charisse Pasche after Vicky grew tired of shopping in the men's department for clothes that didn't adhere to her body shape. She knew that she wasn't the only person who struggled to find identity-affirming clothing without paying high prices for tailoring and customization, so Dapper Boi was born.
The line of affordable, androgynous clothing is updated every month, with options to pre-order new items at wholesale pricing. Their fan-favorite jeans are offered in a variety of cuts and washes, and sold out almost instantly when they were first released.
And the brand also offers button-ups, jackets, swimwear, and more, with new options being added regularly.
13.
Boy Smells
Boy Smells is a candle and lifestyle brand founded by partners Matthew Herman and David Kien. The duo sought to create goods that they'd want to use on an everyday basis and that weren't overtly targeted toward one gender.
All-natural, hand-poured, and packaged in a resealable glass vessel, Boy Smells candles come in a number of delightful scents like cinderose (notes of rose and smoke), and gardener (a blend of tomato vine and honeysuckle).
In addition to candles, the founders branched out in 2018 to launch Unmentionables, a line of gender-neutral and size-inclusive undergarments.
And to further show their commitment to inclusivity and supporting the LGBTQ+ community, Boysmells releases a special line of candles for Pride Month each year. This year, 10% of the proceeds of this line go toward The Trevor Project. Show your support (and get some amazing new candles) with this votive set that includes the entire Pride collection.
14.
Flavnt
Flavnt Streetwear is an Austin-based independent clothing brand that's all about being comfortable in your own skin and flaunting that to the world. They promote this message not only through their clothing and designs, but in the work that they do to support the LGBTQ+ community.
The brand offers a wide variety of t-shirts, sweats, hats, and other accessories such as stickers and totes, all promoting a message of self-love and confidence. Flaunt your support for the brand and their 2 main missions – supporting the LGBTQ+ community and fundraising – with a signature Flavnt shirt.
Flavnt also created the Bareskin binder, the first racerback binder offered in a range of skin tones.
15.
Freck Beauty
Freck Beauty is an LA-based brand that amassed a large following for creating FRECK OG, the world's first freckle cosmetic. Founder Remi knew that the brand could be more than just freckles, though, and now Freck Beauty offers a wide range of cosmetics and skincare products. Their products are vegan and cruelty-free, and fit every aesthetic from "moisturizer-and-go" to "blue-flame-eyeliner-energy."
Their CHEEKSLIME lip and cheek tint was Glamour's 2021 beauty award winner, and promises a multidimensional wash of color across any skin tone.
Not sure where to start? Remi put together a bundle of her favorites – a hydrating clay mask, cleansing cactus water, and the classic FRECK OG freckle cosmetic.

16. Black Queer Magic
Black Queer Magic is a New York-based jewelry brand with activistic roots. In addition to being a self-taught jeweler, founder V is a skilled clinician with formal training in working with LGBTQ communities.
Through Black Queer Magic, they bridge their love for crystals and jewelry making with a strong passion for uplifting their community and advocating for equality.
Their hand-strung crystal bracelets are adorned with beautiful brass accents:
And V even offers jewelry-making workshops for those inclined to try their hand at the craft.
17.
CoolHau
s
CoolHaus is a women and LGBTQ-owned premium ice cream company that specializes in unique flavors and ice cream sandwiches. Available online and in many grocery stores, CoolHaus ice cream comes in a number of flavors and even offers dairy-free options.
Cereal Dreams, for example, features cereal milk-based ice cream (!!!) with a crispy cereal cereal swirl. Ice cream for breakfast, anyone?
And their latest offering is EnjoyMINT for All, a dairy-free peppermint ice cream with chocolate cookie and marshmallow that represents the brand's commitment to equality and inclusion.
All of the sales collected from this flavor at their Culver City Scoop Shop will go toward The Okra Project, a collective that helps provide resources and meals to Black Trans people worldwide.
18.
XMondo Hair
Founded by Youtube hairdressing sensation Brad Mondo, XMondo Hair offers a range of haircare and styling products aimed to give consumers of every experience level a chance to achieve salon-quality hair with less effort. Their hyper-pigmented, hair-healing dyes are a fan favorite if you're looking to shake up your look with a vibrant shade.
But if you're just not sure where to start, have no fear. XMondo provides a quick quiz to point you in the right direction on your hair care journey.
19.
Alder New York
Alder New York is a queer and woman-owned skincare brand commited to providing skincare that works for all skin types, regardless of age, gender, or ethnicity.
Long-time co-collaborators and founders Nina Zilka and David Krause bring their mutual passions for design, wellness and inclusivity to the brand, and it shows in the quality of their products. Their high-performing, uncomplicated skincare essentials are produced with clean, plant-based ingredients that are sustainably sourced.
Their cult-favorite Texture Powder is a dry shampoo formulated with sea-clay, rice powder, and natural eucalyptus and lime oils.
Another fan-favorite is their Cooling Mineral Hydro Mist, a refreshing spray formulated to fortify and calm skin after the sun (AKA something everyone needs to be carrying around this summer).
And to further emphasize their commitment to inclusivity, 10% of the proceeds of their limited Pride edition will be donated toward the Ali Forney Center in New York City, which aims to support LGBTQ+ youth and protect them from the harms of homelessness.
7 other ways to support the LGBTQ+ community
Looking for other ways to support the LGBTQ+ community? Here are 7 amazing organizations you can donate to.
The Trevor Project
Mentioned previously in this article, The Trevor Project is an amazing non profit that provides lifesaving crisis and suicide intervention support to LGBTQ+ youth. Founded in 1998 by the creators of the short film TREVOR, the organization has trained counselors available 24/7 to help support young people through crises.
The Marsha P. Johnson Institute
A highly venerated icon in LGBTQ+ history, Marsha P. Johnson was a Black trans woman who outspokenly advocated for gay rights. The Marsha P. Johnson Institute defends the human rights of the Black transgender community, helping to provide employment, advocate for systemic change, and even provide COVID relief to this marginalized community.
GLAAD
The Gay and Lesbian Alliance Against Defamation is a media-monitoring organization that aims to combat defamatory language toward the LGBTQ+ community and provoke dialogue that prompts cultural change.
The LGBTQ Freedom Fund
LGBTQ folks are 3 times more likely to be incarcerated than other individuals, and this disproportionate criminalization manifests widespread violence toward this community. The LGBTQ Freedom Fund fights discriminatory mass incarceration by posting bail for LGBTQ people who have been jailed.
Trans Lifeline
Trans Lifeline is an organization that helps connect trans people to the community support and resources that they need. They also offer a 24/7 hotline to provide direct emotional support to trans people in crisis.
GLSEN
GLSEN's (pronounced "glisten") core mission is to make schools safe and supportive environments for all members, regardless of sexual orientation, gender identity, or gender expression. They do so by providing research-backed solutions and resources to educators and school communities, fighting discriminatory legislation and advocating for improved policy, and supporting student-led efforts nationwide.
The Center for Black Equity
The Center for Black Equity is committed to promoting a multinational LGBTQ+ network and achieving equality and social justice for the Black LGBTQ+ community. The organization aims to support the community in three areas: economic equity, social equity, and health equity.
Subscribe for Updates
Get our best content on ecommerce marketing in your inbox 2 times a week.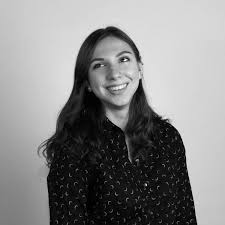 Written by Anna Smith
Anna joins the Privy Marketing team straight out of Northeastern University, where she had co-ops at the Wilbur Theater, Dana-Farber Cancer Institute, and OpenView. When she's not designing, she's probably painting or doing anything that involves live music, food, or best-case scenario, both.
Subscribe for Updates
Get our best content on ecommerce marketing in your inbox 2 times a week.