Introducing New Integrations for Iterable, Emarsys, and Listrak
Written by Josh Mendelsohn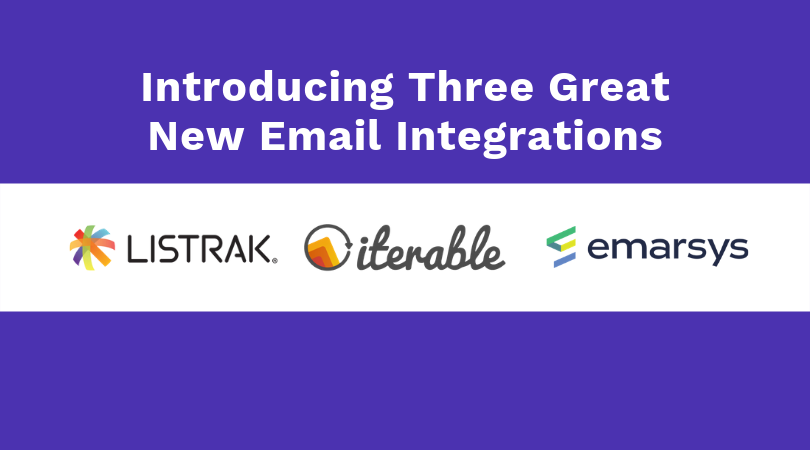 We're excited to announce three new integrations designed to allow more established businesses who rely on Iterable, Emarsys, or Listrak as their email providers to use Privy Growth to grow their email list, reduce abandonment, and drive new sales for their online stores.
Using Privy, every email collected can be automatically synced to a specific list within any of these providers along with a variety of other data that can be used down the line.
Why does this matter?
Based on our analysis of over 20,000 online stores, merchants on average generate $15.23 for every email address captured and for Shopify Plus merchants, that number jumps to $22.82 for every email captured. Which means that businesses who are serious about growth need to use a best in class platform to power their on-site efforts.

We find that too many merchants rely on a simple sign up box in their footer or a limited pop up tool with minimal design functionality as their primary list growth mechanisms, but there is so much more they could be doing to create a more personalized and high converting experience.
For example:
Welcoming first time visitors with a highly branded message that encourages them to join your list
Launching pop ups that tie directly to your paid ads and reinforce the message
Running tiered cart saving pop ups to offer a powerful discount to people about to abandon their cart
Welcoming back return visitors with a special message
Promoting unique offers just for first time customers
Using banners and flyouts to increase average order value by suggesting products not already in a shopper's cart
If you're serious about growing your list, just create a free Privy account, connect your email provider, add automation rules to your email capture campaigns and start turning more unknown visitors into paying customers.
About Iterable
Iterable is empowering the world's leading brands to achieve world-class customer engagement at scale. Powered by the same technologies that propelled leaders like Twitter and Facebook, we are building tools for growth marketers wishing to captivate customers with messaging that matters when it matters.
About Listrak
Listrak helps marketers unlock the power of their customer data to create personalized, 1:1 interactions that drive incremental revenue, engagement, lifetime value and growth. Listrak has nearly two decades of digital marketing experience, serves more than 1,000 clients, and works with leading retailers and brands.
About Emarsys
Emarsys is the largest independent marketing platform company in the world and the only marketing platform that knows your industry. With embedded, industry-specific turnkey solutions, our software enables truly personalized, one-to-one interactions between marketers and customers across all channels — building loyalty, enriching the customer journey, and increasing revenue. This enables companies to scale marketing decisions and actions far beyond human capabilities.
Subscribe for Updates
Get our best content on ecommerce marketing in your inbox 2 times a week.
Written by Josh Mendelsohn
Josh brings his marketing chops and lifelong passion for jam bands, craft beer, and SMBs to the team at Privy. Having spent time working at SMB and ecommerce leaders like Constant Contact and Salsify, he has a deep understanding of how to help small and medium sized ecommerce businesses be all that they can be. In addition to leading Privy's marketing team, Josh spends too much of his time managing his pug Marvin's instagram account.
Subscribe for Updates
Get our best content on ecommerce marketing in your inbox 2 times a week.