Introducing Wix + Privy: Now You Can Grow Online Sales For Your Wix Store With Privy
Published on Mar 16, 2021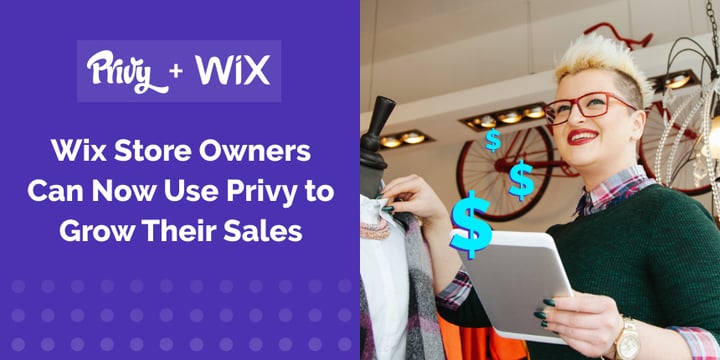 Over 600,000 online stores have generated more than $5 billion in sales using Privy.
From automated emails to email list growth, Privy's email platform offers everything a small business needs to grow sales.
And today we're excited to double down on our investment in small ecommerce businesses.
We're pleased to announce that Privy has partnered with Wix to help their entrepreneurs grow sales with email and more.
Which means Privy is now available in the Wix App Market.

Get our best content on ecommerce marketing in your inbox 2 times a week
How Wix Store Owners Can Use Privy To Grow Their Businesses
Save time (and money) by automating your email marketing
After talking with thousands of online merchants we've learned one thing:
You are busy!
You wear every hat in the business from customer service, to fulfillment, to product design.
So when it's finally time to start marketing your Wix store, email is usually an afterthought.
That's why we designed Privy Email to automate Wix merchants' email marketing.
We built 4 different automated emails to help you sell more on your Wix store (and they work even when you're sleeping):
1. Abandoned Cart Emails
2. Welcome Emails
3. Purchase Follow-up Emails
4. Customer Winback Emails
Each of these emails has helped Privy merchants make millions of dollars.
And best of all, they only take minutes to set up.
So once you turn them on you can get back to running your business, not just sending out emails.
Build A Massive Audience For Your Wix Store
Let's face it.
For every 100 customers that visit your store, chances are, only 1-2 of them are buying.
And if the rest leave before you can capture their email…well that's a lot of wasted ad dollars.
Online brands are using Privy to change that by capturing over 266 million emails.
And every email a brand captures is worth $33 in revenue.
Privy gives you the tools to supercharge your conversion. Whether that's through welcome popups, spin-to-win wheels, or even free shipping bars.
Design Beautiful, Professional Looking Emails
You're an entrepreneur. Not a designer.
But with Privy, you don't need to be.
Customers love using Privy because we have a simple drag-and-drop editor that helps you customize newsletters and email templates in minutes, not hours.
With Privy Email, you can pull in product photos and link them back to your Wix product pages with ease.
Now your emails can look and feel as incredible as your Wix store.
What else does Privy have to offer?
The best part about Privy is that we are not just another piece of software.
We provide you the tools and coaching that you need to grow from $0 to $1 million in sales (seriously, we even wrote the book on it).
We have a best-in-class support team that works 24/7 to answer your questions and help you get started at no additional cost.
And, well, let's just say they're really good:
And if that's not enough, we even have an Ecommerce Marketing Community where you can ask other ecommerce merchants your questions and learn from them along the way.
How can you get started with Privy today?
While we're new to Wix, we are not new to ecommerce.
Privy has been around for 8 years and we are the fastest way to set up email automation for your Wix store.
And with over 18,000 5-star reviews, our customers agree.
If you want to get started today, head on over to the Wix app store today to download Privy on to your shop.
We have a free 15 day trial, so you can get up and running with Privy in minutes.
Subscribe for Updates
Get our best content on ecommerce marketing in your inbox 2 times a week.
Subscribe for Updates
Get our best content on ecommerce marketing in your inbox 2 times a week.