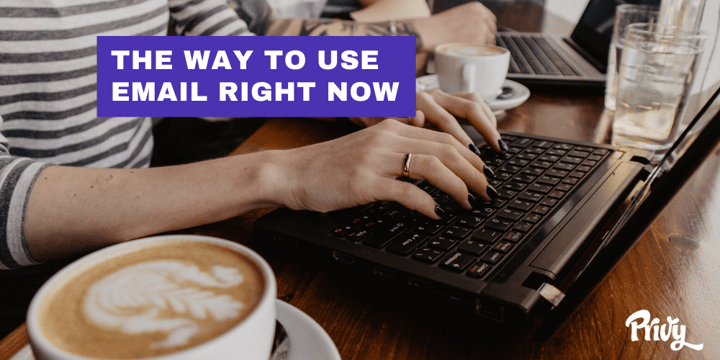 With everything that's happening in the world right now, it's really hard to know what to do.
We've all seen the emails come through that are just completely tone deaf. So should you just stop sending emails altogether? No! But you should at least acknowledge what's happening.
Yesterday I got an email from Ryan Lee, Founder of Rewind, an energy bar company.
In a sea of emails from brands I had completely forgotten about, Ryan's email stood out because he addressed how people are actually feeling.
Get our best content on ecommerce marketing in your inbox 2 times a week
And while a lot of businesses are raising prices, he lowered them so much that he's not even going to make a profit on his bars right now.
So I wanted to share the email and advice he gave when I reached out to him after seeing it.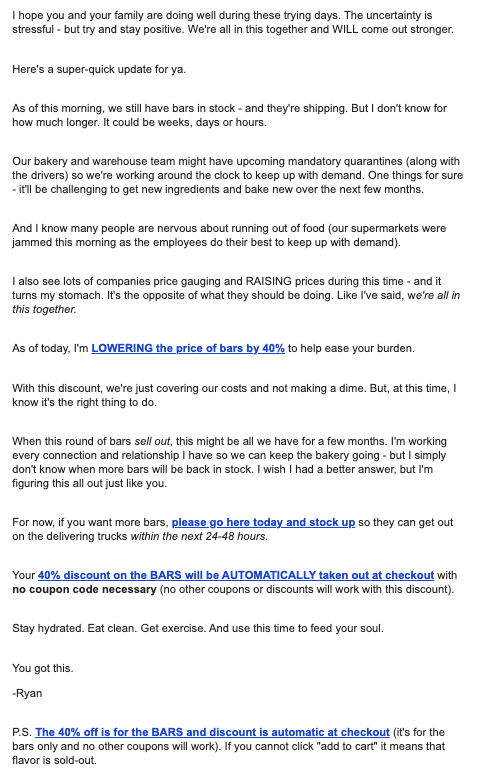 [Lauren] You sent out an insane email about dropping prices by 40%. How'd you come up with the idea when a lot of businesses out there are doing the opposite?
[Ryan] People are nervous right now. They're scared. And I started this business to serve others.
I come from the non-profit background (spent 6 years working in a Children's Hospital) and GIVING is in my DNA. It feels really good. It's weird, but I thrive in high-pressure situations.
People are nervous about having enough food and we sell healthy bars. I WISH I was able to give away all our bars for free – but that would put us out of business because almost all our money is tied up in our inventory.
So I thought about it for 30 seconds – and simply decided to give them the bars at my cost. We won't make a dime on this entire round of inventory and it pushes back our path to profitability, but we're in this for the long run. We truly want to help our peeps and they seem to appreciate our gesture. Just check out a couple of the responses.👇


[Lauren] What's your biggest pet peeve about emails that are coming out right now?
[Ryan] I've got two big pet peeves about the emails right now.
#1. They're so impersonal. They're using language written in a boardroom. "We sincerely apologize for the inconvenience" just won't cut it. Talk like a human being!
People are nervous. They're scared. And they only care about providing for their families...they don't care about your "business process" or legalese.
#2. Ignoring what's happening. One of my competitors is just running regular, generic "sales" emails with ZERO written about what's happening in the real world. It makes them look so out-of-touch and shows they don't really care about their customers.
You don't have to be all gloom and doom, but you must address what's happening.
[Lauren] What should people really be doing? Can you share any advice for other small ecommerce brands about how they can leverage email right now?
[Ryan] Stay in constant touch with your tribe and speak like a human being. Explain what's going on with your inventory, shipping, if there will be delays and explain what you're doing to serve and support them.
Show pictures. Show videos. Open up your business and be fully transparent.
The most important thing is to let them know YOU HAVE THEIR BACK!!
[Lauren] What can people be doing if they're not willing to lower prices?
[Ryan] At minimum, find ways to add more value. More support.
You can add bonus products (physical or digital) if lowering your prices is out of the question.
We have a Facebook group that we're in every day, all day. We answer questions. We try to keep people's spirits up by inspiring and motivating them.
Do more live videos. Show them you're with them.. right alongside them, in real-time. We've been doing 2-3 live videos every day, answering questions.
Consider doing an online event – something that'll bring your tribe together.
Serve your community. If you have extra inventory, returns, etc. maybe there's a local charity or families in need that could use your products. We've donated thousands of bars to a local inner-city school with low-income families who are struggling to feed their children.
Use this time to step up and lead. Use this time to show you care.
Your customers will remember businesses that stepped up and lead with soul – and they'll never forget those who tried to take advantage of their pain. That will stay with them forever.
This is your time to shine.
The right messaging will help you in the long run
Ryan is taking a hit in the short term, but he's taking a longer term approach here. He's building trust with his customers rather than acting like nothing is out of the ordinary.
The whole world is taking things day by day. Acknowledge that you have no idea what's to come. Use the time to strengthen the relationships you already have. That's the kind of thing you'll never regret. And your customers will thank you by coming back again and again.
Subscribe for Updates
Get our best content on ecommerce marketing in your inbox 2 times a week.
Written by Lauren Hall
Lauren is a Brand Marketing Associate at Privy. She's the brains behind all things content. When she's offline, she's obsessing over her Bernedoodle pup, Monster, and plotting ways to being a full-time Vermonter ASAP.
Subscribe for Updates
Get our best content on ecommerce marketing in your inbox 2 times a week.