Geotargeting: Meeting Customers Where They Are to Boost Conversion
Published on Aug 19, 2019
Written by Lauren Shepherd
Have you heard of the phrase "meeting customers where they are?" Although the phrase can be a bit overused, in principle, it works marketing wonders.
All it means is that whatever channels your customers use, wherever they spend most of their time (physically or online), is where you should be communicating and marketing to them. And the more relevant your marketing is, the more likely you are to drive a new or repeat sale. Simple as that.
I recently had the chance to interview The Copper Closet, who really take this concept to heart. They use geotargeting to quite literally meet customers where they are. I thought it was so brilliant I wanted to share some of their campaigns.
Here's a little bit more about location targeting and how The Copper Closet uses location specific campaigns to reach at 16% conversion rate.
---
---
What is geotargeting?
Geotargeting involves targeting displays (pop ups, flyouts, banners, and so on) by the detected region, country or postal code of visitors to your site. Geotargeting by these features allow you to get granular and target specific types of offers such free shipping in a particular region, or promote brick and mortar sales.
Your shoppers' location is detected from their network address; in other words, the physical location where the visitor is accessing your site from.
How The Copper Closet uses geotargeting to convert 16% of shoppers
Ok, now let's get to the good stuff. Here are 3 different types of campaigns that The Copper Closet has run using geotargeting.
Upsell campaign
Upsell campaigns are a great way to increase your average order value. Once your customer has items in their cart, suggest some more options for them to add with just the click of a button. But The Copper Closet takes it one step further.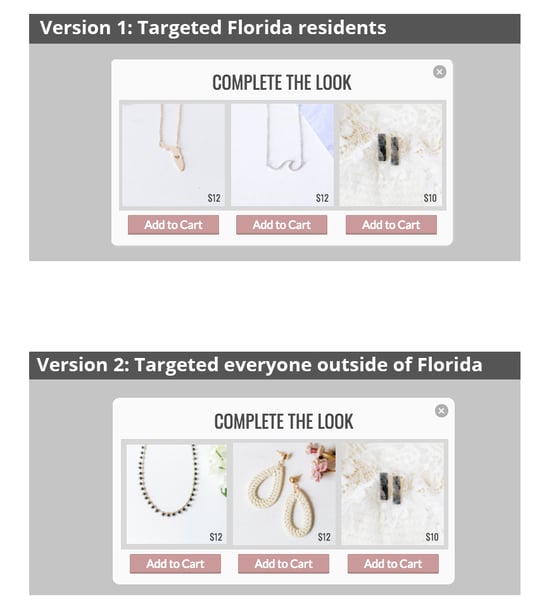 Take a look at this "complete the look" campaign. For shoppers that are based in Florida, they trigger a display featuring Florida related jewelry.
But for customers outside of the sunshine state, they trigger a display featuring other non-Florida related jewelry.
Event announcements
The Copper Closet also uses geotargeting to announce store openings. They have ten brick and mortar locations throughout Florida, Georgia, and South Carolina. And in the last several months, they've advertised multiple store openings on their site to customers in the surrounding area.
This tactic results in record turnout for their store openings, helping engage shoppers in those areas prior to the opening, reminding them of the event, and creating a relationship.
Free in-store pickup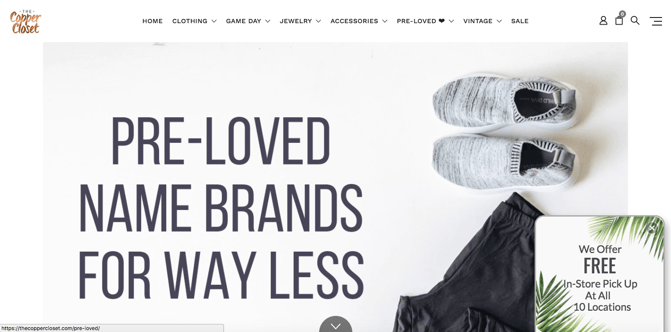 Another campaign that makes The Copper Closet one of our Marketing Heroes is how they encourage in-store pickup (and hey, while those customers are in the store, they just might pick up some more items).
Customers who are in the same zip code as one of their stores are alerted that they can receive free in-store pickup.
I hope these campaigns have you feeling inspired. Want to learn even more about the amazing campaigns The Copper Closet is running> Check out their full customer story below!
Subscribe for Updates
Get our best content on ecommerce marketing in your inbox 2 times a week.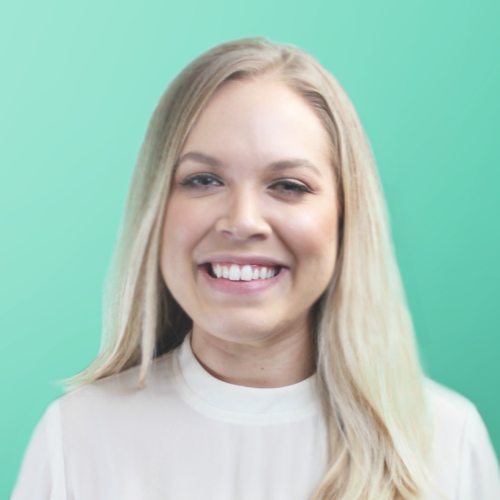 Written by Lauren Shepherd
Lauren is our Senior Marketing Manager. Coming all the way from Minnesota, she's earned her spot on the east coast by working for companies like Brainshark and Teikametrics to create content and lead generation strategies that increase website traffic and build brand awareness. Lauren's passion for small businesses and content creation is what brought her to Privy, but her enthusiasm and love of good beer and all things Justin Timberlake are what make her the perfect fit for our team.
Subscribe for Updates
Get our best content on ecommerce marketing in your inbox 2 times a week.