From $0 to $1 Million: How Vivian Kaye Built A 7-Figure Brand
Published on Feb 23, 2021
Written by Daniel J. Murphy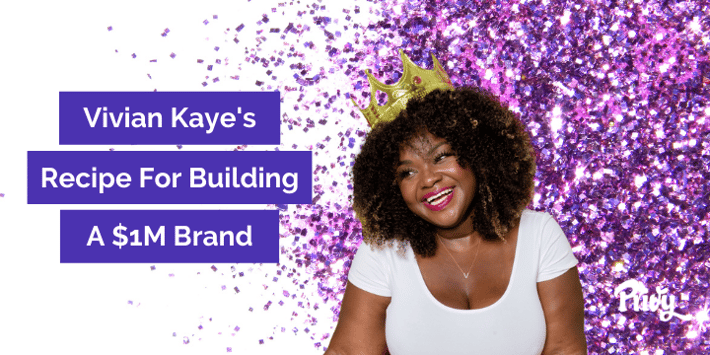 Vivian Kaye didn't set out to start a million-dollar business, she set out to solve her own problem.
And she didn't spend a dime on paid advertising til after she hit the million dollar mark.
Today, she's surpassed $6M in revenue.
Her story is a textbook example of what's possible when you build a brand around your "why?"
Here's how she hit (and surpassed) the 7-figure mark.
Get our best content on ecommerce marketing in your inbox 2 times a week
Daniel: Why did you start KinkyCurlyYaki?
Vivian: I started my business because I needed to solve my own problem - not just my problem, but a problem for Black women everywhere. For centuries, we've been shamed about our natural hair and pressured to look "presentable." We treated our hair with chemicals or used extensions that had a silky European look. I had a hard time finding extensions that looked like my natural hair, so I rolled up my sleeves and found a way to make my own. I worked with factories and did my own research. Eventually, I found something that was suitable for me.
The "this could be a business" lightbulb went off when I was wearing my weave to an event. Another Black woman asked me who my hairdresser is. That's a huge compliment. When I told her it was a weave, she was impressed. "I would buy that," she said. From there, I figured there must be at least a dozen other Black women who would buy one, too. That's where it all started.
Daniel: Why did you decide to build KinkyCurlyYaki as an ecommerce business?
Vivian: Ecommerce breaks down a lot of barriers; it evens the playing field for anyone who has the audacity to get started. My story is proof of that. My life story doesn't have "CEO" written all over it. I'm an immigrant, my first experience of commerce was being carried on my mother's back through the markets as a little girl in Ghana. On paper, I'm all the things you shouldn't be: I'm a college dropout and a single mom. Like it or not, those are barriers, but still, I succeeded.
Everyone's story is different, it's okay to stay in your day job because you have bills to pay, and it's okay if you have funding. There's no blueprint. I got to a million with zero – I bootstrapped it; my path was to work for myself to fund this. I had to do it that way.
Daniel: You were managing a full time job and running KinkyCurlyYaki as a side hustle at the same time. When did you know you were ready to quit your job and go all-in on your side hustle?
Vivian: That's like asking "how do you find the love of your life?" You just know. You go to bed thinking about your business. You wake up thinking about it. By keeping my focus on why I do this and what my products do for women, I don't have to think too hard about brand. Yeah, I sell weaves but my why is about giving Black women confidence. In the Black beauty space, we don't see a lot of people who look like us owning the brands. For me, brand was about taking a stand and saying, "you know what, kinky hair as it grows out of our heads is beautiful!"
My advice would be to trust your intuition and follow it. The focus shouldn't be "become a million-dollar business" It should be to help people do ______. Loving what you do starts with love.
Daniel: You built an audience without spending money on advertising and that got you all the way to $1 million in sales. How'd you build that audience?
Vivian: Before I got started, I was part of Black hair care forums and Facebook groups. I built what I guess you could call a platform through that community, but I didn't even market directly. Gradually, they discovered who I was. I knew the product because I was the customer.
It was five years and over $1 million in sales before I paid for ads. All the initial traction came from conversations on social media. Once I had those early sales, what kept them coming back was customer service; I really focused on that. What competitors who came along didn't have was me. I was on Instagram and Facebook in the DMs. I'd talk to my customers, I'd make them feel heard, I made it a point to listen. That was my story. That was our story.
When you start with your problem, you'll figure out where to find people with the same problem. I had a lot of offline conversations. At events, I would just chat and listen and connect.
Like, "Hey girl, maybe this would work for you."
Daniel: What did it feel like when you hit $1 million in sales?
Vivian: One day in November 2016, I was checking something in my Shopify account, unrelated to sales but then I noticed a chart. I had surpassed $1 million. That was a year after I sold my other business. I was breastfeeding and packing up orders at home; that's about as committed as it gets.
Daniel: You invested in customer service because you felt a great experience was the best marketing you could do. That investment was your time. But as you grew and started serving thousands of customers, how did you scale customer service?
Vivian: Yes, so I didn't hire help for customer service until June of 2016. Which was right before I hit my first $1 million in sales. Prior to that, I did everything myself, and I had an eighteen-month-old baby. Moms know all about that part; you don't have time to do everything and sleep and feed yourself, but somehow you do it all.
Then I hired someone. She's amazing and still working for us today, four years later. That freed me up to work on the business rather than just working in the business. By that I mean I could get away from all the little things that come with growing and focus on the things that helped me grow in the first place. Taking admin off my plate meant I could spend more time in the DMs, staying connected with my online community.
Daniel: Some of your early success growing KinkyCurlyYaki was through influencer marketing, but the way you did it, it wasn't paying people to talk about your product, right?
Vivian: Exactly. So I started influencer marketing before it was called that. For us, it was girls blogging and vlogging on YouTube who wanted to talk about the same things I was talking about with KinkyCurlyYaki. They were passionate. Now everyone and their mom's an influencer. But back then, it was just about finding passionate spokespeople for your brand. 40% of my business was influencers before that was a thing. It was totally organic. I sent them hair and they used it.
Influencer marketing is not that complicated. You send them the product and let them do their thing. You're nimble, use that. Big brands do one-sheeters and storyboard videos and all that. It's to your advantage that you don't have to worry about all that, just be yourself and find people you connect with who would be excited to talk about your brand.
And sometimes it doesn't work out...you've gotta kiss a lot of frogs to get to the prince.
Daniel: What was your secret sauce for building your brand?
Vivian: I niched it. I went deeper into my niche and chose a specific niche of people to talk to instead of going wide and trying to talk to everyone. My advice would be to do the same in whatever your niche is and just work on communicating authentically with the people in that space. Work on the story. Work on you. You can't be me. Your competition can't be you!
Subscribe for Updates
Get our best content on ecommerce marketing in your inbox 2 times a week.
Written by Daniel J. Murphy
Dan is a B2B marketing leader with over 7 years of experience helping SaaS startups grow. Before joining Privy, Dan was the Director of Product Marketing at Drift. He's also worked in demand generation, brand marketing and marketing ops. Dan loves to geek out over marketing strategies and technology. He co-authored "This Won't Scale" with Privy's CMO, Dave Gerhardt at their previous company.
Subscribe for Updates
Get our best content on ecommerce marketing in your inbox 2 times a week.