9 Father's Day Marketing Campaign Ideas You Can Steal (with Examples)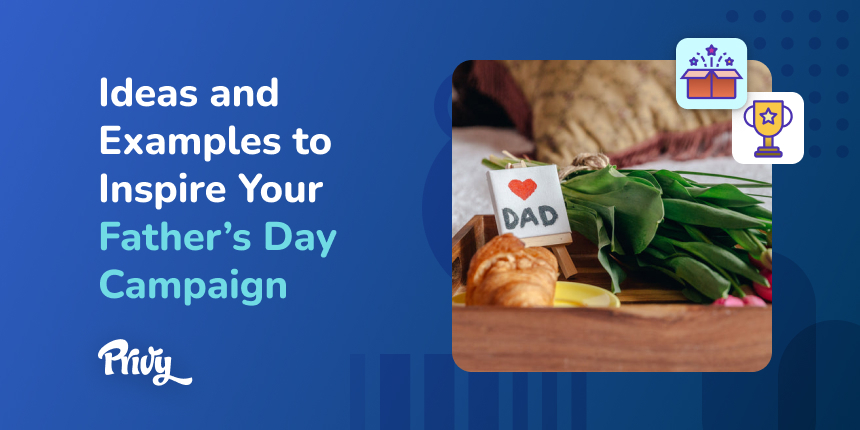 Father's Day is the perfect excuse to come up with a campaign that will bring in sales for your business.
From a free gift with purchase, to gift ideas for your audience, there's so much you can do to create a seamless experience they'll love.
And once you're done with this post, you'll have everything you need to launch the perfect Father's Day marketing campaign for your store.
9 offer and campaign ideas you can steal
9 real-life examples
10 subject lines you can swipe
Father's Day email templates
So start planning the ultimate Father's Day marketing campaign today.
Get our best content on ecommerce marketing in your inbox 2 times a week
1. Allow your subscribers to opt out
Like Mother's Day, Father's Day isn't always a time to celebrate for everyone in your audience. That's why giving them the option to opt out of any Father's Day communication is a great way to build trust and show that you care.
Here's a great example from fragrance company, Snif:

The message is short and sweet and makes it really easy for subscribers to choose whether or not they want to receive Father's Day messages.
Want to do something similar with your Privy account? Here's how one customer set up a campaign like this for Mother's Day:
So before you start promoting anything for Father's Day, check in with your audience and give them a chance to opt out of your campaigns.
2. Share a personal story
When you get personal with your audience, it helps them connect with you and your brand. That's why I love this email from pottery brand, Farmhouse Pottery, so much: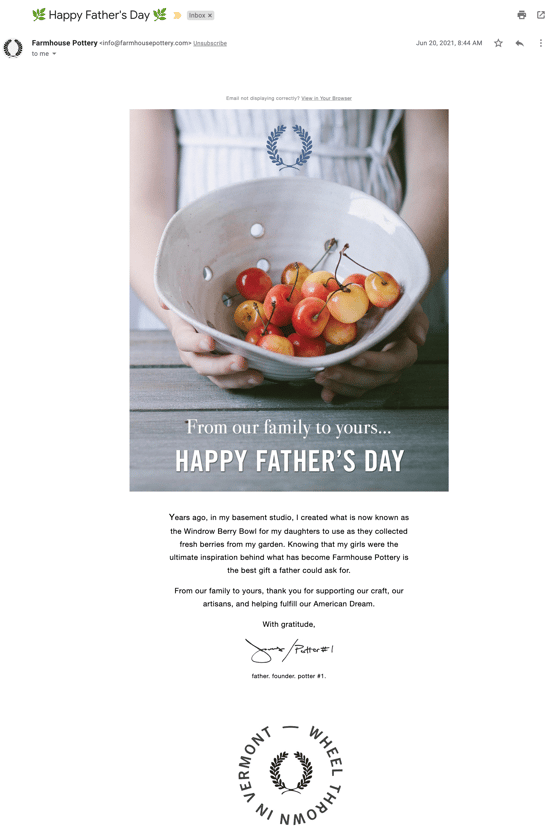 It's not salesy, it just tells a story most fathers can relate to: doing something special for their kids. And now any time someone sees that berry bowl, they'll think of the founder working in his basement thinking about his kids. How special is that?
That's why holidays like Father's Day are the perfect time to share a personal story. To build connections with your audience and give them something to remember about you as a person. Because, ultimately, they want to support a real person, not a faceless brand.
3. Put together Father's Day content
Another non-salesy, story telling option for Father's Day is to put together content like blog posts, podcast episodes, or videos.
Take this example from activewear brand, Rhone's, blog: The Pursuit:

With 5 different Father's Day-related posts and a quick blurb about each, it's the perfect way to honor the holiday without being pushy.
Do they showcase their products in these posts? Yes! But it doesn't feel out of place or over the top. Primarily, their content is about educating and inspiring men to live better, healthier lives. And that's exactly what this Father's Day newsletter highlights.
Don't have that much content? You could pull together 1 blog post, video, or podcast episode and that's more than enough to share with your subscribers.
4. Make shopping easy with gift ideas
Make Father's Day shopping a breeze by putting together easy-to-shop gift ideas. Whether you serve up a full gift guide or bestsellers that dads will love, taking the burden off your audience is ideal. Because the less friction there is, the more likely they are to make a purchase.
Here's a great example from The Little Market: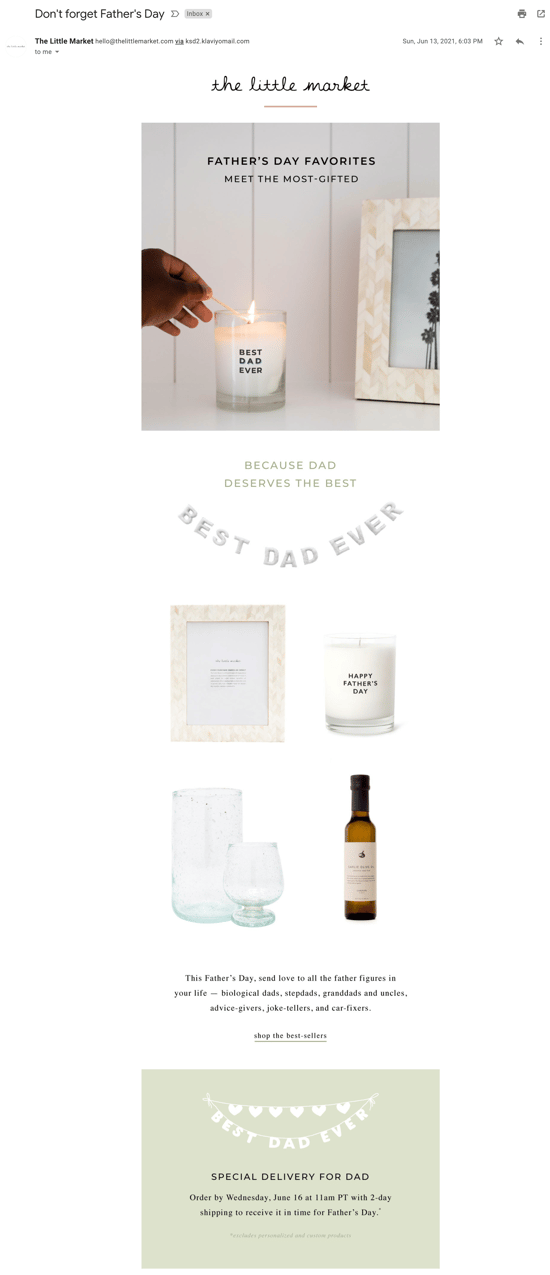 By showcasing great gifts for Father's Day, they make it really easy for their audience to make a decision.
Plus, with the shipping deadline reminder, they're letting everyone know that time is running out to get orders in time. So whenever you're sending holiday emails, make sure you're including deadlines. Pair that with last-chance reminders and you're sure to win some sales.
The Feed, a nutrition company, went a different direction with a plain text email from the founder: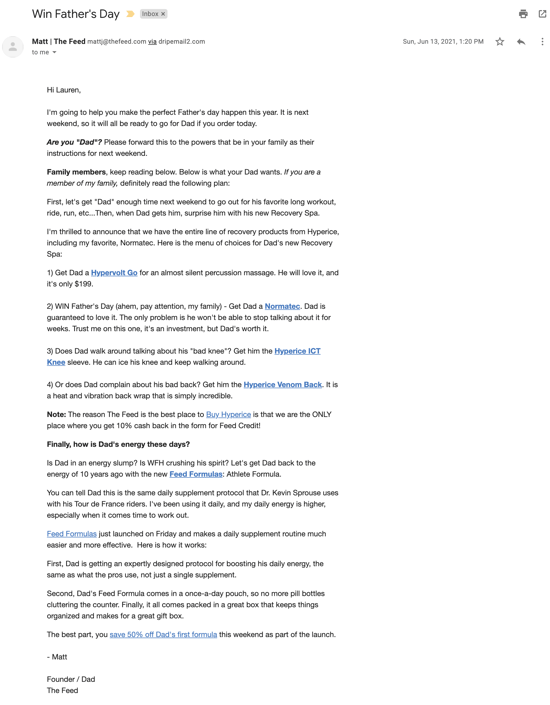 While this email is long, it really stands out in a sea of image-heavy, promotion-packed messages. I absolutely love the fact that it's from Matt, the founder, and he's giving gift recommendations he'd be pumped to receive.
He also did the heavy lifting by planning out an a dream Father's Day. Let him enjoy some "me time" by going for a run or bike ride, then, when he comes home, treat him to a home spa. For his audience, this would be the ideal way to spend Father's Day.
Then, he wraps up with a special offer: 50% off a brand new product offering. This email pretty much has everything: gift ideas directly from the founder, a special offer, and it feels super personal.
So if you're struggling with ideas for Father's Day, try pulling together gift ideas to make things simple for shoppers. And remember to send more than one message! Because every email you send is going to bring in revenue for your business. Just be thoughtful about sending multiple messages to people who have made recent purchases.
5. Test out a free gift with purchase
When in doubt, a free gift with purchase is a killer offer any time of year. Take a look at this message from Rhone:

Not only are they offering a free gift with purchase on orders over $200, but you get to choose between socks and boxers. What's so cool about this is the fact that shoppers are given a choice. Even better, they didn't have to produce special products to bring this to life. They already sell socks and boxers, so it's as simple as giving shoppers the option at checkout and you're good to go!
They also make shopping simple by including bundles that'll help you meet the $200 threshold and bestsellers they're sure to love.
Luckily, if you already have a smaller product you can offer as a free gift with purchase, this type of campaign is super easy to execute on. But remember you can always take it a step further by offering multiple options for your audience to choose from or creating an exclusive gift that's available for a limited time to drive urgency and excitement.
6. Try out a giveaway
Growing your email list should be a priority whether you have 100 subscribers or 100,000. That's why giveaways are such a great option if you're looking for a killer Father's Day campaign. Because when you partner with other like-minded brands to collect email addresses, you get in front of their audiences and get new contacts at the same time.
Here's another great example from Rhone: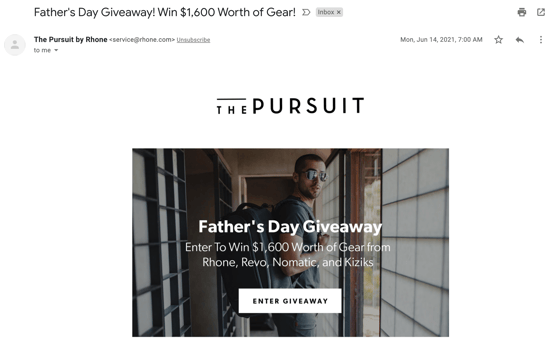 The messaging couldn't be more simple. But the fact that the prize is so massive ($1,600 worth of gear!) made this stand out.
To make this work, you'll typically want to work with brands that have a similar audience size to yours since it's unlikely that a brand with a massive following/email base will partner with you if you're on a completely different level.
But you can also run a giveaway on your own without other brands as a last-minute or low lift version! Using your own products is a great way to build excitement with your following.
So remember that it's more than ok to get creative. The more off-the-wall your campaign is, the more likely it is to attract attention. So don't be afraid to try something different. Who knows, it might be something you come back to again and again. And if it doesn't resonate, brush off and leave it behind.
7. Offer expedited shipping
As Father's Day gets closer and closer, offering free expedited shipping is a great way to capture last-minute shoppers.
And while this shouldn't be the first Father's Day email you send, it's a great way to keep the momentum going.
Take a look at this example from clothing brand, Public Rec: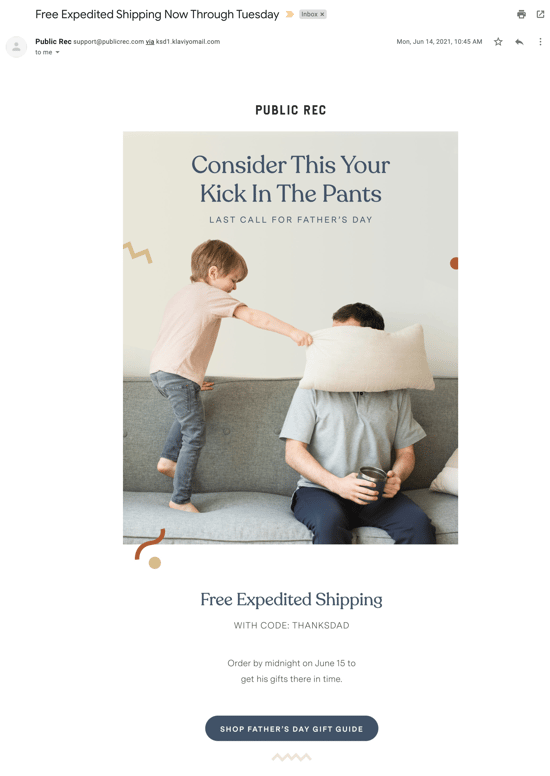 All they had to do to get this campaign live is set up the code for free expedited shipping. It doesn't get much easier than that.
Plus, you don't have to add much else in the way of copy or content here. You don't want to distract from the main message: place your order ASAP to get free shipping in time for Father's Day.
So once the regular shipping window has passed, consider offering free expedited shipping to your audience. Just make sure it works with your margins. Adding a minimum order value to qualify is a great way to stay on top of that.
8. Highlight gift cards
Looking for another way to capitalize on last-minute shoppers? Gift cards the perfect way to do that. Especially once it's too late for expedited shipping to help.
Here's how sock brand, Darn Tough, presented it: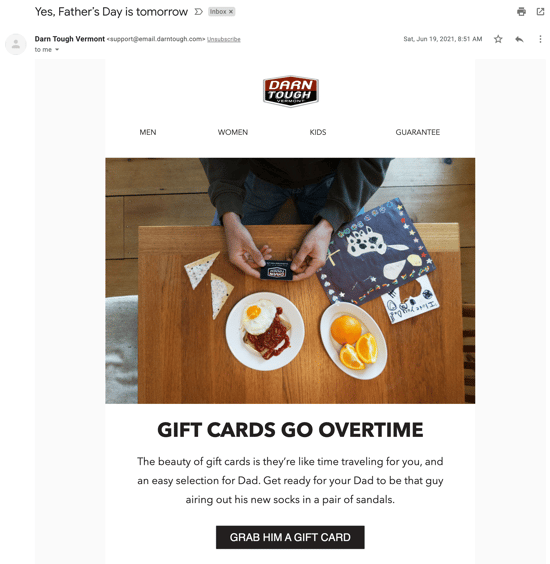 They sent this message one day before Father's Day. Which makes it great for both people who are late to the game and those that just want to add a little something extra to an existing gift.
Again, this campaign couldn't be simpler to execute on. Chances are, you already have a gift card option on your site (if you don't, get that live ASAP!) so put together some copy, grab an image, and send out an email and text as a last-minute reminder.
The best part? This is a campaign you can run for pretty much every holiday year-round as a last-minute gift idea.
9. Use a Father's Day email template
This Father's Day, it couldn't be easier to send an email that drives sales with Privy. With Father's Day-specific templates, all you have to do is come up with an offer, update the copy and colors to match your brand, toss in your logo, add in product photos with the drag and drop editor, and you're good to go!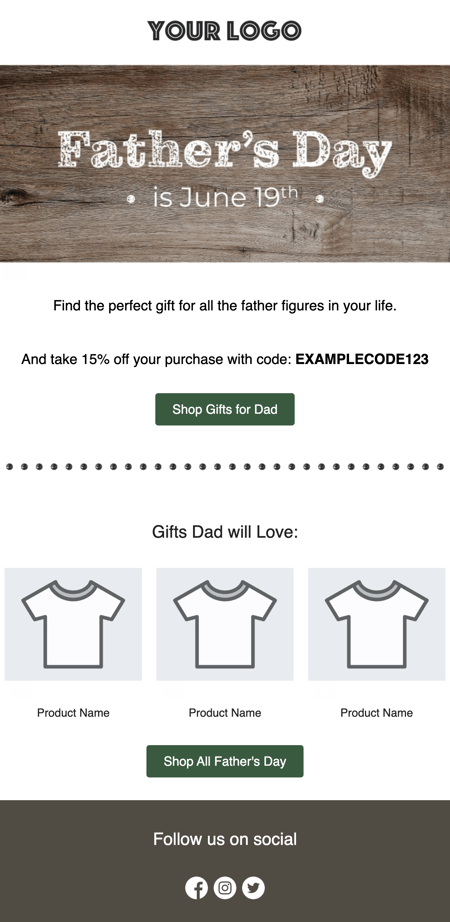 You can get started with Privy for FREE today. Already have an account? Log in to start using your Mother's Day templates ASAP.
10 Father's Day subject line ideas
When it comes to subject lines, it's easy to think throwing something together at the last second will do. But it's actually what's going to get your audience to open your email. So if you don't put enough thought into it, chances are your email isn't going to get opened. Which means you're not going to land sales.
To make it easy, here are 10 Father's Day subject line ideas you can steal as is or use as inspiration:
Father's Day must-haves
Win Father's Day
The Father's Day countdown is on
Spoil Dad This Father's Day
Get Dad what he really wants
Don't forget Father's Day
Father's Day is almost here
Did you get your Father's Day gift?
Father's Day gifting, solved.
Are you ready for Father's Day?
So before you press send on your Father's Day campaigns, remember to put yourself in your subscribers' shoes. In a sea of other emails, would yours stand out enough to make you want to click? If not, it's time to go back to the drawing board.
Get your copy of The Ecommerce Holiday Calendar
We created The Ecommerce Holiday Calendar to make sure you never miss out on another revenue-generating holiday again.
Because with so many holidays all year long, it's easy to let them slip up on you.
Get your FREE copy of the calendar today and you'll get monthly reminders, campaign inspiration, and templates sent directly to your inbox.
Make this your best June ever
From Father's Day to Pride month to the first day of summer, June is the perfect time to lean into email and SMS marketing to bring in sales for your store.
Use these campaign ideas to kick summer off with record-breaking sales days and stay top of mind with your audience.
Because the options are endless. Free shipping, a gift with purchase, gift cards. You can even combine these offers at different points leading up to the holiday. There's so much you can do to make June your best month ever.
Subscribe for Updates
Get our best content on ecommerce marketing in your inbox 2 times a week.
Written by Lauren Hall
Lauren is a Brand Marketing Associate at Privy. She's the brains behind all things content. When she's offline, she's obsessing over her Bernedoodle pup, Monster, and plotting ways to being a full-time Vermonter ASAP.
Subscribe for Updates
Get our best content on ecommerce marketing in your inbox 2 times a week.