Ecommerce Predictions For 2022: Key Trends To Expect
Published on Jan 13, 2022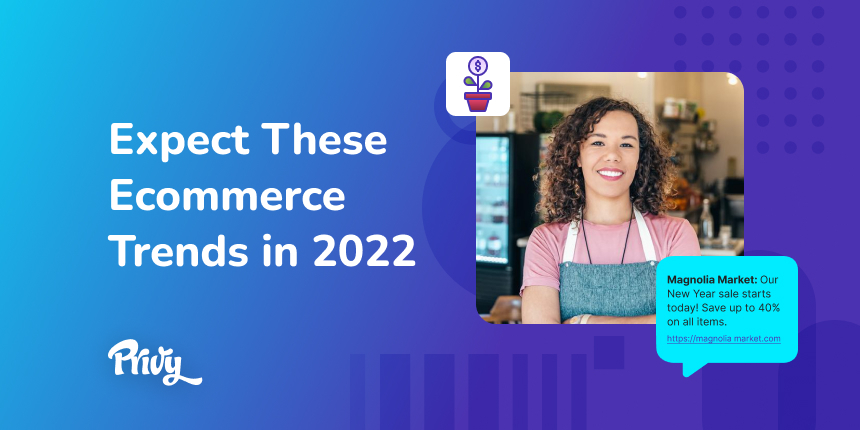 The ongoing coronavirus pandemic, inflation, and supply chain interruptions were no match for the ecommerce industry as it continued its steady upward trajectory in 2021.
But what can we expect in the next 12 months?

Our ecommerce predictions for 2022 include the rising popularity of digital events, such as live commerce. We will also see a continued focus on sustainability.

But the supply chain chaos is unlikely to slow down in the new year. Big online marketplaces and small ecommerce brands alike will need to navigate delivery delays while ensuring a top-notch customer journey.

And then there's the imminent death of third-party cookies to spice it all up.

Here are the key ecommerce trends you should prepare for in 2022:
Get our best content on ecommerce marketing in your inbox 2 times a week
Social media will be ecommerce's strongest ally
From Facebook to TikTok, social media apps are catering to ecommerce brands with tools that allow easier digital marketing and in-app shopping, especially on mobile devices. And brands show no signs of slowing down their social commerce efforts.

88% of companies across consumer packaged goods, retail, technology, and financial services are either investing or planning social commerce investments in the future, according to a 2022 3Q Digital social commerce report.

"Social and ecommerce platforms have been joining hands recently to hone into the power of social proof and leveraging it to drive engagement, from product discovery to checkout," says Yoni Elbaz, co-founder & CEO at Loox.

What's more, 3Q Digital says that from 2021 to 2023, social commerce marketing budgets will grow by up to 19%. The key social commerce strategy for 71% of brands is boosting ecommerce sales – and it's paying off.

Outerwear retailer Barbour increased its Instagram sales by 42% when it started using the app's shopping features and boosted traffic to its website from Instagram by 98%.
And according to the MuteSix team, "2021's Paid Social juggernaut, TikTok, will continue to gain serious momentum in the new year in an attempt to crush all competition standing in its path. With over one billion active users spending as much as 80 minutes a day on the app, (up 325% YoY), it's now outperforming Facebook in terms of hours spent per user each month. The audience is there – and so are the revenue-boosting capabilities for ecommerce brands. In fact, compared to competing platforms, TikTok users are 1.7x more likely to have purchased the products they discover through the app. Throughout 2021, we saw a fast-and-furious rollout of social commerce capabilities that position the short-form-video platform as a leader in this space, particularly for DTC brands."

Even ecommerce platforms are helping business owners link their online store with their social media. In August 2021, Shopify announced a partnership with TikTok, allowing ecommerce businesses to display their product catalogs in a separate shopping tab in their account. TikTok has since launched integrations with a handful of other platforms, including Square, a digital payment company.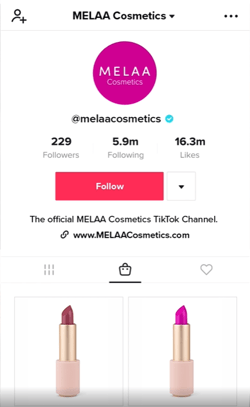 The TikTok shopping tab. Source: TikTok
If you neglect social commerce, you could miss out on the growing segment of online shoppers who are eager to use social media to discover and purchase products. The global social commerce market is projected to reach $2.9 trillion by 2026, making it obvious it's more than a fleeting trend.
But don't stop there. Tim Peckover, Sr Manager of Marketing and Community at Smile.io sees a huge opportunity on the community side of social media, too.
"The rise of NFTs and DAOs have shown how eager people are to be part of something. If we'll rally around buying a copy of the US Constitution, or overpriced JPEGs of apes attached to the dream of financial independence, think of how much potential there is for brands to harness that desire and create communities – decentralized or not. The trick will be not starting communities focused on a brand and their products, but what they stand for – common goals, visions, and values that members can share and work towards. Brands are there to facilitate, not be the subject of, community, and I think we're getting to a place where merchants are starting to realize that, and start building for it like never before."

More brands will tap into live commerce
Another ecommerce prediction closely connected to social media is an increase in live commerce. Live commerce is digital, real-time events that allow customers to shop products as they're watching a brand's live stream on social media.

Live shopping has enjoyed immense success in countries like China, and it's also spread to the U.S. – regardless of which social network you're using, you can bet it's already released a live shopping feature.

Facebook, TikTok, Twitter, Instagram, and Pinterest all launched live commerce features in 2021, a clear sign this is the next frontier of social commerce. As a result, online sales from live commerce in the U.S. are expected to reach $17 billion in 2022 and $35 billion by 2024.

"This year we started doing live streams through Facebook and YouTube to our local and online customers due to fewer people wanting to shop in person because of COVID. We are now getting about 1,500+ viewers watching our show each time. Not only has it helped to stay connected with our customers via social media and YouTube, but it has also generated a ton of sales ($30,000 from our last month's show) for our business. Because of the continued success, we plan on doing live shows even more often in 2022," says Jeff Moriarty, Marketing Manager at Moriarty's Gem Art.

If you decide to try out live commerce, you'll be joining brands like Kate Spade New York and H&M Group's Monki, who have already tapped into its potential. According to McKinsey, live shopping results in conversion rates of close to 30% while also reaching the younger generations – primarily millennials and Gen Z.
SMS marketing will come out of the shadows
SMS marketing is one trend you don't want to ignore in 2022. With Apple releasing an update last year that allows users to opt out of in-app tracking and Google discontinuing third-party cookies by the end of 2023, it's essential to invest in marketing that goes beyond targeted ads.

"Through our interactions with our customers and analysis of the ecommerce consumer mindset, we've realized that customers have a preference for engaging with businesses via SMS. We had noticed many companies accepting this trend in 2021 but it will definitely gain more traction in 2022 as a 'must-have' rather than a 'nice-to-have,'" claims Areeba Khan, Marketing Content Strategist at Trellis.

The biggest benefit of text message marketing is you're in charge of the consumer data. While Instagram or TikTok can always change their advertising features, your SMS subscriber list belongs to you.

But before you start using text message marketing, you should familiarize yourself with important regulations and take time to build a clear strategy that doesn't rely on spamming your customers with texts.

"You would need to provide value in these texts. Use them to offer your best discounts, coupons, and exclusive deals instead of filling customers' inboxes with your taglines. Businesses would need to integrate tools that provide simple opt-outs to customers so there aren't any compliance risks," says Elice Max, co-owner of EMUCoupon.
Sustainability concerns aren't going anywhere
While some might dismiss sustainability as just another marketing gimmick, consumers are showing a willingness to drop brands due to sustainability concerns.

A 2021 Deloitte survey found that a third of consumers stopped shopping with certain businesses because of sustainability-related issues.

In the coming year, you can expect this trend to persist, especially among the younger generations – more than 70% of Gen Z and over 80% of millennials say they find sustainability 'important' and 'very important' when online shopping.
"Sustainability has been growing as a consumer priority for the past several years, and that's not going to change any time soon. People want to spend their money on brands that are doing good and that care about the environment. So if you can, think about what you can change in your business to decrease your footprint. Then make it part of your communications strategy – if you're genuine, chances are your customers will appreciate it," says Nora Inveiss, Brand Manager at Printful.
In the food and beverage industry, the number one customer concern in 2022 will be the environment. Food delivery services, for example, have been limiting the amount of packaging they use and swapping out plastic with recyclable paper.
Plus, your unboxing experience is a major way to stand out from competitors. According to Cathy Strini, Senior Manager, Partnerships at noissue, "As the first physical touch point, packaging is the branding bridge between the physical and digital and is a great opportunity to advertise your brand. We predict "packvertising" to be a trend that continues to grow, as unlike other forms of advertising where brands demand attention of often unwilling viewers scrolling a feed, packaging is an invitational and interactive experience. Customers both know to expect the package from a business and enjoy the surprise and delight that comes with a quality unboxing experience, so there is no better place for brands to engage with them than through their custom packaging."
And while packaging is a great place to start, there's definitely room to take it a step further. "Adding donations to your store at the checkout stage is a great way to show how your brand is making an impact whilst connecting with your customers too," says the team at Rainy City Agency.
Ecommerce predictions for 2022 also include the rise of resale marketplaces as consumers turn away from fast fashion.
According to Bogar Alonso, Head of Outbound Marketing and Thought Leadership at Wix, "2022 is primed to be a major growth year for the resale market. All eyes are on Web3 but I think the impacts of recommerce will be felt more resoundingly this year. For one, it isn't just Gen Zers or Millennials shopping across secondary markets, Baby Boomers' use of resale grew 56% last year. Globally, 1.6 million people are searching for the term "Poshmark" on Google on a monthly basis. By 2030, the resale market is expected to double the fast fashion market in size ($84 billion vs. $40 billion). And unlike Web3, the barrier to entry for consumers is ankle-high."

Major brands are already catching on to the trend and teaming up with resale platforms. Adidas recently partnered with online secondhand store ThredUp (often referred to as the "Amazon of resale") to create a program that will launch in 2022. ThredUp will take care of the reselling and recycling portion of the program, while Adidas customers will get rewards for sending in old items.
Supply chain challenges will persist
The global supply chain crisis threw the entire retail industry into chaos. In the foreseeable future, you can expect the crisis to stick around, as 64% of CEOs say supply chain challenges will continue in 2022 and beyond.

"As long as spending on goods is elevated and the labor supply is depressed as both have been during the pandemic, we'll have supply-side bottlenecks. Supply chains haven't been able to expand fast enough to keep pace with demand. I would expect the demand side to cool (or shift more back to services) sooner than the supply side can catch up," says Fred Perrotta, CEO of Tortuga.

In addition, 9 out of 10 retailers expect the crisis to continue, affecting revenue for at least the first half of 2022, with losses ranging from 5% to over 20%.

The crisis has had a ripple effect on consumer behavior – with some benefit to ecommerce brands. For instance, 40% of low-income, 37% of middle-income, and 30% of high-income households buy online when faced with stock-outs in physical stores, according to a BCG survey. But online retailers can also run out of stock, which is why 24% of low-income, 25% of middle-income, and 29% of high income households are now making their purchases ahead of time.

Supply chain bottlenecks have also resulted in inflation, which will carry over into 2022. Consequently, shoppers are slowly reigning in their spending and changing their priorities. BCG says that out of the customers who noticed price increases in 2021, roughly 44% are seeking out discounts, and 38% have switched to cheaper brands. (The percentages are the average of all three income groups.)
Customer experience will take center stage
In 2022, brands will use customer experience (CX) as their main selling point to improve customer retention and offset the damage done by shortages and delays, according to a recent Forrester CX report.

Thanks to the supply chain bottlenecks, consumers are now faced with shipping delays and stockouts, putting a damper on CX. But here lies an opportunity for your ecommerce site to stand out.

But what should your CX entail in the coming year? Chatbots? More customer service agents? Investing in artificial intelligence to analyze customer data?

The answer lies in customer engagement hubs (CEH). According to a Gartner report, CEHs are frameworks that bring together separate departments like sales and marketing to create a unified customer experience at every phase. The report claims that by 2022, 60% of big businesses will implement this holistic customer engagement strategy.

Brands have also embraced being as straightforward as possible about how supply chain difficulties are impacting their business. This strategy manages shopper expectations from the outset, helping them understand what's going on behind the scenes.

"We've taken the approach of being as transparent as possible. Before and during the holiday shopping season, we routinely shared which products were low on inventory and how many days or weeks of inventory we had remaining. Alongside this information, we also included estimated restock dates on products that were currently sold out. We included all of these updates in emails and social media posts," says Perrotta.
Businesses offering quick delivery will stand out
With supply chain challenges continuing into 2022 and delivery speeds lagging, brands that can ensure same-day or next-day delivery will be able to attract more customers.

To achieve this, 53% of retailers are planning on overstocking their inventories as protection against shipping delays in 2022. But this is not a foolproof strategy, as vendors are not always able to fulfill the demand with so many businesses placing large orders to create an overstock.

To overcome this challenge, some companies are working with multiple suppliers. "Diversifying our supplier base has been central to our success this year, and we'll need to explore other options for our materials needs in 2022. Often, our primary sources for materials (packaging, primarily) are unable to meet our needs in a timely manner, so we've been forced to find other vendors," says Austin Bagwell, Grocery Logistics Coordinator at Counter Culture Coffee.

An additional solution to look into is teaming up with delivery services. Cosmetics company Lush recently partnered with delivery service DoorDash to ensure same-day delivery ahead of Black Friday and the holiday season. The new delivery feature was seamlessly integrated into Lush's existing checkout process, removing any potential friction for the customer.

Finally, you can use location-based filtering to only display products that are available and close to the shopper's location. This approach reduces frustration and disappointment while making sure eligible customers still get quick order fulfillment.
Leverage key ecommerce predictions to stay ahead in 2022
To prepare for the future of ecommerce, you can start by understanding where your business falls in the grand scheme of things and what you can do to make the most out of the upcoming trends.

The ecommerce predictions we've made for 2022 are natural continuations of trends from the past few years. Sustainability and social commerce, for instance, were important factors in 2021 and will evolve over the next 12 months.

What's more, the pandemic is still an important factor, and potential lockdowns could bring in even more ecommerce growth as shoppers continue to veer away from brick-and-mortar stores.

But 2022 will doubtlessly bring unpredictable developments, so be prepared to re-evaluate your advertising strategies and explore options such as SMS marketing.
Subscribe for Updates
Get our best content on ecommerce marketing in your inbox 2 times a week.
Written by Lauren Hall
Lauren is a Brand Marketing Associate at Privy. She's the brains behind all things content. When she's offline, she's obsessing over her Bernedoodle pup, Monster, and plotting ways to being a full-time Vermonter ASAP.
Subscribe for Updates
Get our best content on ecommerce marketing in your inbox 2 times a week.