Ecommerce Brand Refresh: Your 5-step Checklist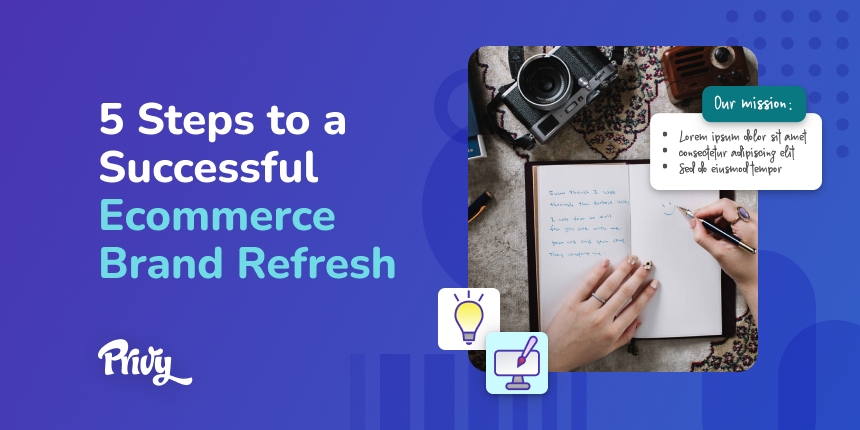 The brand strategy that might have worked for you previously could now be outdated in 2022. As the needs of your customer and market trends evolve, so will your ecommerce brand and the values you stand for.

Refreshing your business's branding once in a while is critical to a successful long-term ecommerce strategy. A brand refresh helps you adapt to your audience's changing needs, connect with a new demographic, clarify your brand vision, and make sure your website or strategy isn't out of date.

Here's how you can give your ecommerce store the brand refresh it deserves in 5 steps.
Get our best content on ecommerce marketing in your inbox 2 times a week
1. Conduct market research
Before you take action to refresh your brand, research your target audience. The data will help identify changes in the market, your customers' needs, or any new potential demographics to target.

For example, you might find new marketing channels are becoming popular among your target audience or new expectations your customers have regarding shipping and delivery time.

Different ways to conduct market research so you can set the direction of your brand refresh include:
Customer interviews
Customer interviews allow you to directly ask questions you may have about your target buyer, such as their purchasing behavior and how they discover new products. These interviews are an opportunity to find out how your customer's needs, habits, and expectations have changed.

An essential part of running successful customer interviews is to ask the right questions. To discover important information, focus on asking open-ended questions that allow buyers to fully express themselves.
Customer surveys
Surveys are a set of questions you send to customers they can complete at any time that's convenient for them.
Like interviews, your customer surveys should have open-ended questions. Typically, you send these surveys via email, like in this example from Everlane:

Image Source
To get the most customers to complete your survey, be sure to give them an incentive. According to Staff Product Researcher Andrew Rajaram at Shopify, a good tactic to encourage customers to complete your survey is to offer a discount.

"[Discounts] work well because they are easily transferred, and you can adjust the amount offered to suit your specific study," says Rajaram.
Competitive analysis
To fully understand your current market, you need to observe the competition in your niche. Competitive analysis helps you know what you're up against and what you must do during your brand refresh to stand out from the competition. During your research, ask yourself these questions:

What are your competitors doing that's good or bad?
Are there any new brands you have to compete with?
What sales and marketing tactics do competitors use to promote their products?
What are the prices of the competition's products?
What is your unique value proposition (UVP) compared to others?
By answering these questions objectively, you'll know where you currently stand in the market.
2. Redefine your brand vision and mission
If you feel like your company values have changed, you need to redefine your mission statement during your refresh.
Your refreshed mission will influence many aspects of your brand, such as what your future messaging, website design, and content will be.

To redefine your brand vision, follow these 3 steps:
1. Identify your values: Identify the new values you want to stand for. To find out what these values are, look at how your values have changed since your first mission statement or the new goals you want to achieve for your business.
2. Define your new purpose: Think about the future experience or message you want to offer customers. What is the current driving force that pushes you to do what you do each day?
3. Create your new mission statement: Lastly, create an updated mission statement that aligns with the up-to-date values and purpose you identified. Your mission statement should be short, straight to the point, and inspiring.
Coty's beauty company changed its mission statement to "celebrate and liberate the diversity of its beauty" during its rebranding. The new mission statement led to a complete redesign of its online presence, such as adopting a butterfly as a new logo to represent the diversity of its customers.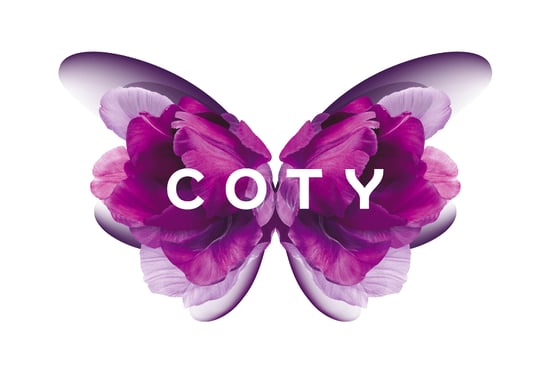 Image source
With a new mission in place, you can then focus on making that vision a reality during your brand refresh.
3. Use storytelling to present your refresh
Storytelling is a powerful way to connect with your audience and present the "why" behind your brand refresh. By telling the story of your new branding, customers may be more inclined to buy in to your refresh.

According to brand story coach Celinne Da Costa, in an article for Forbes: "A memorable brand story is exactly what people need to feel connected to your business, have a lasting positive impression of who you are and what you stand for."

For example, to show the brand's rebranding throughout the decades, Pet Food Experts has a timeline on their website where they show all the steps they took to get to where they are now. The customer learns about the store's evolution over the years and their dedication to better serving shoppers: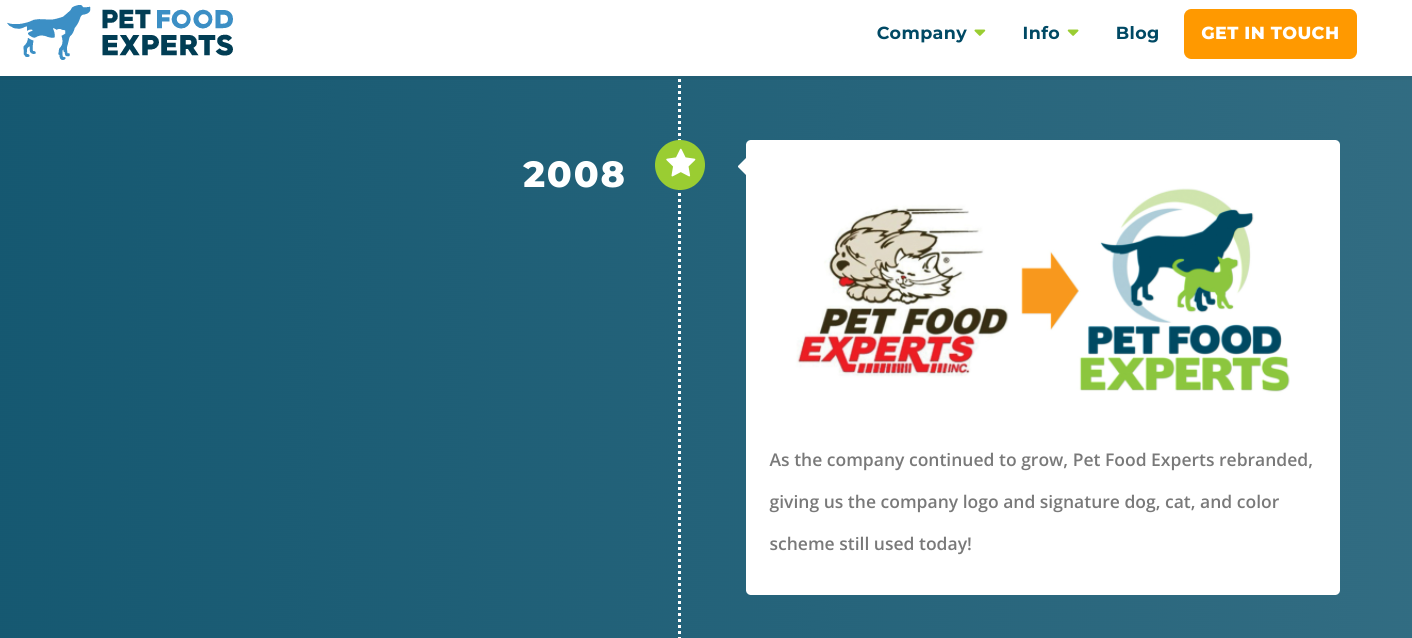 Image Source

To use storytelling for your brand's refresh, start by writing down why you decided to refresh your brand. Next, explain why the refresh matters to your customers and how it will improve their shopping experience.

You'll then have to choose the channels to promote your rebranding story, whether that's through email, your website, or social media.
4. Update your ecommerce website
Updating your ecommerce website eliminates any elements of your site that are outdated and creates a better user experience. Modernizing your website and tailoring it to your buyer's wants and to UX trends may also increase conversions.

For example, 1-800-flowers is an ecommerce brand that frequently adapts to UX trends to meet buyer needs. One way was by being an early adopter of voice technology to make it easier for customers to shop.

Here are different ways you can overhaul your ecommerce website for a better customer experience:
Improve the checkout process
According to research by Barclaycard, over 41% of customers abandon their orders during checkout. To reduce your abandonment rate and convert more of these customers, you'll want to optimize your checkout process.

For example, one-page checkout is becoming a popular option among customers and offers a faster way for buyers to complete their orders. The checkout layout eliminates friction by reducing the number of steps in the purchase process. Here's an example of one-page checkout from Nike: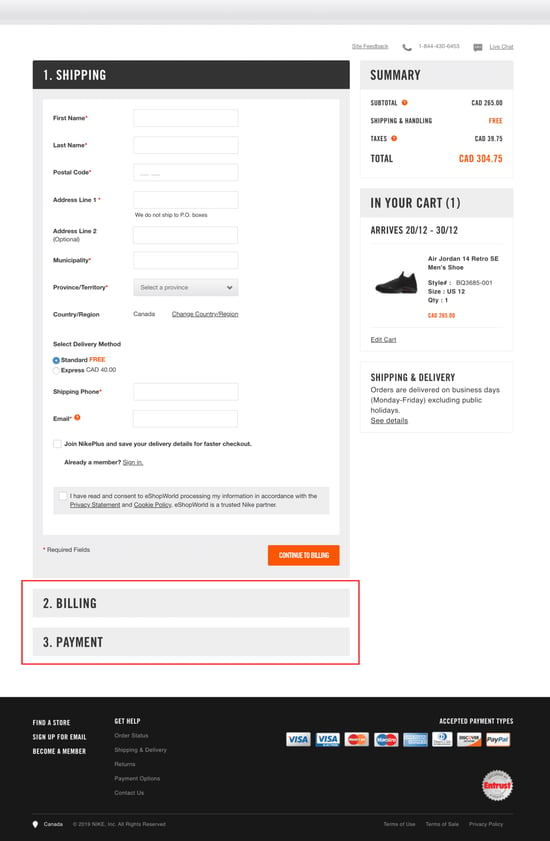 Image Source
With this setup, Nike customers can purchase their products in one place instead of going through multiple pages.
Integrate popups
Popups are an effective way to capture the attention of your visitors and improve conversions.
You can use popups for different scenarios, such as welcoming new customers, building your email list, or offering a discount when they're about to leave. Here's an example from OLIPOP: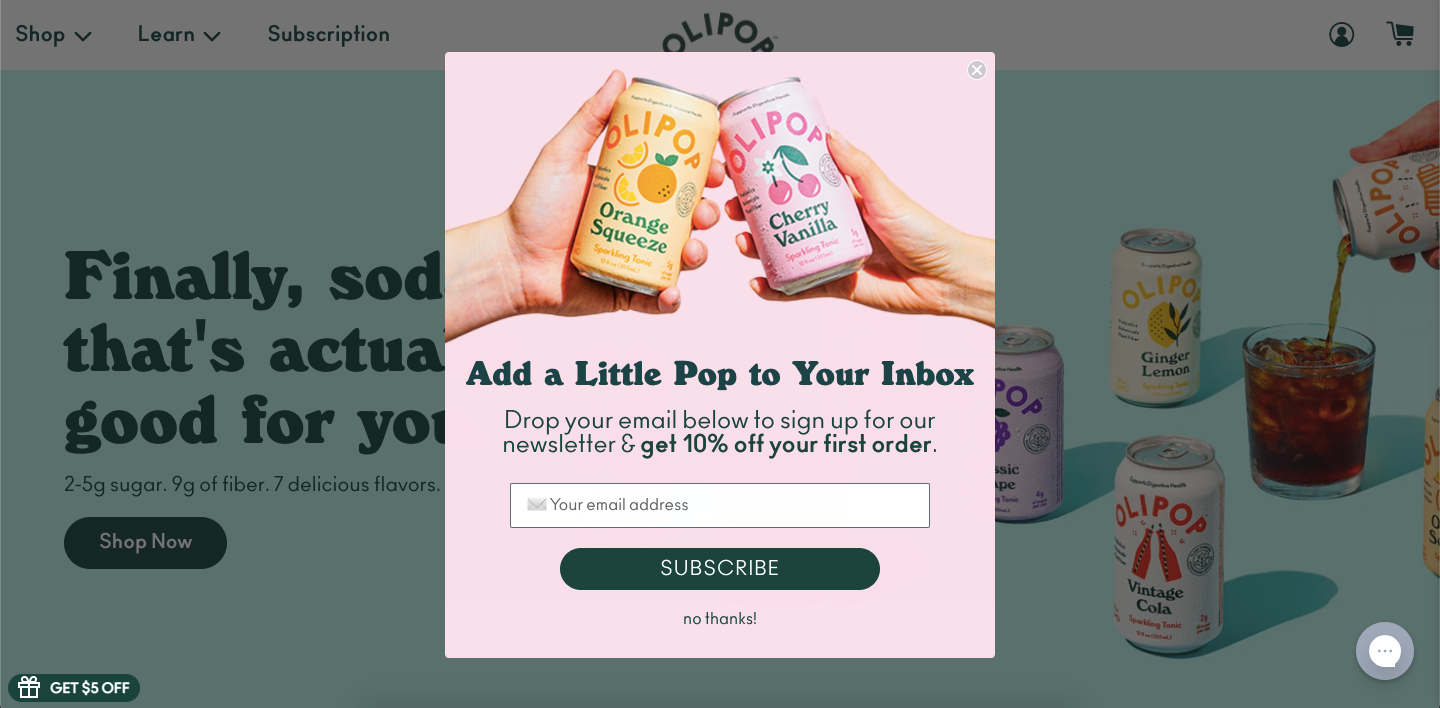 Image Source
To encourage the customer to make their first purchase, OLIPOP targets them with a popup that includes a 10% discount on their first order.

Privy helps you customize popups for each visitor to send the right message at the right time, whether your goal is to reduce cart abandonment or capture more sales.
As a bonus, we offer coaching and support to make sure you get the best results for every campaign.
Optimize for mobile
You'll want to optimize your ecommerce store for mobile because more than half of global internet traffic occurs on mobile devices. Here are a couple of tips for making your ecommerce store mobile-friendly:
Make your website's text large enough for mobile users to read: Text that's too small forces users to zoom in to read your website's content. You should be using a font size between 14px to 17px for your mobile website's text to make sure it's readable.
Use a toggle menu: A toggle menu is a navigation tab that's closed until the user taps on the menu button. This type of menu saves on-screen space for your website on mobile or tablet devices.
Make communication easy:

To optimize for mobile, you want to make it easy for users to reach out to you with any questions or requests. Live chat is a great communication tool to include on mobile since it's similar to other communication tools (such as Messenger and WhatsApp) customers already use.
By keeping your mobile customer in mind, you ensure they have the same seamless experience as they would on desktop.
5. Listen to customers after your refresh
Listening to what your customers think after your refresh helps you understand if the rebranding was successful. Based on their feedback, you can change your rebranding until you deliver what they want.

An example of a rebranding failure was Gap 2010, which rebranded its logo to modernize its company. However, the reception from customers to the new logo was so bad that they went back to their old logo in less than a week.

Image Source
Sending surveys to your customers can be helpful to collect their feedback after your brand refresh. Another way to listen to customers is to monitor what they're saying about your brand refresh online with social listening tools such as Sprout Social or Hootsuite.
An ecommerce branding refresh gives you the edge
Going through a brand refresh is a scary but crucial process for keeping your business relevant. Refreshing your ecommerce brand helps your business stay competitive, improve the customer experience, and adapt to the changing needs of your market. As a result, you'll increase customer retention and revenue.
Subscribe for Updates
Get our best content on ecommerce marketing in your inbox 2 times a week.
Written by Lauren Hall
Lauren is a Brand Marketing Associate at Privy. She's the brains behind all things content. When she's offline, she's obsessing over her Bernedoodle pup, Monster, and plotting ways to being a full-time Vermonter ASAP.
Subscribe for Updates
Get our best content on ecommerce marketing in your inbox 2 times a week.