20 Black-Owned Apparel & Cosmetics Brands You Should Check Out Right Now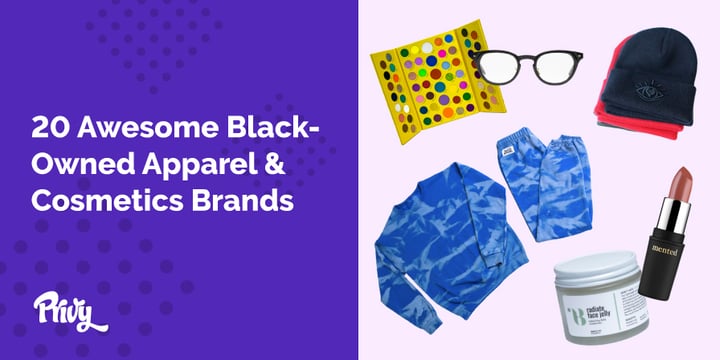 In honor of Black History Month, we're making a point to use our platform to amplify Black voices. So over the next few weeks, we'll be publishing collections of Black-owned brands that you can support, not only this month but always.
In this installment, we're highlighting 20 awesome Black-owned brands in the apparel and cosmetics space.
For a more extensive list, check out this directory of more than 200 Black-owned brands.
Get our best content on ecommerce marketing in your inbox 2 times a week
1. The Crayon Case
In 2017, makeup guru Reynell "Supa Cent" Steward set out to start a high-quality and affordable cosmetics brand that was approachable enough for the absolute beginner. Leaning into this educational theme, she created an expansive line of cruelty-free cosmetics with nostalgic, school supplies-inspired branding with The Crayon Case.
Her recently added Big Box eyeshadow palette (expanding on her best-selling Box of Crayons palette), features 64 bold, high-impact colors that users can mix and match to create endless looks.
And it makes me super sentimental for the 64-pack of Crayolas that was highly coveted in elementary school (you know, with the built in sharpener?).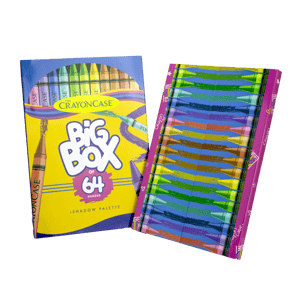 To top it all off, Supa has made some seriously successful BFCM plays – in 2018, she ran a promotion for Cyber Monday that was so successful she made a whopping $1 million in 90 minutes. Yep, you read that right. Take notes for next BFCM. 👀
2. Briogeo Hair
Briogeo Hair Founder, Nancy Twine, is far from a beginner to the world of hair care. She started helping her grandmother concoct her famous homemade hair products when she was just five years old.
So when she launched Briogeo, she wanted to stay true to her roots. All of her products are cruelty free, vegan, and free of sulfates, silicones, parabens, phthalates, DEA and synthetic color.
And to take the guesswork out of customers' shopping experience, Briogeo provides a quiz to address each user's unique hair needs. Doubling as a smart welcome campaign, the quiz culminates in a 10% off coupon offer to further encourage customers to purchase their personalized items.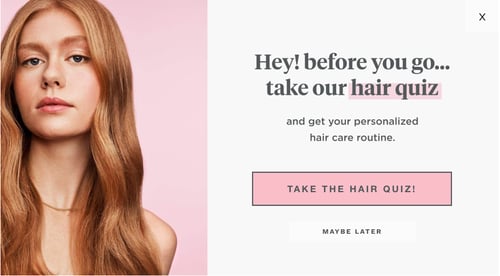 3. The Cut Buddy
Frustrated by how many mistakes he was making while cutting his own hair, Joshua Esnard came up with the idea for The Cut Buddy at just age 13. He wanted to create a foolproof way for anyone to trim their hair by themselves, regardless of head size or hairline shape. Fast forward through over a decade of design and testing, and The Cut Buddy was born.
This multi-functional hairline stencil makes it easy for users to give themselves a professional-quality trim without going to a barber. Once the stencil is aligned, a quick glide of a razor or clippers will do the rest of the work. This is a super useful tool, especially now that DIY haircuts have become the norm.
And in addition to the original Cut Buddy stencil (which was featured on Shark Tank), the brand sells a wide variety of hair-trimming tools. They even offer a 34-piece kit with everything the absolute beginner would need to get started. This is truly a one-stop shop for anyone looking for a professional-quality trim in the comfort of their own home.
4. CultureFit Clothing
CultureFit Clothing is a line of high-performance activewear with an emphasis on body positivity and cultural representation. The brand's high-waisted leggings, tank tops, and sports bras are adorned with bold, bright patterns inspired by traditional West African textiles.
The Blue Ankara Zigzag Leggings are a best seller, featuring a gorgeous blue and purple pattern and seamless mesh panels for breathability.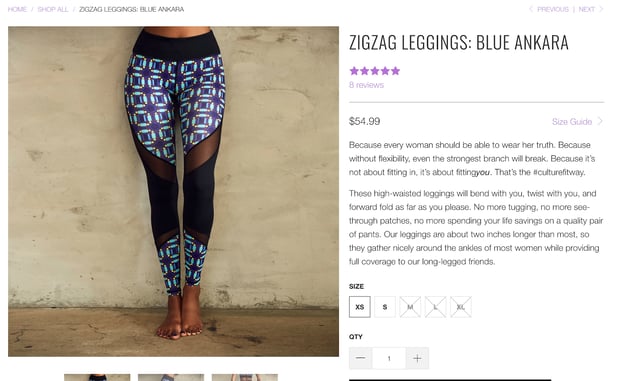 In addition, they also offer eco-friendly, non-stick yoga mats in a number of beautiful designs.
5. Hope for Flowers
Designer Tracy Reese's namesake label already had fans like Michelle Obama and Taylor Swift, to name a few, but her most recent creative endeavor shows a distinct shift in ideology.
Hope for Flowers is a sustainable clothing brand created with the idea that people can be agents of change by making thoughtful choices as consumers.
In an effort to rebel against the ecologically damaging fast fashion industry, this new line is a conscious effort to increase awareness and transparency along every step of the supply chain, from fabric sourcing to manufacturing. Reese is opting for natural fibers like silk, Tencel, cotton, and linen, and clothing is produced in small quantities for a few select retailers instead of being mass-distributed to large chains.
Hope for Flowers clothing can be purchased online, and is also available through their exclusive partnership with Anthropologie.
6. The Sixes
By the fourth grade, founder Franci Girard was 5'10". She grew up in Brooklyn, NY, and was "obsessed with how the dynamic women of [her] city used personal style as a form of self-expression and pride."
Though she had always loved fashion, she felt excluded from major style moments since it was such a challenge to find clothes that fit.
So she had one goal when she created The Sixes: to provide fashion freedom to tall women like herself. The Sixes caters specifically to women above 5'7", a generally underserved market in the fashion industry.
The brand offers a wide variety of modern, high-quality leggings, pants, and jeans. There are several different cuts and colors, all available with inseams ranging from 33" to 41".
The Jennifer Pant is a standout, featuring sheer side panels, a high waist, and a relaxed fit.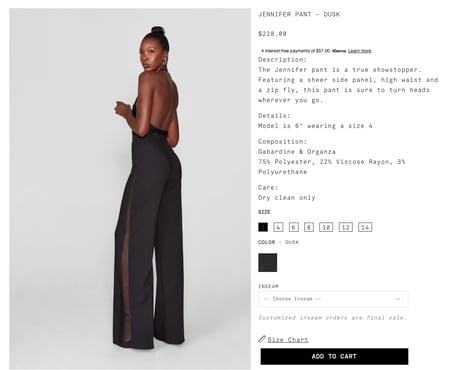 And for a more classic cut, the Celeta Pant brings some serious 70's vibes.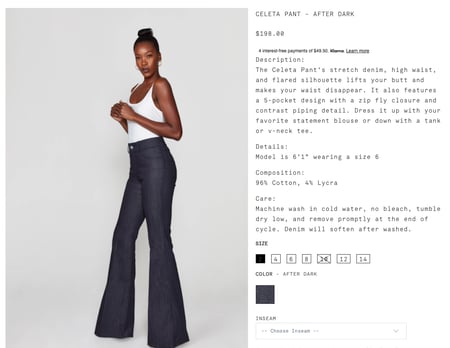 7. Ceylon Skincare
When founders Blake Rascoe and Patrick Boateng II were struggling with acne, they both realized that there was a serious lack of skincare options made specifically for men of color. To address this issue for themselves and for others, they created the Ceylon Skincare system.
The brand's mission is to address the specific skincare needs of men of color that are often overlooked by other brands. They do so with a trio of basic products: a facial wash, toner, and moisturizer that contain natural ingredients such as tea tree oil, witch hazel, and glycerin. The products are available individually or as a monthly subscription, so users can stay on top of their skincare routines.
Rascoe and Boateng's values of inclusion, community, and transparency are evident across their brand and their products. They aim to challenge that idea that products created "for all skin types" will be effective on all skin types, and they've carved out a space for skincare created specifically for the needs of people of color. And they've seen a ton of success since starting the brand, with features in Men's Health, Black Enterprise, and GQ, and rave reviews across social media.
8. The Aware Brand
The Aware Brand was started by 2 childhood friends with a mission to educate, enlighten, and empower consumers through their clothing designs.
They consider the brand to be the intersection between streetwear and self-awareness, and their signature tees, sweatshirts, and hats definitely reflect that ethos.
The classic eye-heart logo beanie is a best-seller: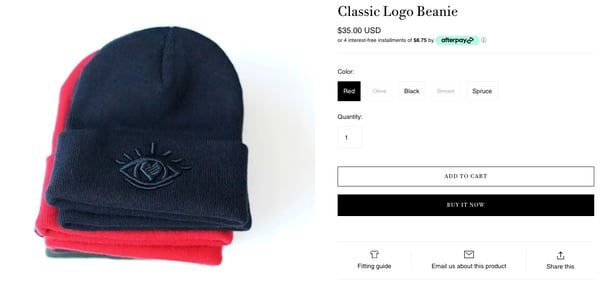 And the "Be Kind to Yourself" tee is a message we could all use from time to time.

9. VAVVOUNE
VAVVOUNE is a leather accessories brand founded by self-taught designer Valeria Blaise. The collection is sleek and modern, and many of her designs feature clever accents that make the bags super versatile.
The four-pocket Ursa Wallet, for example, has a detachable strap so the bag can be worn on your wrist, around your shoulder, or carried by hand. It comes in a range of colors, including black, olive, burgundy, and pear green.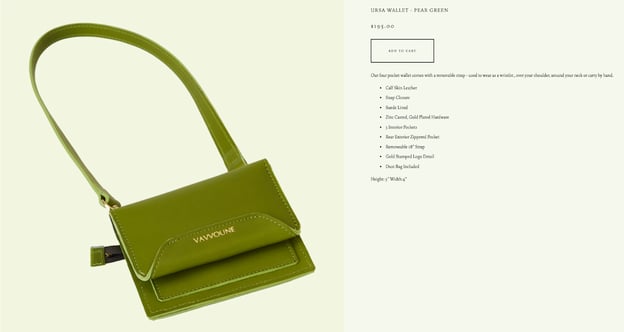 And the creative process is pretty amazing – each bag is mindfully created by craftsmen and women in NYC's Garment District, and any unusable leather scraps are donated to art programs across the country.
10. Hyper Skin
Desiree Verdejo had dealt with hyperpigmentation for years, but was coming up empty in her search for products dedicated to this prevalent issue. Frustrated, she decided to create a skincare brand rooted in multiculturalism that addressed issues mainstream skincare brands did not.
And so, Hyper Skin was born. The brand's focus is treating discoloration and dark spots through products thoughtfully created with all skin types and tones in mind.
Using natural ingredients like fruit enzymes, bearberry, and turmeric, Hyper Skin has gotten a ton of acclaim from customers. Their best-selling Brightening Clearing Vitamin C Serum has a whole page dedicated to #hyperResults, and the evidence is truly impressive.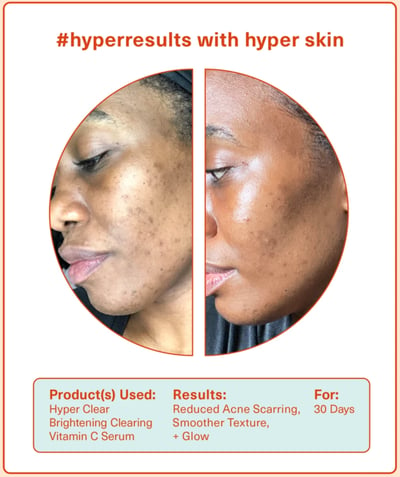 11. Coco & Breezy
In 2009, 19 year old twin sisters Corianna and Brianna Dotson started Coco & Breezy Eyewear out of their small New York apartment.
Within 3 months, their fresh and artistic take on eyewear caught the attention of artists like Lady Gaga, Nicki Minaj, and Prince. In fact, they created the iconic "third eye" sunglasses that he wore for his 2014 SNL appearance.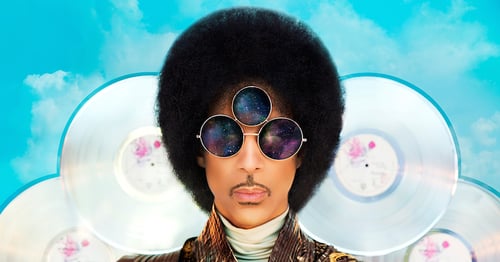 But the duo didn't stop there. Since their meteoric rise to fame in the entertainment and fashion worlds, they've been featured in major publications such as Vogue and Harper's Bazaar. In addition to being able to buy their unique, architectural-inspired frames online, they're also available nationwide at a number of optometrists and retail locations.
12. Base Butter
She'Niel Johnson and Nicolette Graves were battling their own skin issues when they realized that the products they relied on were full of chemicals that did more harm than good. By setting out to solve their individual problems, they ended up creating a product that's so versatile it works on almost any skin type.
Base Butter's mission is to make skincare easy and uncomplicated, and they've definitely achieved that with their cult-favorite Radiate Face Jelly.
This product is a vegan, cruelty-free, aloe vera-based gel moisturizer that is compatible with most skin types, and hydrates without leaving greasy residue. Still need convincing? A page full of verified customer reviews and a bustling social media presence filled with user-generated content should do the trick.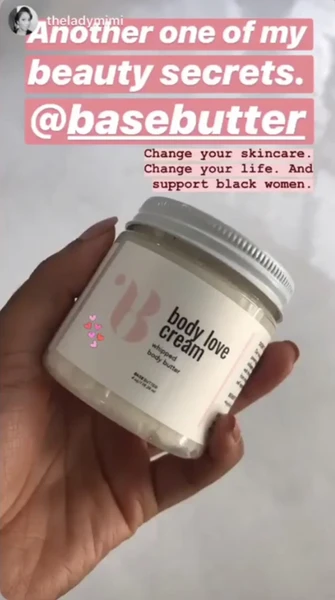 13. The Serendipitous Project
Created in 2019 by Sydney Ziems, The Serendipitous Project was founded with the goal of offering daring and unique jewelry that was also affordable and sustainable. All items in the collection are handmade to order, but there are also vintage and recycled pieces available.
And if that wasn't enough of a noble cause, part of the proceeds of an item in each seasonal collection goes to a charity such as the Minnesota Freedom Fund, No Child Hungry, and the Ocean Conservatory.
Their Fruit Salad Necklace is the perfect balance of whimsical and chic: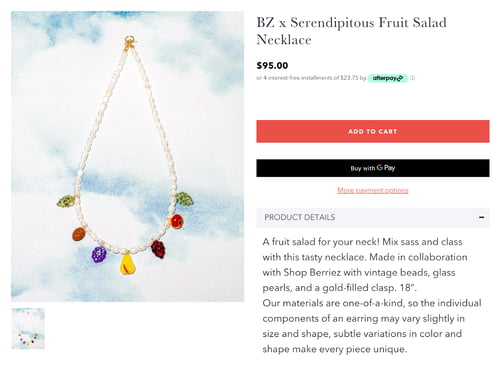 And their asymmetric "Elle" Earrings are modern and sophisticated.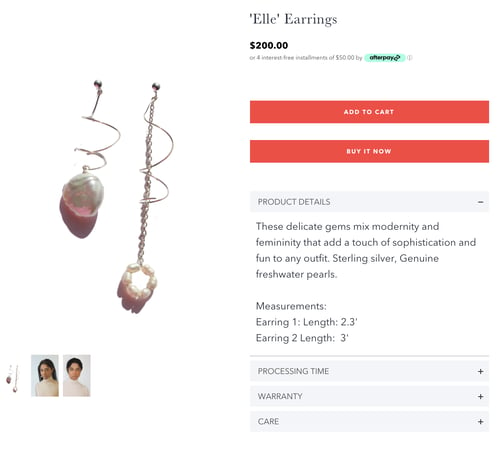 14. NaCIO Apparel
Founders Jamie Williams and Charles Royal were looking for a new creative outlet when the COVID-19 stay-at-home order was first imposed. To combat the quarantine blues, they started bleach-processing the cozy sweatsuits that had become everyday wear.
Cleverly named after the chemical formula of bleach, NaCIO Apparel brings unique, artistic flair to pants, shirts, sweatshorts, and other cozy apparel.
These are a major step up from the leggings I've lived in since last March. Each piece is made to order so you know you're getting a truly unique piece of clothing, and they offer sizing from S to 5XL. They even have matching sets for peak stylish comfort.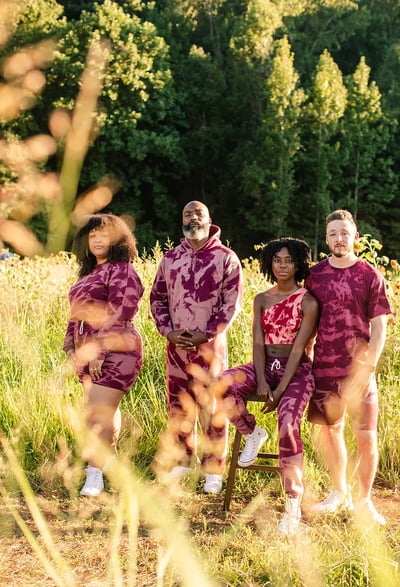 What started off as a DIY project to stay sane while stuck inside all day has since turned into a successful line of unique loungewear. After only 10 months of being in business, Williams and Royal have been featured in Oprah Magazine, Cosmopolitan, and The Cut, and celebrated their 1000th order last week.
15. Mented Cosmetics
KJ Miller and Amanda E. Johnson were both struggling to find the perfect shade of nude lipstick. And so they created Mented, a line of cosmetics with the goal that everyone should be able to find themselves in the world of beauty, no matter what their skin tone.
In addition to their original nude lipsticks (which are available in matte, semi-matte, liquid, gloss, and balm), the brand also offers foundation, blush, eyeshadow palettes, and nail polish.
And to make the notoriously challenging experience of finding the perfect shade of lipstick or foundation easier, Mented offers a "Shade Finder" quiz for both products to help guide customers in the right direction. They also make it easy to view each swatch on a variety of skin tones so you can find exactly what you're looking for.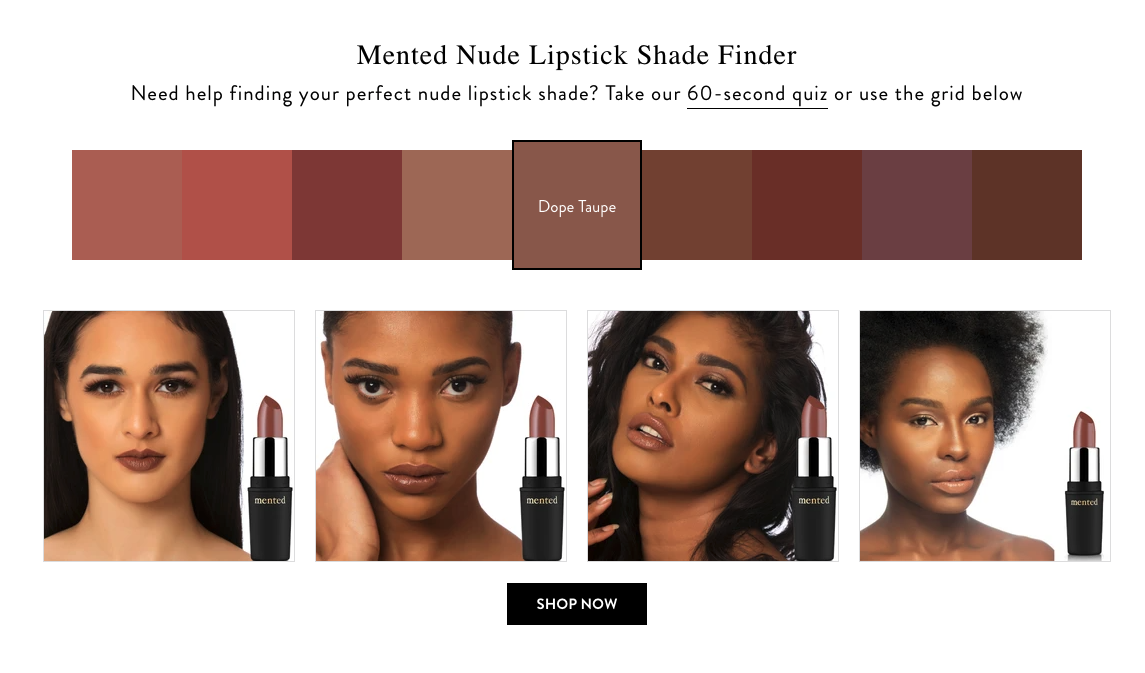 Mented Cosmetics can be purchased available online as well as at Target, Sephora, and Ulta Beauty. And they're currently running an offer of 25% off when you purchase 3 products, which is a great way to upsell and increase AOV.
16. Carton Outerwear
Carton is a gender-neutral streetwear line with an important message. LA-based designer Frederick "Trey" Humphries stresses the concept of unity in his simple, versatile, and functional designs. He came up with the idea for the brand after the revelation that "in order to think outside of the box, you sometimes need to think about the box itself."
The silhouettes of the designs are utilitarian, simplistic, and extremely versatile. Each cut is offered in a broad, gender-neutral sizing scale. The jackets, hoodies, and t-shirts feature bright palettes and imagery inspired by current events and news headlines.
The Transparent Articles jacket is a show-stopper, displaying a collage of bright pink news headlines overlaid on a clear PVC material.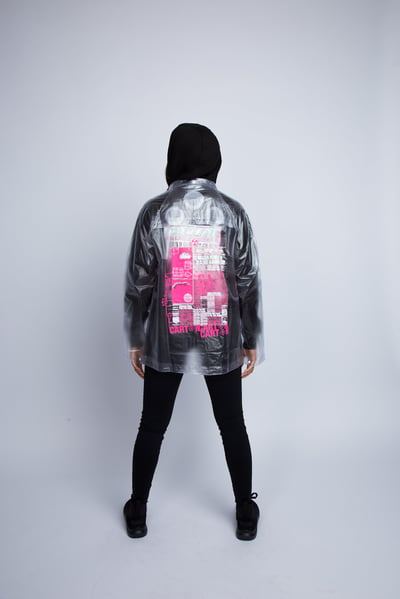 And the highlighter yellow Biohazard windbreaker is bold and unconventionally cool.

17. JLANI Jewels
CEO and creative director, Lani Nesbit, wanted to create eco-friendly accessories that were still sleek, modern, and affordable. Using hypoallergenic stainless steel as her main medium, Lani considers her pieces to be wearable art inspired by everything from nature to fine art to poetry.
Though the brand is relatively affordable, JLANI Jewels has been featured in campaigns by Adidas, Maybelline, and Urban Decay, and has garnered a following of A-list celebs including Blake Lively, Beyoncé, and Halsey.
Their sleek and simple Tusk ear climbers are a fan favorite: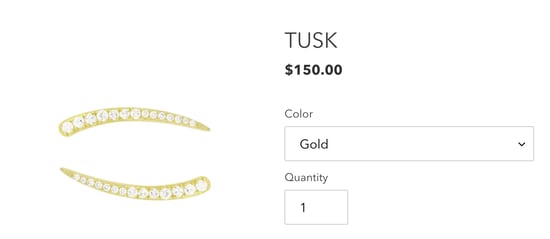 And Beyoncé has been seen wearing her Lysa Choker: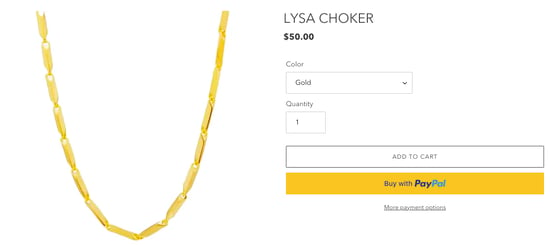 18. The Gym Wrap
The Gym Wrap is a revolutionary 3-layer fitness headwrap designed to wick sweat away and keep hair dry when working out. Nicole Ari Parker invented this high-tech headgear to solve the highly relatable dilemma of wanting to work out but really not wanting to mess up your hair.
The Gym Wrap comes in a wide variety of colors and styles, all made through a patented EvapoTech process for peak moisture-wicking comfort. The non-slip headbands have been described by reviewers as "the best sweatbands ever."

And in response to COVID, the line has expanded to offer sets of moisture-wicking face masks. The proceeds of these masks go toward their Help Our Heroes program, which provides masks to first responders.
19. Cool and Casual Studios
Cool and Casual Studios is an LA-based clothing shop that offers both vintage and independent designs. Created by Alden Jackson out of the desire to create his own versions of runway looks, the studio's collection is effortlessly cool.
Cool and Casual Studio's online store offers an abundance of easy-going, classic tees and button downs: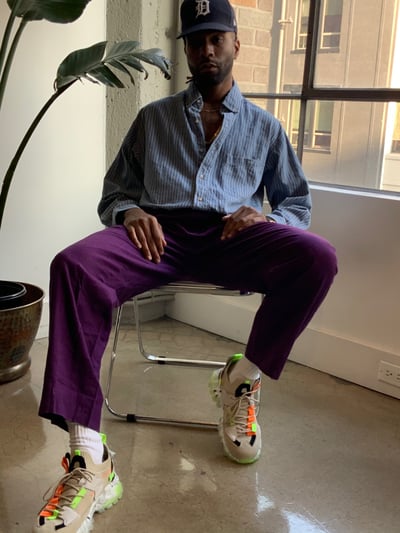 As well as plenty of perfectly-worn in vintage denim:

20. FlameKeepers Hat Club
Founder Marc Williamson's mission is to "[pass] the torch of 'Good Taste' from one generation to the next." And he's definitely well on his way to achieving that goal through the wide variety of high-quality headwear that his store offers. From top hats to fedoras to baseball caps, FlameKeepers Hat Club has well-crafted headwear that will suit any style or occasion.
His Charcoal Cashmere Baseball Cap is a sleek, stylish alternative to the average baseball hat that can be dressed up or down to suit any look: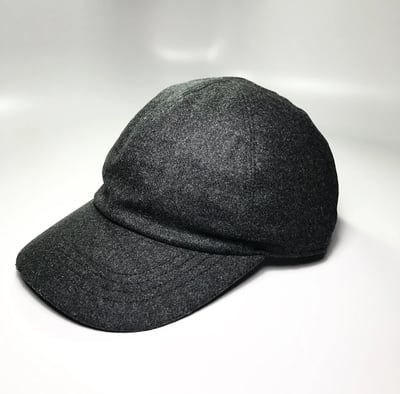 And their best-selling Burgundy FlameKeepers Hat has an elegant, gender-neutral silhouette sure to elevate any outfit: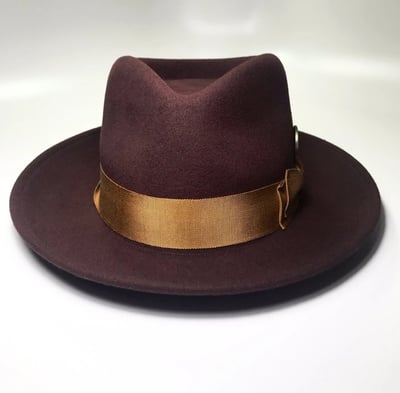 Subscribe for Updates
Get our best content on ecommerce marketing in your inbox 2 times a week.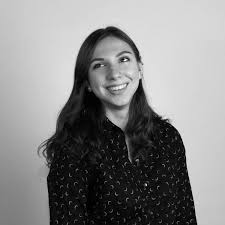 Written by Anna Smith
Anna joins the Privy Marketing team straight out of Northeastern University, where she had co-ops at the Wilbur Theater, Dana-Farber Cancer Institute, and OpenView. When she's not designing, she's probably painting or doing anything that involves live music, food, or best-case scenario, both.
Subscribe for Updates
Get our best content on ecommerce marketing in your inbox 2 times a week.