Black Friday Cyber Monday 2021: 5 Lessons from $33.9 Billion in Sales
Published on Dec 10, 2021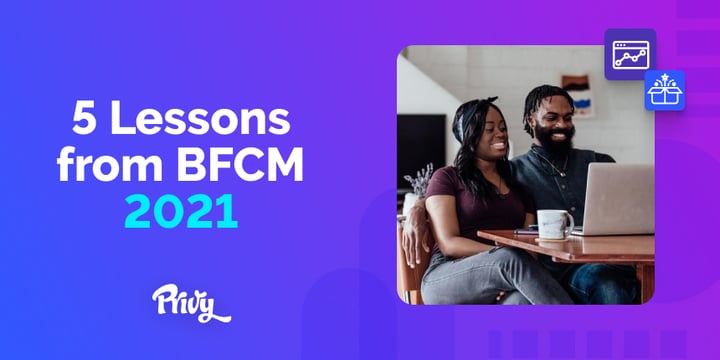 In 2020, holiday shoppers spent a record-shattering $10.8 billion on Cyber Monday alone, which made sense given the shift to online shopping during COVID-19. A year later, many people wondered whether ecommerce retailers could top that performance.

Here are the highlights, based on Adobe Analytics data:
Brands rang up $8.9 billion in online sales on Black Friday (down slightly from $9 billion in 2020)
Shoppers spent $10.7 billion on Cyber Monday (down 1.4% from 2020)
Sales during Cyber Week (Thanksgiving Day through Cyber Monday) totaled $33.9 billion (down 1.4% from 2020)
Brands may not have beat last year's sales benchmarks, but that's still a ton of transactions – which means there's a ton of data to unpack. Our team analyzed the biggest shopping weekend of the year to see how brands adapted their BFCM strategies, how shoppers responded, and what it all means for the future of ecommerce.

Here are 5 insights we're paying close attention to.
Get our best content on ecommerce marketing in your inbox 2 times a week
1. Revenue from SMS doubled from last year
SMS (text messaging) has long been an underutilized marketing channel, but its performance during BFCM 2021 will surely change that.

Brands generated over $830 million from text messaging during Cyber Week in 2021, according to Attentive, nearly doubling growth from last year. Furthermore, brands got 8.5 million new SMS subscribers, which suggests they offered deals in exchange for phone numbers.

This echoes our own findings: with the Privy Growth Plan, total texts sent in November were up 2,700% from 2020.

The instantaneous nature of texting is perfectly suited for BFCM, where urgent, limited-time deals are the name of the game.
The takeaway
SMS is poised to become one of the most lucrative sales channels as customers look beyond their email inbox to engage with their favorite brands.
2. Brands bet big on email to drive sales
Ecommerce brands predicted another big year for online shopping, as evidenced by the sheer volume of emails sent during BFCM weekend.

Ecommerce brands using Privy sent 56.6% more newsletters this Black Friday compared to 2020 and followed up with a 43.8% increase from last year on Cyber Monday.

Considering Shopify merchants using Privy generate an average of $581.71 per email sent, it makes sense why sellers doubled down (literally) during Cyber Weekend.
The takeaway
In a time when social media timelines are cluttered and in-store shopping isn't as popular as it used to be, building an email list for direct selling is a must for ecommerce brands.
3. Mobile sales kept climbing
In 2014, mobile sales surpassed desktop sales for the first time ever, according to Shopify. Since then, shoppers have continually preferred to browse and buy on their smartphones and tablets – especially during Cyber Weekend.

In 2021, more than 70% of BFCM purchases were made on mobile devices, according to Shopify – a jump of 4 percentage points from last year. Just 29% of purchases were made on desktops.

Average daily smartphone screen time in 2021 hovered between 5 and 6 hours, not including work-related tasks. If people use their smartphones to chat with friends, read the news, and pay bills, it stands to reason that holiday shopping gets thrown into the mix.

Not to mention, text marketing and tools like one-click checkout turn mobile shopping into a seamless experience.
The takeaway
As mobile shopping becomes more popular, it's essential for ecommerce brands to optimize their websites for mobile browsing and checkout to capture as many sales as possible.
4. Many shoppers got a jump-start on their holiday lists
In 2020, shipping delays turned the "most wonderful time of the year" into a disaster for shoppers and brands alike. And this year, some experts predicted out-of-stock messages online to jump 172% from last year. These concerns about shipping delays and supply chain bottlenecks meant shoppers weren't waiting until Cyber Weekend to make purchases.

During the three weeks leading up to Cyber Weekend, spending increased 10% from 2020 for a total of $74 billion, according to Salesforce.

"With early deals in October, consumers were not waiting around for discounts on big shopping days like Cyber Monday and Black Friday," said Taylor Schreiner, director of Adobe Digital Insights, in a statement. "This was further fueled by growing awareness of supply chain challenges and product availability."

So while sales might have dipped slightly during Black Friday and Cyber Monday, many brands had big wins earlier in the month to compensate.
The takeaway
If your product is vulnerable to shortages or stock-outs, proactively build trust with customers by communicating potential delays. Here's a great example from Mala, which explained when customers should place their orders to receive them in time for the holidays:
5. Shoppers continued supporting small businesses
As difficult as last year was, the silver lining was an overwhelming surge in support for small, independent businesses. In 2020, small businesses saw a 501% increase in sales on Cyber Monday. Fortunately, that support carried over into 2021.

During BFCM, more than 47 million people globally purchased from independent and direct-to-consumer businesses on Shopify alone. Many of these sellers got a boost during Small Business Saturday (between Black Friday and Cyber Monday).

Ecommerce brands that use Privy reaped the benefits of this trend, too, processing 1.12 million orders on Black Friday and 1.5 million on Cyber Monday.
The takeaway
Independent sellers have a unique opportunity to lean into the "shop small" movement, not just during Cyber Weekend but year-round.
Keep your BFCM momentum rolling into 2022
It's normal for ecommerce sales to dip after Cyber Weekend, but there are still opportunities to capitalize on your Cyber Weekend wins. Here are two important tips to carry the BFCM momentum into 2022:
Ask for customer reviews: You likely saw a spike in sales over BFCM, so don't hesitate to encourage those buyers to rate and review your product, especially while those purchases are still fresh in their memories.
Create an email segment for new customers: Head into your email marketing dashboard to see how many new customers and subscribers you gained during the holiday shopping frenzy. Send a series of brief emails thanking them for their support, educating them about your brand, and suggesting similar products they might like.
One of the most exciting things about Cyber Weekend is the opportunities to boost sales, but as you can see, it also provides valuable insights into how you can make 2022 your biggest year yet.

Want to make sure your online store is optimized for maximum sales? Get all the marketing tools and coaching you need with Privy.
Subscribe for Updates
Get our best content on ecommerce marketing in your inbox 2 times a week.
Written by Lauren Hall
Lauren is a Brand Marketing Associate at Privy. She's the brains behind all things content. When she's offline, she's obsessing over her Bernedoodle pup, Monster, and plotting ways to being a full-time Vermonter ASAP.
Subscribe for Updates
Get our best content on ecommerce marketing in your inbox 2 times a week.