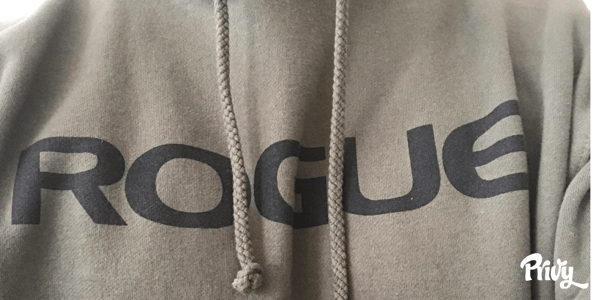 Last weekend I was sitting on my couch looking at Instagram. Sound familiar?? 🙂
And I came across this post from Rogue Fitness.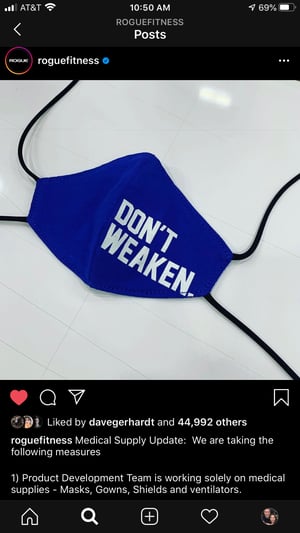 Rogue is suspending their manufacturing of fitness equipment so they can instead help manufacture medical equipment such as masks and ventilators that are desperately needed by hospitals and medical workers on the frontline of the COVID-19 pandemic.
And look, I know they won't single handedly solve the PPE shortage crisis our country is facing, I'm not naive.
Get our best content on ecommerce marketing in your inbox 2 times a week
But when you take a closer look at this company and how they are leading through this crisis, it's hard not to feel an overwhelming sense of admiration. Here's why.
First of all, home fitness equipment is having a moment. A really, really big, unprecedented moment with probably big truck loads of cash. And Rogue happens to be one of the leading manufacturers and DTC brands in this space.
Check out the Google Trend chart of search history for "home fitness equipment" over the last 5 years. That spike is March 2020.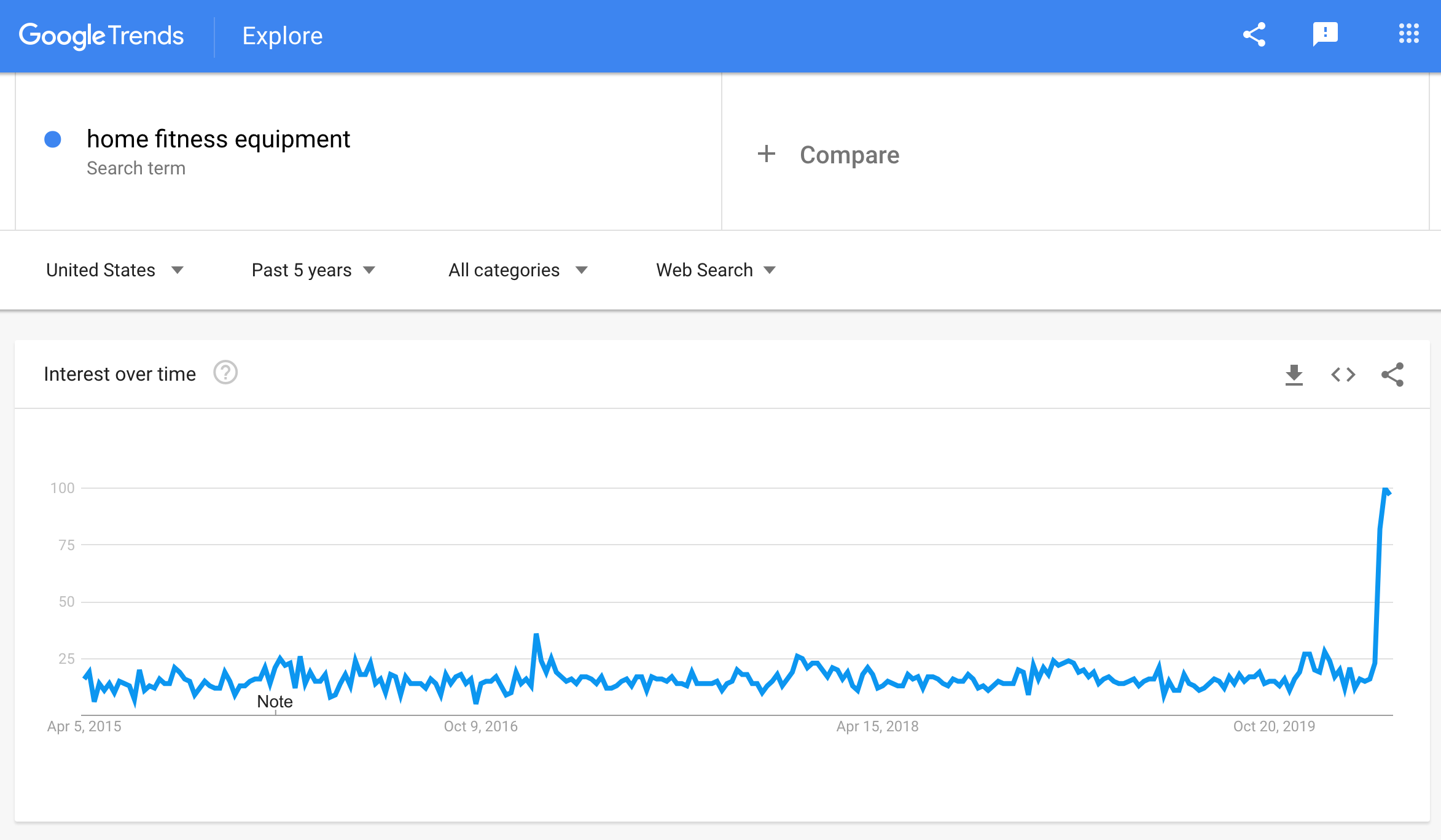 And yet instead of doubling down on manufacturing fitness equipment, Rogue is pivoting their manufacturing infrastructure to supply medical equipment.
Instead of the helping people stay healthy business, Rogue is jumping into the saving lives business.
Second thing you need to know: Rogue's actually a relatively small business with just over 600 employees. They are not a public company that's been around for decades with a mighty warchest of cash to keep them afloat when revenue drops.
They are still very much in growth mode. And they don't have a stock price that can be influenced by good PR. And on top of all that, they are now facing an economic downturn. The home fitness equipment moment won't last long. A recession could last years.
So it's fair to say they are risking their entire existence by saying "screw it" to doubling, perhaps tripling profits over the next 90 days and instead probably taking a loss so that they can help medical workers save lives.
This is an amazing response. Especially in an era where it feels like corporate leadership always claims fiduciary responsibility to shareholders before everything else.
And look I didn't want to just share this story because it made me feel good that a business I follow is doing something meaningful during this crisis.
There's actually a few really important lessons every DTC brand should learn from Rogue on how to approach a crisis. Here they are.
1) Rogue is living their brand ethos, even in crisis.
When you wrote your brand's mission statement, it might have been a fun and inspirational exercise that got you excited, but have you lived it every day? Rogue clearly has. And they still are.
On the Rogue about us page you'll find this mission statement:
"Since day one, we have worked to source locally whenever possible. We believe that a healthy American ecosystem is absolutely dependent on the strength of U.S. Manufacturing."
If you dig a little deeper, you'll understand their brand is about people. Whether that's the men and women that needed jobs in their Columbus, Ohio community after big corporations pulled out or now medical workers around the country that need protective equipment, Rogue has always focused on people first. Everything else second.
In just the past three weeks and just in this crisis, here's a list of people they are helping and what they are doing for each:

Their employees - increasing their wages 1.5 or 2X normal rate, providing a clean and safe environment to work, and free meals

Columbus, Ohio restaurants - paying for the Rogue HQ employees meals by supporting local restaurants & food trucks who are also hurting during this crisis

The Greater Columbus community - they are actually hiring 100 additional employees right now to keep up with medical equipment manufacturing

Their customers & fitness community - they are sponsoring virtual workouts and taking back orders to fulfill at a later point, updating their website hourly to keep people informed with orders and why they've reprioritized manufacturing equipment
2) Rogue has an intense focus on transparency, supplying clarity in a time of immense confusion.
Most people around the world are waking up every day not knowing what to expect. I know I am. We're living in crazy times. We're all feeling a lot of anxiety.
Anyone providing clarity right now is also providing comfort.
Rogue, for instance, has been updating this webpage every day with information about their COVID-19 response. Everything from their warehouse cleaning standards, to the number of masks they've produced so far (20,000 as of writing this post) is on this page.
3) They've adapted their marketing strategy, but haven't stopped marketing.
Have you noticed that the hero in most action movies is usually the silent, humble protagonist that knows exactly what to do but never seeks attention for it?
That's Rogue.
After they made their announcement about the manufacturing change, and updating their webpage they have not been gloating or taking advantage of this good PR (I'm going to give them some though).
They're still writing about fitness, especially now that most people have to do fitness from home. They still tweet, post on Instagram and sell products on their website (although they have a 14-21 shipping delay, and you now know why).
They haven't shut down marketing.
Because the world can't come to a stop. We need some sense of normalcy. And we need brands like this to remind us that life will go on (especially if more companies like Rogue pitch in and do their part to solve this crisis).
By the way: I have no affiliation with Rogue. I'm just a fan, and now I promise I'll be a lifelong customer (I'm waiting to order some new kettlebells).
If you want to support Rogue too, go buy a t-shirt from their store for $25. Otherwise please spread the word, let's celebrate heroes like Rogue.
Subscribe for Updates
Get our best content on ecommerce marketing in your inbox 2 times a week.
Written by Daniel J. Murphy
Dan is a B2B marketing leader with over 7 years of experience helping SaaS startups grow. Before joining Privy, Dan was the Director of Product Marketing at Drift. He's also worked in demand generation, brand marketing and marketing ops. Dan loves to geek out over marketing strategies and technology. He co-authored "This Won't Scale" with Privy's CMO, Dave Gerhardt at their previous company.
Subscribe for Updates
Get our best content on ecommerce marketing in your inbox 2 times a week.