Ahh, the New Year. Everyone is signing up for gym memberships, creating meal plans, buying reusable shopping bags, and other things that make them feel like a better version of their 2018 selves. Let's dive into 7 onsite promotions to help your business improve this year.
The New Year isn't just a great time for personal resolutions, but also the perfect reason to step up your marketing strategy. New Year, new you, right?
What better place to start than with onsite conversion? Whether you are just thinking about onsite conversion for the first time or are a conversion expert and looking for new and fresh ways to capture more traffic, we've got you covered.
Here are 7 onsite promotion ideas that are easy to configure and quick to bring results.
1. Welcome Campaign
If you are just getting started with onsite campaigns, welcome campaigns are an easy to set up and effective way to capture email addresses. Or, if you already have a welcome campaign in place, maybe it's time to switch up your design or messaging for the New Year.
Welcome new visitors to your site by offering a discount off their first order, free shipping, or a newsletter signup.
You can choose to trigger your campaign based on time on page, scroll percentage, or exit intent.
2. Spin to Win
Spin to Win is a crowd favorite among Privy customers - and their customers, also. Because it's engaging and interactive for shoppers, this type of campaign is highly effective at capturing email addresses. In fact, many of our customers (including Mountain Crest Gardens, shown in the example above) see a 10% or even higher conversion rate with Spin to Win.
Already a fan of Spin to Win? Here are three creative ways to use Spin to Win that you may not have thought of yet.
3. Mobile-Only Campaign
More people than ever are favoring mobile over desktop when it comes to online shopping. We discovered that across the Privy network, over 70% of traffic was coming from mobile devices over the holidays. That's an insane number!
Which is why it's so critical that you employ a mobile-first mindset when it comes to designing your onsite campaigns. The first step? We recommend using a flyout for mobile visitors instead of a pop up. Flyouts are a display type that were created specifically for mobile devices, sized perfectly for mobile screens. If you are looking to utilize a mobile exit intent campaign we suggest you set it up as its own campaign to ensure it is only targeted to mobile users.
4. Cart Saver Campaign
Cart Savers are campaigns that exist on the checkout page of your site, and capture shoppers' attention as they're about to leave. These campaigns are a powerful way to drive revenue without a ton of effort.
This example from Zutano skips the email address in favor of a coupon code your visitors can use immediately.
Bonus Tip: Want a more advanced cart saving strategy? Top merchants are taking a tiered approach to saving carts by serving up different offers for different cart values to incentivize the customer to complete a purchase.
By using a tiered approach, you're able to save the higher discounts for large cart values. For example, with a cart value from $0-50 you may want to just offer free shipping. But from $50-100 you may offer $5 off the order, and then offer $10 off on orders over $100 and so on. That way you create more incentive for customers with higher value carts to follow through with the purchase.
5. Full Screen
Talk about an attention grabber! Besides the undeniably adorable puppy in this pop up from Great Bay Home, the full screen pop up is sure to capture the attention of shoppers on your site.
Full screen pop ups were a highly, highly requested functionality from our customers, so we were pumped to be able to launch it in 2018.
6. Custom HTML Timer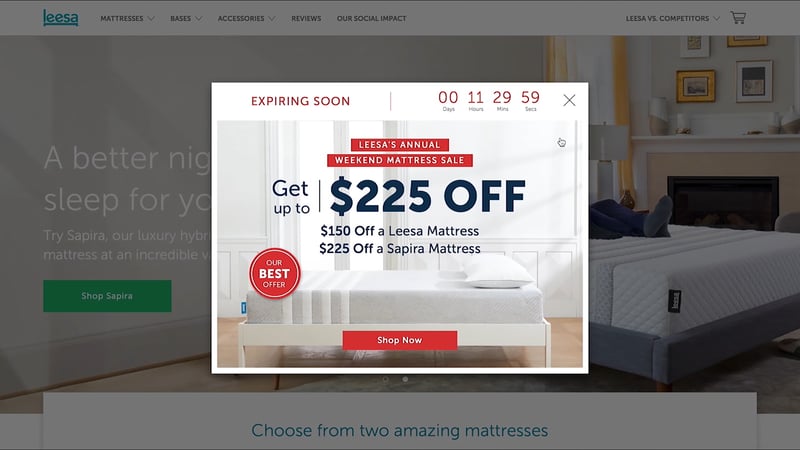 What better way to drive urgency on your offer than to set it for a limited time? Embed HTML based timers on your displays to get shoppers to act now. We've seen two types of timers that work really well.
The first is to have a timer tied to a sale and promote it across the site, letting people know how long a site wide or collection specific discount is going on.
The second is to only allow people to sign up for a discount within a given timeframe. This makes it harder for people to dismiss a pop up or flyout because the offer is going away, never to return. Combine this offer with a unique coupon code that expires to really drive urgency.
7. Upsell Campaign
Is your New Year's resolution to increase your average order value? Then you definitely want to incorporate some upsell campaigns.
Just like the examples above, make it easy for shoppers to add additional or related items to their cart with one click. You can do this by creating a display that includes an 'add to cart' button and then set up your audience targeting rules to show to anyone who does NOT already have that product(s) in their cart.
First "Current URL contains cart or checkout" this means that this display on the cart or checkout page.

Next, you'll want to make sure you're not showing the display to someone who already has the item in their cart using "Product ID does not equal" and with the same product or variant you used in the add to cart link.

Lastly, you'll want to set the "cart value" to be greater than 0.
Here's a sneak peek of how to do this in Privy:
From all of us at Privy, good luck this New Year! We have a feeling it's going to be your best year yet.
Stay tuned for part two of this post. Later this week, we'll discuss 6 onsite ideas for returning visitors.