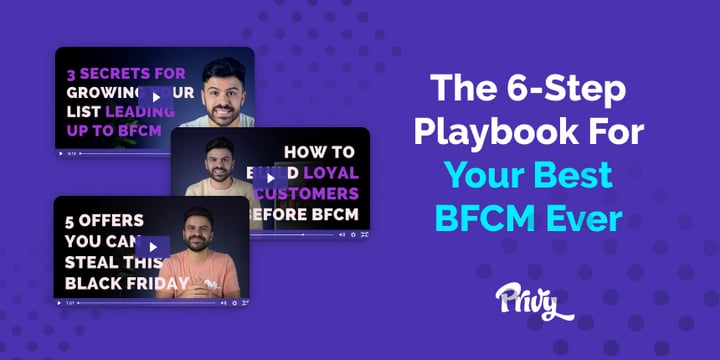 With Black Friday Cyber Monday right around the corner, you might be a little overwhelmed. But don't panic.
You still have so many opportunities to knock this holiday season out of the park and have record-breaking sales days.
To make it easy, steal this 6-step playbook to have your biggest BFCM ever:
Follow each step and you'll be well on your way to bringing in sales through BFCM and beyond.
Get our best content on ecommerce marketing in your inbox 2 times a week
1. Choose your offer
Imagine if one of your favorite brands gave you a $500 shopping spree this BFCM...
I don't know about you, but I'd be jumping on that immediately.
Well guess what. Your offer is directly related to sales.
And while you probably won't be giving away a shopping spree, you can build an offer that will bring in serious $$ for your business.
In just 7 minutes, you can steal these 5 BFCM offer ideas:
2. Grow your email and SMS lists
The more contacts you have, the more revenue you're going to bring in.
So growing your email and SMS lists should always be a focus...
But especially over the next few weeks leading up to Black Friday.
And whatever you do – don't forget to continue to focus on list growth during the holiday weekend. It's the perfect time to capture the traffic coming to your store so you can keep the conversation going even after they're gone.
Here are 3 ways you can double down on list growth:
3. Save more abandoned carts
On average, 70% of carts are abandoned, but during Black Friday, that number jumps closer to 80%...
I know, not ideal.
But there's actually a ton you can do to save them.
So today is all about exactly how you can convert more of those abandoned carts into sales this Black Friday and beyond.
Watch this 8:44 video to get 3 tips for saving abandoned carts:
4. Get started with SMS
96% of marketers using SMS say it helps them drive more revenue.
So texting your customers can be your secret weapon for boosting your offers and promotions this year.
In this on-demand video, Ben shared a few key plays to kickstart your SMS marketing.
Plus tons of ideas for texts your brand can send this BFCM and beyond.
Watch this on-demand recording to get caught up:
5. Send newsletters and texts
Want to know something crazy?
Your most loyal customers are 9x more likely to make a purchase. 9 TIMES!!
So how can you nurture those superfans leading up to Black Friday?
Use this playbook to drive engagement and prime your audience.
So by the time Black Friday rolls around, they can't wait to make a purchase:
6. Steal this calendar to get through Black Friday, Cyber Monday, and beyond
This calendar lays out absolutely everything you need to do in the coming weeks: from BFCM all the way through the end of the year.
With examples, inspiration, and dates to get you started, it's exactly what you've been looking for.
Check out the full blog post or jump straight to the downloadable calendar.
Use Privy to drive sales this holiday season
With Privy's all-new Growth Plan, you'll have everything you need to bring in record sales this BFCM.
Send broadcast emails and texts
Save more abandoned carts
Capture more emails and phone numbers
Drive urgency with our brand new countdown timers
Improve your conversion rate with a Free Shipping Bar
...and so much more.