You know your online store inside and out: every product, every manufacturer, every detail. But your website visitors bring none of that familiarity when they land on your product pages. Instead, they judge within seconds whether to browse your store or to hit the back button. That's why product page optimization is critical so that shoppers stay on your site and buy rather than leave.
These five tips will help jump-start the optimization process and spark ideas to keep testing.
1. Tell a visual story through product photos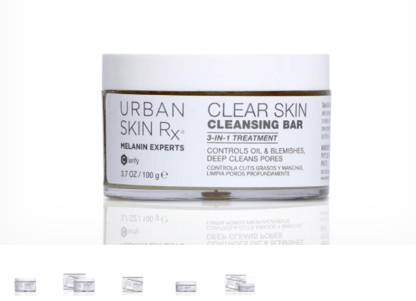 Image credit: Urban Skin Rx
Your product's photos are the largest elements of your product listing because they're probably the most important. While shopping online, photos are the closest a potential buyer can come to the experience of your product in their hands. Your photos must convey not only physical traits like color and size but also create an emotional appeal.
Make sure your product photography is original — a manufacturer's photo library is copied over and over across the web. You can make the photos unique by overlaying text and graphics or using a photo editor to place your product into lifestyle scenes. But be careful: an overly Photoshopped image can be off-putting and make the product seem suspect.
Even better than manipulating existing photos, invest in original photography by hiring a pro or learning to shoot the products yourself.
Once you've got a library of images, don't leave the choice of the featured photo to chance. This photo has a profound effect on clickthrough rates and heavily influences a customer's first impression. Use split testing to understand which of your images is most appealing (see tip #5).
2. Write original product descriptions
Just like a manufacturer's photo library, a manufacturer's standard product description is duplicated across many sites. The unoriginal content makes it almost impossible to rank in search engines.
Create original product descriptions that strategically integrate keywords that are valuable to your product. Emphasize the product's most appealing features. Make sure to answer frequently asked questions (for example, in clothing, does it fit as expected, or does it run large or small?). Try to overcome any objections that cause shoppers to hesitate or question their purchase.
Include enough detail to inspire confidence in the buyer, but make the copy easily scannable by making use of bullet points, bold or italic type, and subtitles. Go easy on the exclamation points, as they come across as spammy.
3. Offer social proof and guarantees to reduce buying risk
Online shoppers are more skeptical by nature, especially if they're not familiar with your store. They need reassurance before buying, so make your site look credible and safe by adding trust indicators. These indicators might include third-party editorial reviews, rewards, or certifications or a product warranty or guarantee.
Another way to reduce buying risk is to display your return policy prominently on all product listings. Assure buyers they can get a hassle-free refund if they're not satisfied.
Social proof also makes shoppers feel less alone on your site. Social proof may take the form of testimonials or likes, shares, and comments on your product. Perhaps you show how many people have viewed that item in the past 24 hours or added the item to their cart. The idea is to make each shopper feel that other people have shopped with you and can vouch for their experience with you.
4. Inspire confidence with honest reviews

Image credit: Fracture
Product reviews not only speak to the quality of your product, but also to the customer service that your team provides. Reviews are an opportunity to answer questions, respond to concerns, and facilitate shipping and returns. When buyers see that your team listens and pays attention when the need arises, they feel more at ease with your business.
Give reviews more credence by adding "verified purchaser" badges and the option to add photo and video. Make the review process seamless by getting rid of unnecessary form fields (like a headline) and allow star ratings or thumbs up/down voting without written comments.
Use email marketing to encourage post-purchase reviews. (Be careful on marketplaces like Amazon, which does not allow you to ask directly for a positive review. Instead, ask the buyer to share their experience). Think about the proper timing to ask for a review. For example, if you sell a skin cream, your follow-up email should be sent once the buyer has had enough time to use the cream and see its effects.
5. Use split tests to understand what moves the needle
Product listing optimization consists of a series of experiments. Just like a scientist in a lab, you need a framework to conduct those experiments and quantify the results.
You can use live split tests on your website or Amazon listings. In these tests, a portion of your traffic is sent to one variant of your listing, and another portion of your traffic is sent to another variant of that same listing. From there, you compare engagement in metrics such as clicks, time on site, and purchases. You can use Amazon A/B testing tools or landing page software to help automate the process.
Live split testing has some drawbacks, however. For one, your site has to accrue a lot of traffic in order to gather enough data to make informed decisions. This traffic often means paying for ads on Google, Amazon, or Facebook, which can become expensive. Live split testing also takes weeks to run and sometimes ends in inconclusive results.
For faster results (that are easier on the wallet), you can trying an instant polling service. That way you can split test your product name, featured photography, description copy, product and packaging designs, and user interfaces completely outside of your website or marketplace. In just minutes, you can poll real life customers to look at your variants, vote on their preference, and provide a written comment explaining their choice. These comments can guide your current and future optimization efforts and help you understand how buyers react to your listing.

Kim Kohatsu is the Director of Marketing at PickFu, an instant polling service that e-commerce sellers use to optimize product listings. With PickFu, online stores can quickly test product photos, description copy, and UI layouts with shoppers who reflect their target demographic, including Amazon Prime members, those within a certain income bracket, or people based on traits such as homeownership, marital status, or exercise habits.