Black Friday and Cyber Monday represent huge opportunities for your business. Even if you're not a big-box retailer, it's one of the weekends of the year consumers are most primed to buy. And sales this year should be no exception. 72% of consumers are most excited about Cyber Monday for their holiday shopping. As a small business, the weekend is even more important. It's your time to shine.
To get your online business ready for the big weekend, we've created a special series: Black Friday Bootcamp. Last week, we walked through some strategic pre-planning tips. This week, we'll show you exactly how to win on Black Friday/Cyber Monday, step-by-step.
Sign Up for Black Friday Bootcamp
Want to sign up for the full series? You'll get our best Black Friday content in your inbox each week leading up to Thanksgiving:
Ok, to business.
1. Set a Goal
Setting a goal for your Black Friday campaigns gives you focus. It's worth doing for any campaign you run, but especially for a campaign as high-stakes as Black Friday and Cyber Monday.
If you're not sure what to set as your goal, look back at last year's sales. You'll want to at least drive sales to be as high as they were last year at this time, so that's a good benchmark—then, reach for the stars. If you're a newer business, look at the last few months and add 20% as your goal. Now is the time to make a go of it!
Your goals don't have to be revenue-driven, either. Maybe it's garnering a certain number of email signups, traffic numbers to your site, or being featured on gift guides and other roundups.
No matter what you're trying to do this Black Friday and Cyber Monday, setting a goal and working toward it will increase your chances of success.
2. Create an Offer or Set of Offers
Once you have a goal, think through what you want to use to entice your shoppers to purchase from you or sign up for your email list. You can keep it simple and offer a certain percentage discount, like 20%, or put together an offer for a certain dollar value off—say, $10 off if a customer spends more than $30 with you. Regardless of what kind of discount you use, make sure you emphasize that it's a limited time offer to drive urgency for your shoppers.
If discounts aren't your thing, tip the scales with free shipping for orders over a certain amount or think about a potential free sample or bonus gift you can include as part of those high-value orders.
There's no right or wrong answer here as long as your discount works for your financial model.
And if you use audience targeting, available in any Privy paid plan, you'll be able to layer different offers for different segments of your audience, allowing you to tailor the offers you make based on what you know will convert your visitor.
3. Build Your On-Site Campaign
Once you know your offer and your message, it's time to start building your campaign. Here's a 30-second how-to if you're using Privy:
Choose Which Form Fields You'd Like to Collect
We recommend keeping it simple in the form and asking for more information later. Don't forget to sync your email service provider so that you'll be able to send those sign ups something later!
Choose Your Display Type and Design
You can read all about the different types to choose from here—it really depends on what kind of campaign you want to run. If you're stumped on design, we have over 400 templates for you to choose from.
Set Your Targeting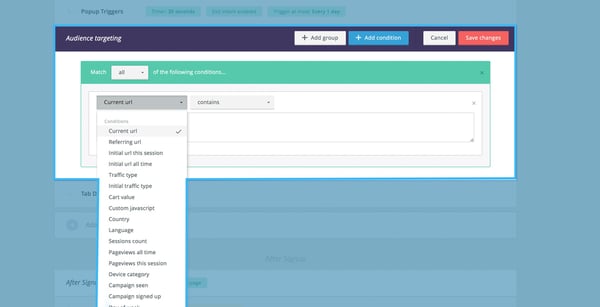 Will you offer something special to traffic coming from Facebook? Implement a Cart Saver to save abandoned carts? Include an offer specific to a certain country? This is where you can choose your various targets based on what offers you want to run. Targeting also allows you to run multiple campaigns without bombarding your visitors with messages.
Say Thank You
Build a thank you page and personalize it to thank your visitor for signing up. This is a great place to set expectations on what they'll receive in return.
If your offer includes a coupon, include it here. If you're on our Commerce plan or above, you'll also be able to generate unique campaign codes to prevent your code being shared with the world—that way, you won't miss out on any sales or new subscribers.
Schedule Your Campaign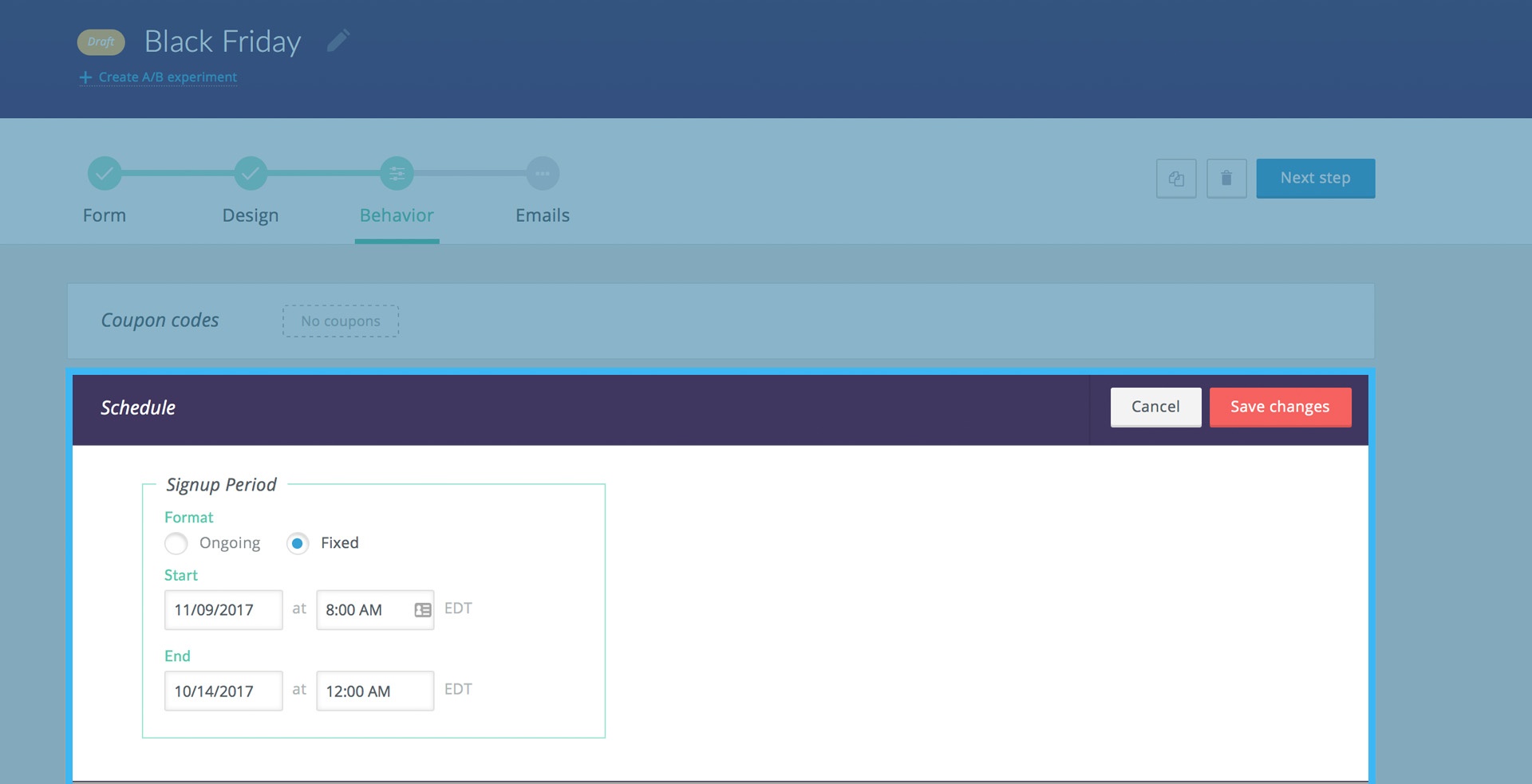 Since you're probably putting something together specific to Black Friday or Cyber Monday, be sure to schedule the campaign for that specific time frame. We recommend going live a little before Thanksgiving to get ahead of the curve—we'll talk more about that in a bit.
Set Up an Autoresponder
When someone signs up through your campaign, automatically send them a thank you note with that same offer or coupon code—that way, if they get interrupted during the checkout process or need some time to think about what gifts they're buying, they still have the discount they signed up for. And if you want to go even further, you can use Privy's automated emails to send coupon reminders.
4. Check Your Mobile Experience—and Check It Again
Before the big weekend, test out your website to make sure it can handle all the traffic you'll be generating and that your mobile experience is up to par.
More than ever, consumers finish off their Thanksgiving meals with a little bit of scrolling through sales and deals—some even making their first holiday purchases that night. With more than a quarter of Thanksgiving's sales (and a third overall for the weekend) spent on mobile, it's more important than ever to make sure your website looks great and is easy to navigate on a smartphone or tablet. Make sure you have friends or coworkers check how it appears on their mobile devices and tablets too—they're all a little different.
The good news? Just because your shopper is on mobile doesn't mean you can't put together an offer or discount for them. You can use device targeting by device to turn your desktop offer into a mobile design or create mobile-specific offers that will convince your visitors to buy.
5. Decide How You'll Drive Traffic and Put the Pieces in Place
Before someone sees your campaign, how will you get them to come to your site? Use your analytics tool to look at where people usually come from, which will help you determine what ways to garner more traffic. If you often have people coming in from social media, for instance, it might be worth spending a few dollars on a Facebook or Instagram ad. Or if it's usually email that encourages people to come back, make sure to line up an email campaign (we'd recommend doing this anyway!).
Once you know how you'll drive traffic to your site, start putting the pieces together. Determine your budget for any advertising, think through your email campaigns, and make sure whatever messages, images, or offers you're using when you drive traffic, you match to your on-site campaign.
6. Generate Some Buzz, Early and Often
Get ahead of the noise from the biggest retailers and start getting the word out about your Black Friday and Cyber Monday sales! Shoppers love to comparison shop ahead of time so they're ready to pull the trigger once the deals are ready. Lean into that behavior and let them know exactly what to expect.
Plan an email campaign to your subscribers outlining your sales and offers and getting them excited to come to your online store for Black Friday and Cyber Monday.
7. Launch Just Before Thanksgiving
Once you have everything put into place, it's time to launch your campaign! Since the data shows that more and more people are browsing to escape their family gatherings, you'll want to be sure you're ready to engage anyone who may come to your site.
Launching before all the madness also gives you a little time to tweak and test, giving you peace of mind.
Send a Friendly Reminder
Then, on Thanksgiving day, send an email to remind your subscribers about your great deals. You may want to include your general coupon code right in that email if you're using one coupon code. It might be a good idea to send a quick reminder for Cyber Monday, too.
Bonus: Don't stress!
You got this! If you ever have any questions about how Privy can help you crush this Black Friday, don't hesitate to leave a comment below or say hello on our Facebook page.