14 Shopify Apps You've Gotta Have For Black Friday Cyber Monday 2020
Published on Oct 13, 2020
Written by Rachel Waldmann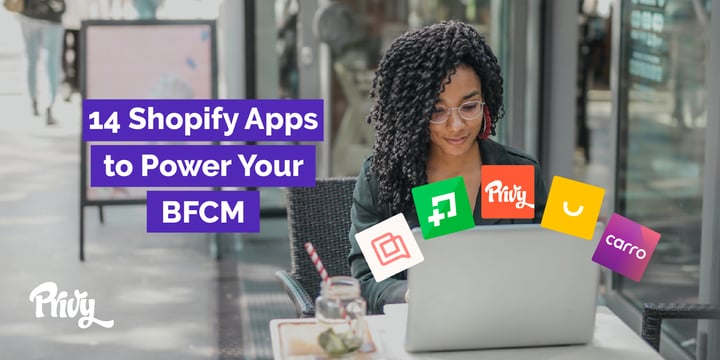 Think back to last year's holiday shopping season (I know, it was a simpler time). How'd you make out? Even if you spent the holiday season high fiving anyone who crossed your path over your incredible success, this year we're going to help you top it.
Because in 2019, online shopping on Black Friday hit a record of $5.4 billion spent, while Cyber Monday shoppers spent a record $9.4 billion online. And that was when the biggest safety risk was navigating the Walmart parking lot.
Now, The countdown is on for a BFCM of epic proportions, with shoppers expected to forego crowded stores in favor of staying safe at home, prowling for deals in their PJs.
So this could be the biggest four days of sales your ecommerce business has ever seen.
We asked our community which ecommerce apps they couldn't live without, and they delivered. Here's a roundup of some of the most recommended tools to help you hit record-breaking revenue this holiday season and beyond.
1. Privy: Grow your list, cross-sell, email & text with ONE app.
C'mon. I couldn't write this and NOT include Privy. I mean, it's the #1 reviewed app for sales in the Shopify App Store...
Not only can you create fully customizable popups that are on brand for your store, you can also build a dynamic free shipping bar, send emails, create cross-sell campaigns, AND save carts before they're abandoned.
Popups will help you collect valuable information like email addresses and phone numbers of site visitors so you're able to keep building a relationship with them even after they've left your store.
A dynamic free shipping bar will help you increase your average order value and set the expectation for a free shipping threshold every step of the journey. So no one is surprised by the time they make it all the way to the checkout page.
You can also create cross-sell and upsell campaigns as well as save carts both before and after they're abandoned. Oh, and you can send emails and text messages.
Still not convinced? Here's how Privy can help you save $ and drive sales.
Price: We have a 15-day free trial and you can try out our starter plan to capture and send emails with up to 2,000 contacts for only $30/month.
2. Bold Product Options: Treat your customers to the best shopping experience with unlimited product options.
Increase the likelihood of a purchase by showing your customers all their choices on one beautiful product page. Bold's Product Options app streamlines the shopping experience for you, by providing product option customization beyond Shopify's 100-variant limit.
You can really do anything here. Color swatches, dropdown menus, checkboxes, or whatever else you need for your business. You can charge for upsells like monograms and gift wrapping, or create conditional logic rules based on the choices available. Plus, the user experience makes this upsell feel organic to the shopper, making it a lighter lift on your end.
Price: After a 14-day free trial, the Basic plan starts at $19.99/month.
3. Carro: Team up with top influencers to fling your brand into the spotlight.
Influencer marketing can be a game-changer when growing your brand. But it's not as simple as calling up Oprah and asking her to add you to her Favorite Things this year. You have to find the right partner: an influencer with an engaged social audience that overlaps with yours, and makes you look good.
Carro helps you sell more and achieve greater recognition by connecting you with influencers, media outlets, and co-marketing opportunities for your brand. The app helps to curate symbiotic relationships that turbocharge sales, help you acquire new customers, and build brand loyalty.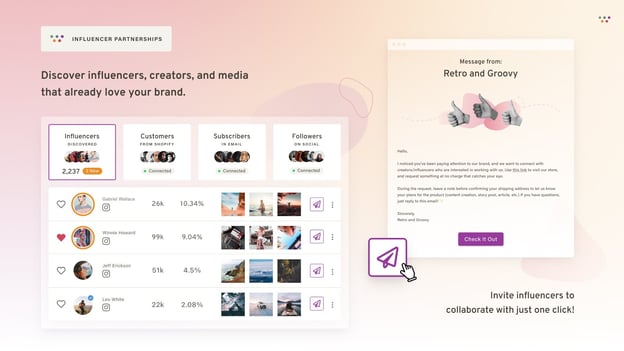 Price: Free! Have you ever turned down free publicity? It's a no-brainer.
4. CommentSold: Turn social media comments into sales.
Your brand's social media profiles aren't just for sharing pretty pictures; they're the next frontier of your online marketplace. CommentSold allows customers to purchase directly from your social pages, so you can convert casual Instagram followers into engaged (and paying!) customers.
You can even schedule live sales in advance and use social media blitz tactics to drive urgency. Or, you can go live and have your own mini Home Shopping Network, so your fans can see the humans behind your brand.
Price: Starts at $49/month. When done well, it will pay for itself.
5. Gorgias: Knock 'em dead with your exceptional customer service.
Gorgias gives your business the illusion of a whole customer support team, even if you're a one-person show. By centralizing all of your support channels, from live chat and help desk emails to Facebook messages and even phone calls, you can stop stressing and start impressing. also fielding support questions. But customer experience is a huge factor in securing repeat buyers. Think about your last poor customer service experience. Will you buy again? Didn't think so. Just trust us, it's worth the investment.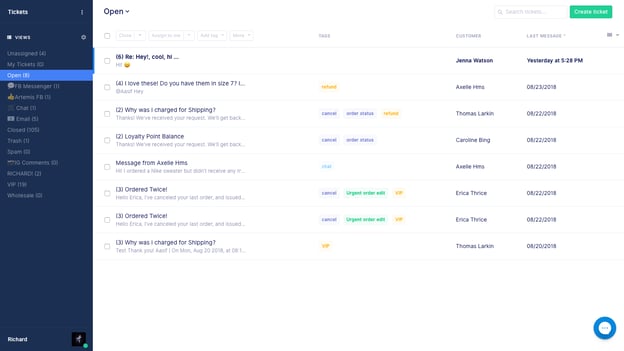 Price: The Basic plan starts at $60/month (or $50/month when you commit to a whole year). Think about it as an investment in customer lifetime value. Happy customers = more purchases = more cash in your pocket.
6. Instafeed: Sell more with customized shoppable Instagram feeds.
Use your gorgeous 'gram-worthy photos to drive sales on your website with Instafeed, which turns your Instagram into an embedded shoppable feed. Create powerful social proof, boost your social following, and keep your store content fresh with new images getting added every day. You can even integrate it with your product pages, resulting in some dreamy product review photos that do the work for you.

Price: The basic plan is free, but the priciest one is only $19.99/month!
7. Yotpo: Collect product reviews and photos that lure in future customers.
I never buy anything without reading a few product reviews first. I need to see some proof and get my questions answered, especially when the cost of return shipping is hanging in the balance. Most online shoppers aren't clicking that "Place Order" button without some kind of reassurance from those who came before, which is why customer reviews are an essential sales tool for your business.
Yotpo allows you to collect reviews and photos from happy customers, which you can then proudly display on your product pages. Make your life easier by collecting reviews on autopilot using their email tool, and enable Q&As so past customers can help you field your new visitors' burning questions.
You can see it in action here, in this order follow-up email received from Rumpl: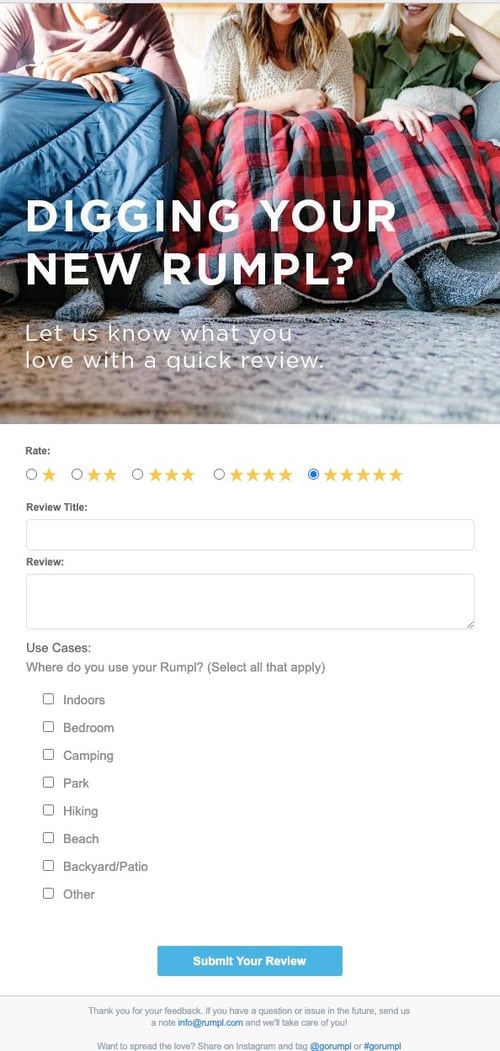 What's great about Yotpo is that visitors can filter reviews based on attributes they have questions about, like color or sizing:

Price: Yotpo starts at the low, low price of FREE! Paid plans include photo reviews and carousels, starting at $19/month.
8. Zipify: Steal templates that convert from an 8-figure ecommerce store.
Zipify offers the first landing page builder uniquely designed for ecommerce. Their platform takes the most profitable pages from successful online stores and shares the templates with its users, so you can launch better campaigns and see quicker profits.
The best part? They test what works, so you don't have to use your own store as a guinea pig. Their platform integrates with Shopify and Google Analytics, and their template library is always growing, so your store stays fresh.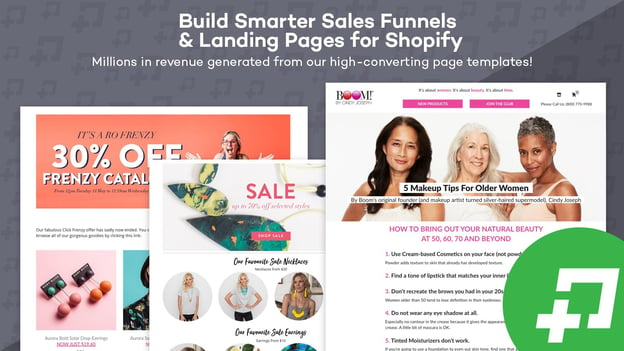 Price: Basic costs $67/month, with their Plus plan going up to $97/month for added features (including A/B testing to provide you with data to optimize your store).
9. Lucky Orange: Take the guesswork out of why people are abandoning their carts.
About 70% of shopping carts are abandoned. And the reasons why are endless: the shipping costs were too expensive, the shopper changed their mind, they got distracted, they got abducted by aliens. You get the picture.
But try as you might with cart recovery emails, you'll never know for sure what the final nail in the coffin was for any particular shopper...unless you have Lucky Orange installed on your site. Their heatmaps and shopping session replays will show you exactly where the user clicked, and where you lost the sale.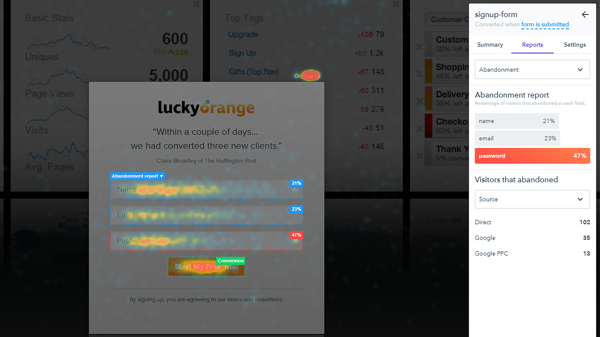 Price: Free 7-day trial. Their Starter plan costs $10/month, available to businesses with up to 25,000 monthly page views.
10. Plug in SEO: Drive traffic and boost your Google search rankings.
We don't expect you to be an SEO (search engine optimization) maven. We have one on our team, and she's amazing. But she's ours. So in the meantime while you await your very own Kristina Simonson, Plug in SEO can discover the easiest ways to optimize your Google search rankings and drive more traffic to your website.
It will identify broken links, missed opportunities, and key search words for your brand. And then it will even tell you what steps to take to improve.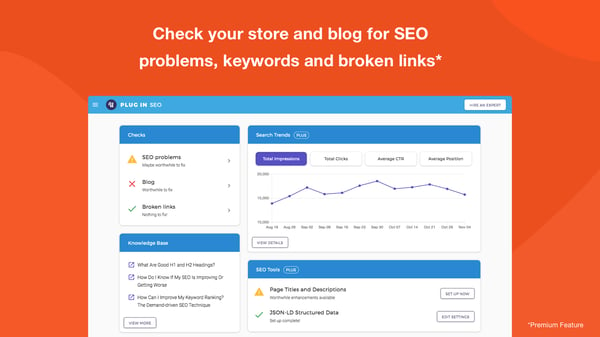 Price: Their basic plan is free forever. But if you try it and love it, you can get premium support and automatic improvements for $20/month.
11. Smile: Boost sales and retention with rewards points and referrals.
There's a reason The Gap has gotten so much of my money over the years. Yes, it's in part because their petite section is 🔥 and I have short lil' legs. But more than that, it's because I get perks for shopping with them. The more I spend, the more I get. Rewards programs bring in repeat buyers. That's why over 30,000 brands have grown their Shopify stores using Smile's customer loyalty platform.
You can use loyalty points as an incentive for your store by letting your customers earn points for a variety of actions: creating an account, completing a purchase, referring a friend, and more. Also with Smile, customers can redeem points in exchange for discounts or gifts (which is a prime upsell opportunity).
Here's what it looks like on Blume's site for their rewards program, Blumetopia: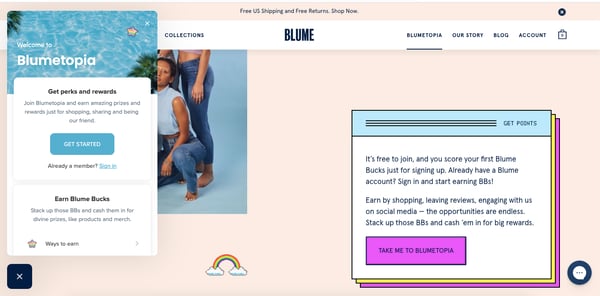 Price: Smile has a free plan, with the upgrades starting at $49/month. For a full-fledged VIP program, it can go up to $599/month.
12. Recart: Save more carts with Facebook Messenger marketing.
Cart abandonment sits comfortably within the top 5 headaches for ecommerce marketers — even the ones who have a successful cart recovery email series. That's where Recart comes in.
They bring cart recovery to Facebook Messenger in an effort to drive back any almost-buyers before they're gone for good. Similar to abandoned cart emails, you can include a discount for added incentive. But you can also chat directly with customers in real time, providing them an easy way to ask any questions.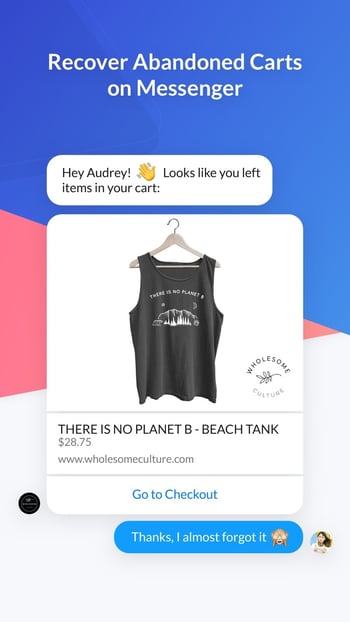 Pricing: $29/month.
13. Postscript: Turn text message marketing into a top sales channel.
If you're not already using Privy Text, our friends at Postscript are transforming text message (or SMS) marketing for ecommerce businesses. Text is shown to have by far the highest engagement rate of any marketing channel. That's because, unless you're 105 years old or you live under a rock, you have a smartphone with Internet access.
And with insanely high open rates (98%!!!), it's a near guarantee that your message will actually reach your customer. Postscript enables you to build your subscriber list, automate your text marketing, and create highly engaging campaigns that drive sales. And, it uses your existing customer data from Shopify, so you can start segmenting and targeting right away.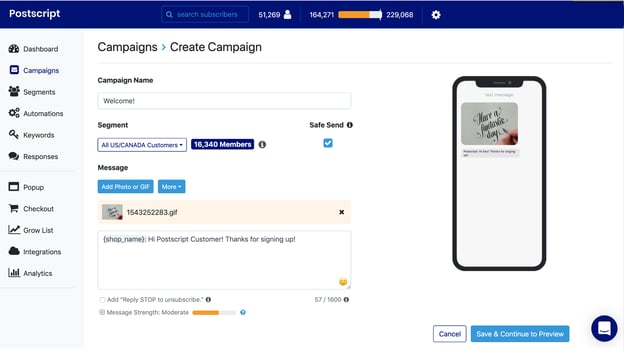 Price: Postscript offers a 30-day free trial, which gives you plenty of time to set it up now before the BFCM rush. After that, it starts at $25/month for 2,500 text messages.
14. Kit: Get your store seen by millions, using targeted Facebook and Instagram ads.
You can hire a social media manager. Or you can hire Kit as your newest marketing employee. Kit helps you easily create targeted Facebook and Instagram ads that get your brand in front of the most likely buyers.
As your trusty sidekick, Kit will also recommend marketing activities most likely to drive sales for your store by using artificial intelligence to examine your products, visitors, and customers.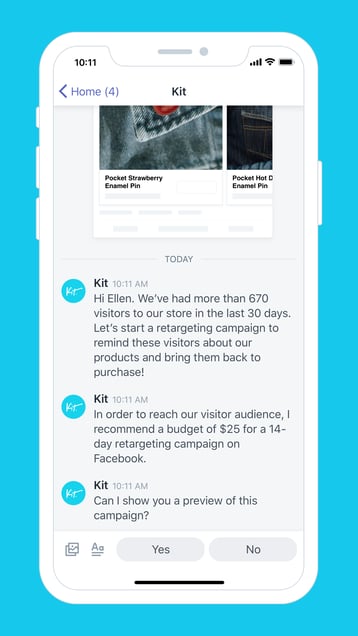 Price: Kit is FREE! It's basically an unpaid marketing intern you don't have to feel guilty about for not paying.
Key Takeaway: Set yourself up for success this holiday season
BFCM is approaching fast. And it's worth investing in the right tools to set your store up for success. This is the Super Bowl Sunday, Olympics, and Derby Day combined for ecommerce, so now is not the time to let up on the gas.
Subscribe for Updates
Get our best content on ecommerce marketing in your inbox 2 times a week.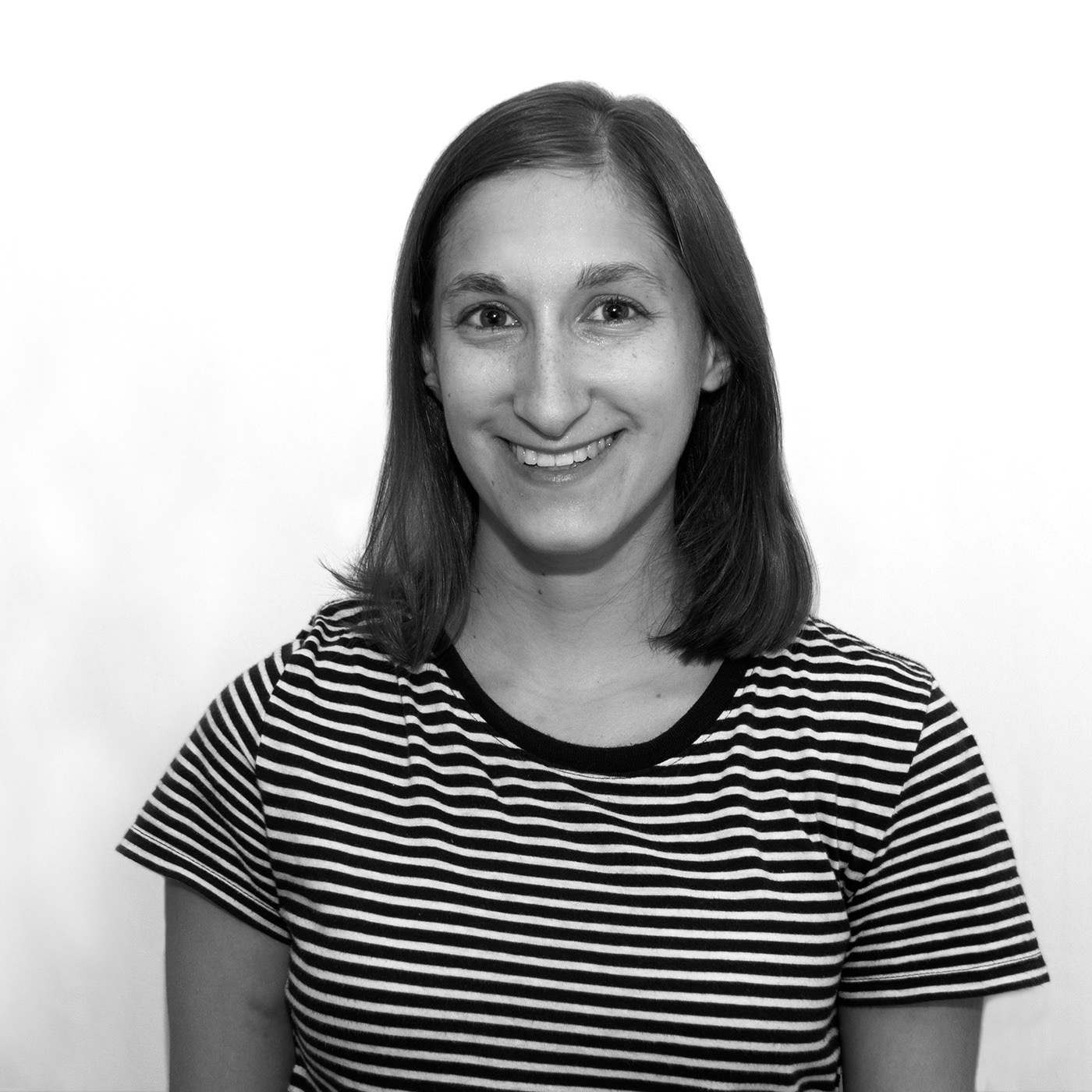 Written by Rachel Waldmann
Subscribe for Updates
Get our best content on ecommerce marketing in your inbox 2 times a week.