10 Tools Ecommerce Marketers Can Try For Free During COVID-19
Published on Apr 28, 2020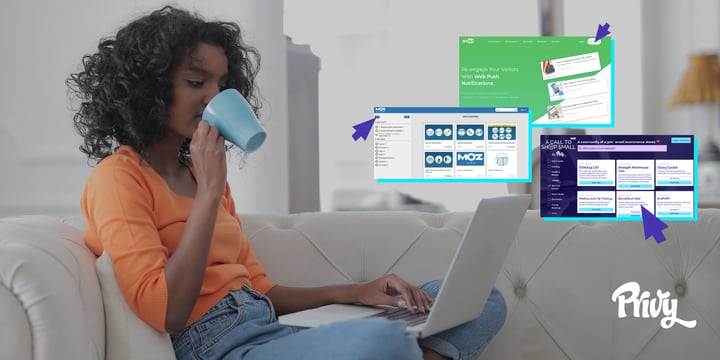 A virus has shut down the world, and the solution is isolation from our friends and family. It's hard to look around and not feel like everything is going down the drain.

Here's the good news: Hard times tend to bring out the best in people. And the people serving the ecommerce industry are no exception.

To help online stores stay afloat during the COVID-19 lockdown, some ecommerce support businesses are offering their products for free. From a live chat software to an $800 SEO course, these free resources are too valuable to pass up. Take advantage of all 10 while they're available, and you'll be in a better position to reach and connect with potential customers.
Get our best content on ecommerce marketing in your inbox 2 times a week
Marketing software
There are so many ways to communicate with customers today—and, in turn, so many tools to make that communication faster and smoother. Try out this free software to improve and expand your marketing via SEO, social, live chat, and push notifications.
Check out more software reviews here.
SpyFu: 2 free months of competitor keyword research
Optimizing your store for search can feel like solving a riddle. Sure, there are resources on SEO and paid AdWords campaigns, but the rules of Google's search engine aren't explicit. Sometimes you might wonder: Am I even targeting the right keywords?

SpyFu points you in the right direction. The keyword research tool shows how organic and paid search terms have ranked for competitors in the past, so you know which phrases are worth targeting. And right now, SpyFu is offering their Premium membership free for two months.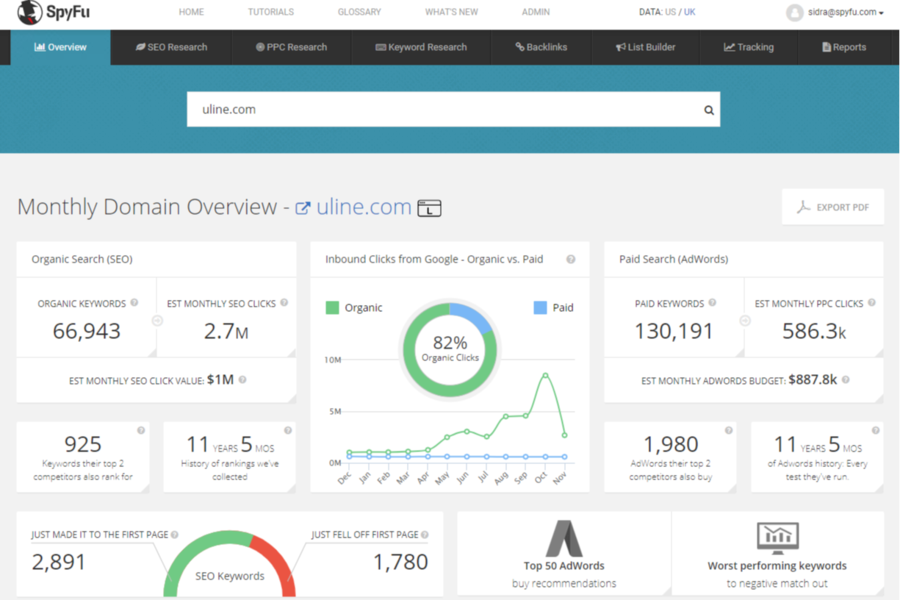 [Source]
Start using SpyFu by entering a domain address to see that site's keyword performance for the past 13 years—their paid keywords, organic search terms, number of clicks, and more. Instead of manually entering addresses, users can also create a list of sites that they want SpyFu to track automatically.

To learn more about how SpyFu works, dive into these introductory resources:
How do I claim this offer? Claim your two-month free trial by reaching out to SpyFu's support team at support@spyfu.com or via live chat on their site (click the chat icon in the lower right-hand corner). Go here for more details on the offer.
Hootsuite: Free social media management until July 1
Managing your brand's social media accounts can be an administrative nightmare. If you don't use a social management platform, you have to log on to each account to create and publish posts. And if you want to pull performance insights, you have to export results from each platform and compile the data yourself.

Minimize the tedious work by using social media management tool Hootsuite. It lets you complete all of these social media tasks for up to 10 social accounts across Facebook, Instagram, Twitter, LinkedIn, Pinterest, and YouTube. And right now, Hootsuite is offering its Professional plan for free to small businesses in affected industries until July 1.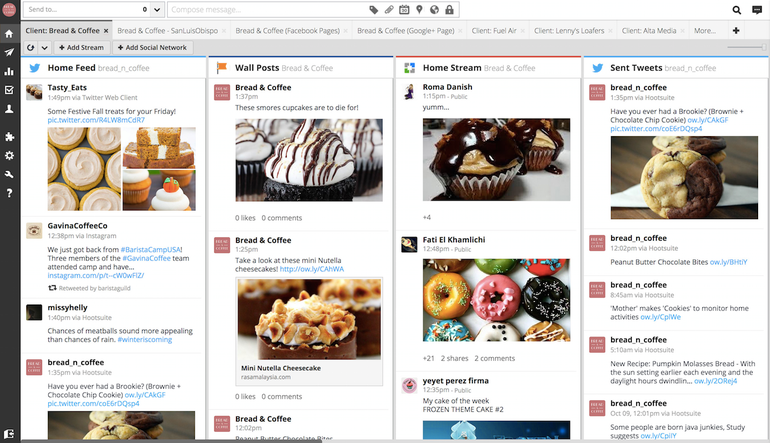 [Source]
Once you start using Hootsuite, you may find it hard to give up. Instead of spending hours signing onto multiple accounts, you can create and schedule all of your social content from one platform in minutes. And you can see an overview of your brand's performance metrics for each platform on a single page.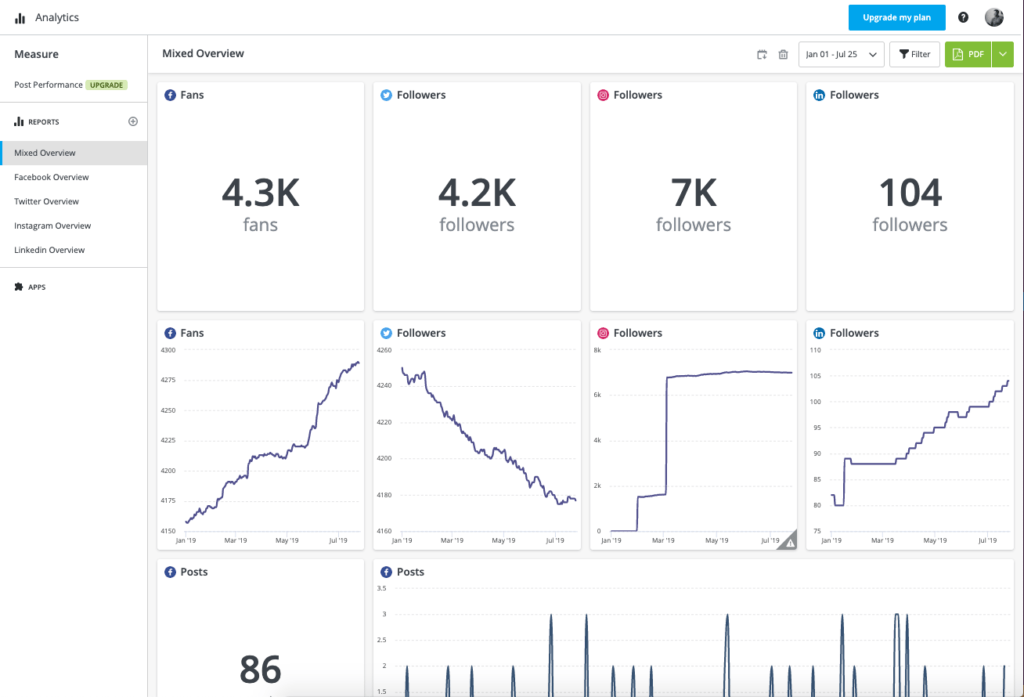 [Source]
To learn more about the tool's features, check out this free introductory course from Hootsuite Academy.

How do I claim this offer? Follow these instructions to set up an account. If you want instant access, you'll need to submit your credit card information (though you won't be billed or required to set up auto-renewal). If you aren't able to submit credit card information, fill out the application on the page to request access.
Freshchat: 6-month free trial for chat software
Chat boxes in online stores may have been novel a few years ago, but now they're a driving factor for orders. According to Forrester Research, people are 2.8 times more likely to make a purchase if they use an online store's chat feature.

But for small businesses, hiring staff to monitor live chat tools 24/7 often isn't feasible, especially right now. An AI-driven chat platform, Freshchat lets you reach customers across multiple messaging platforms—WhatsApp, Messenger, and more. And for the next six months, the tool will be free for businesses with fewer than 50 employees.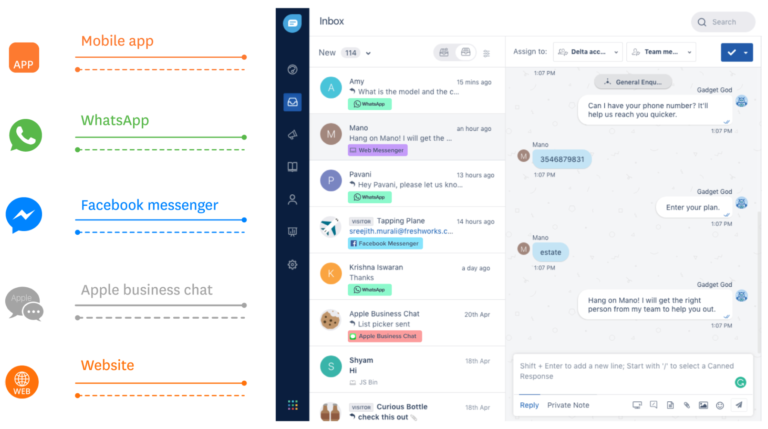 [Source]
Use Freshchat to set up chatbots that automatically collect necessary information from shoppers who are online when you're not. Then your team can follow up.

How do the bots know what to say? You design the conversations based on commonly asked questions. The bot can also start a conversation with a shopper based on conditions you set. Say a shopper visits a page about your latest sale. Your bot could be prompted to send the site visitor a chat message to remind them about the promotion.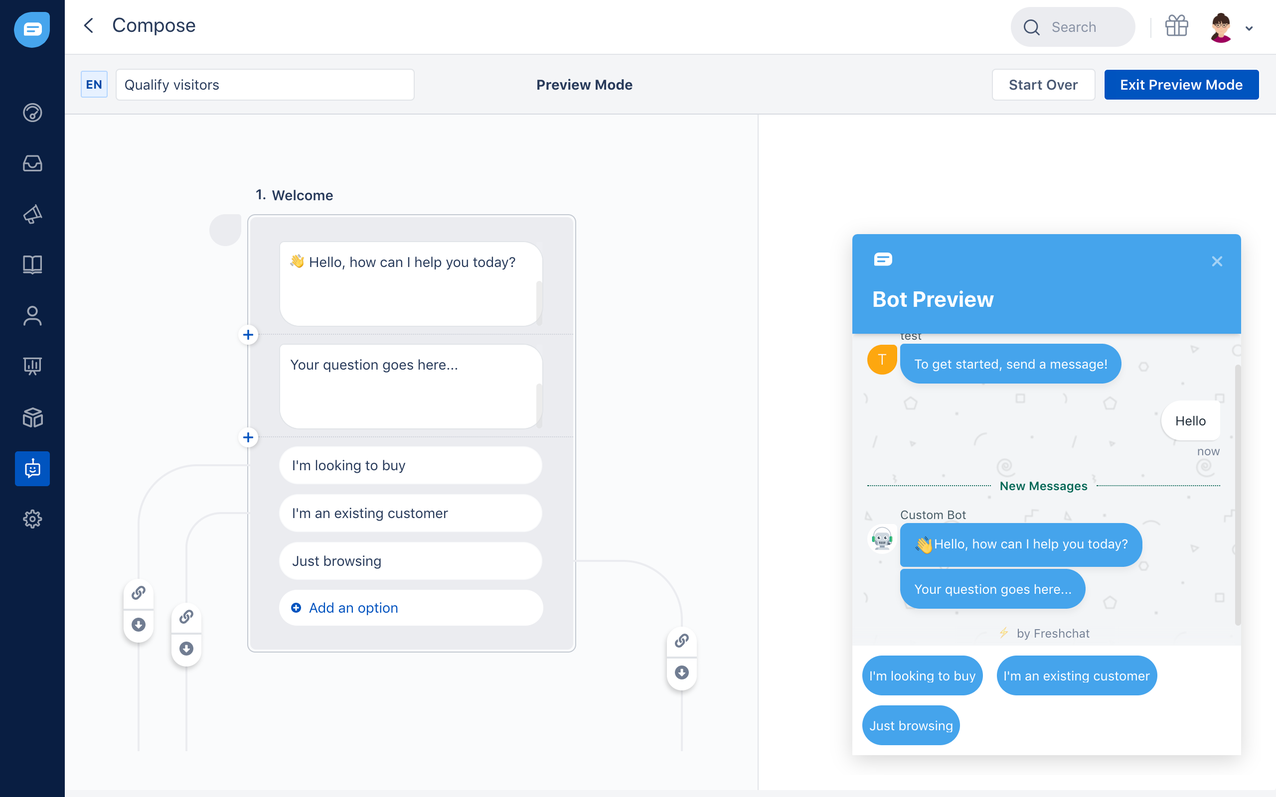 [Source]
It all may sound intimidating if you've never set up a chatbot before. Don't worry! Freshchat is designed for all types of users. And to make it easy to get started, they have a free Freshchat Admin Fundamentals course to guide you along the way.

How do I claim this offer? Click "Create Your Account" on this page, and you'll be directed to a lower section of the page where you can click to start your free six-month trial.
Aimtell: 6-month free trial for push notification software
When a shopper reaches your online store, you don't have much time to make an impression. According to Salesforce, the average shopping visit lasts just four minutes. To keep people engaged, it helps to mimic the personalized experience of a brick-and-mortar shop—showing repeat customers items they might like, welcoming new shoppers with a discount, and so on.

Push notifications are a powerful way to create those individualized interactions. Based on store visitors' actions, you send them messages about ways to improve their shopping experience. Create these messages for your site with the web push notification software Aimtell, which is free for the next six months.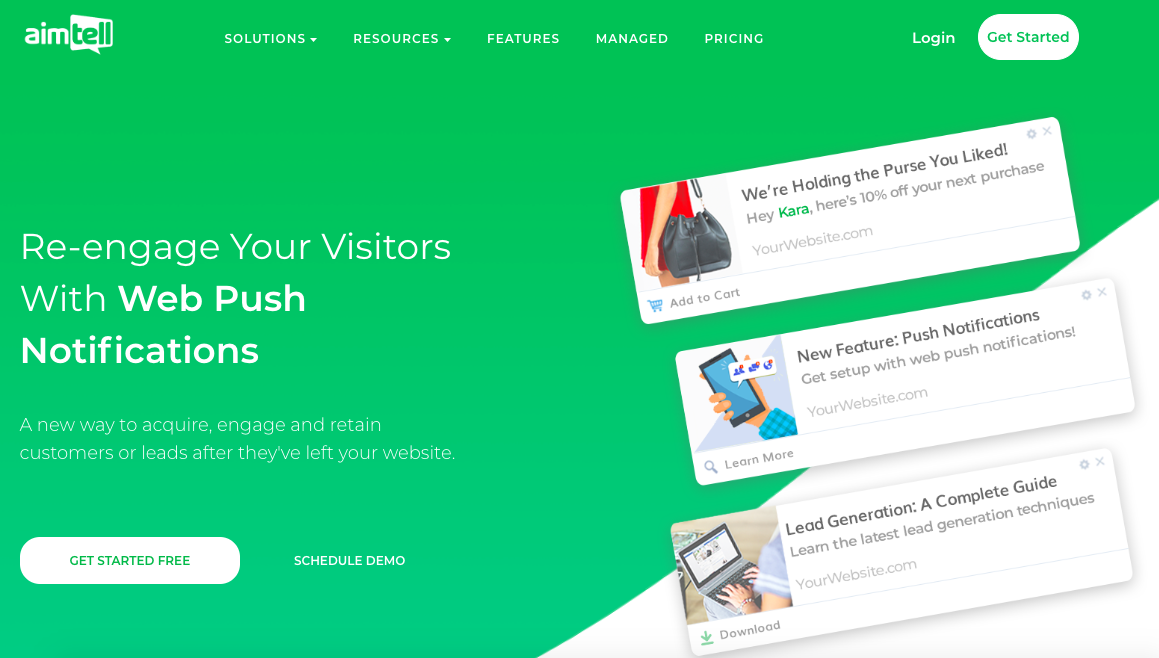 [Source]
Aimtell lets you set up personalized push notifications based on shopper behavior. Did a site visitor recently view a product in your store? Build a notification to show them a discount code for that item on their next visit. Or, you could set a notification to appear for shoppers with abandoned carts that reminds them of the items they left.

To help you track your push campaigns, Aimtell automatically creates reports on your notifications' conversion rates. Based on this data, you can evaluate which notifications are resonating with shoppers (and which aren't) to guide the creation of your next campaign.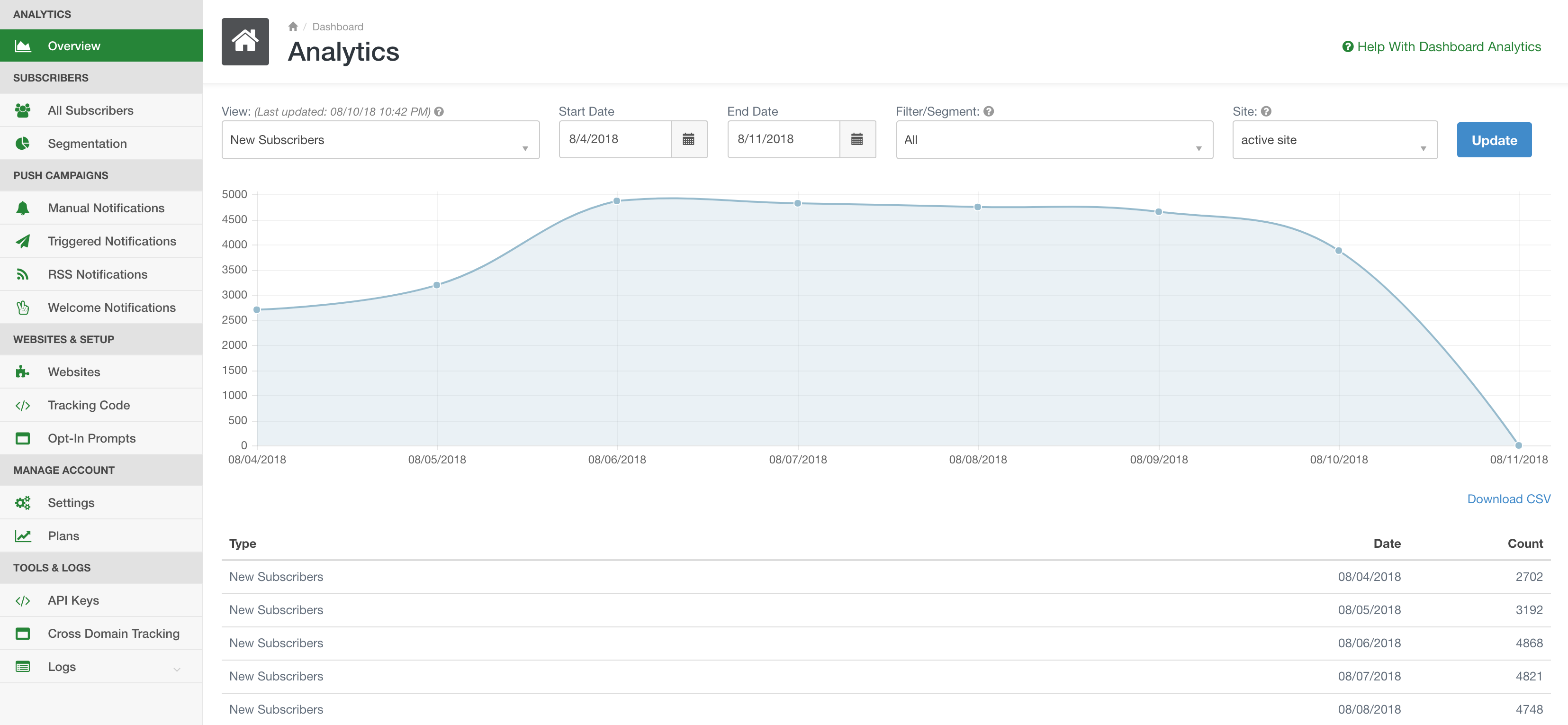 [Source]
If you're new to web push notifications, start by reading two of Aimtell's resources: The Beginner's Guide to Website Push Notifications and Web Push Notifications: Retail and Ecommerce. Once you've read these resources, move on to the The Beginner's Guide to Aimtell to learn the ins and outs of the tool.

How do I claim this offer? Click "Get Started" on this page to set up a free account for the next six months.
Educational resources
We all have more free time on our hands now that we're stuck inside. So why not sharpen your marketing skills with these free classes? Many of the courses are typically pricey, so take advantage of them while they're free and build your knowledge.
Whether you're new to search or an SEO whiz, any marketer can learn a ton from Moz Academy's courses. They cover a variety of SEO skills, from basic keyword research to conducting a technical SEO audit.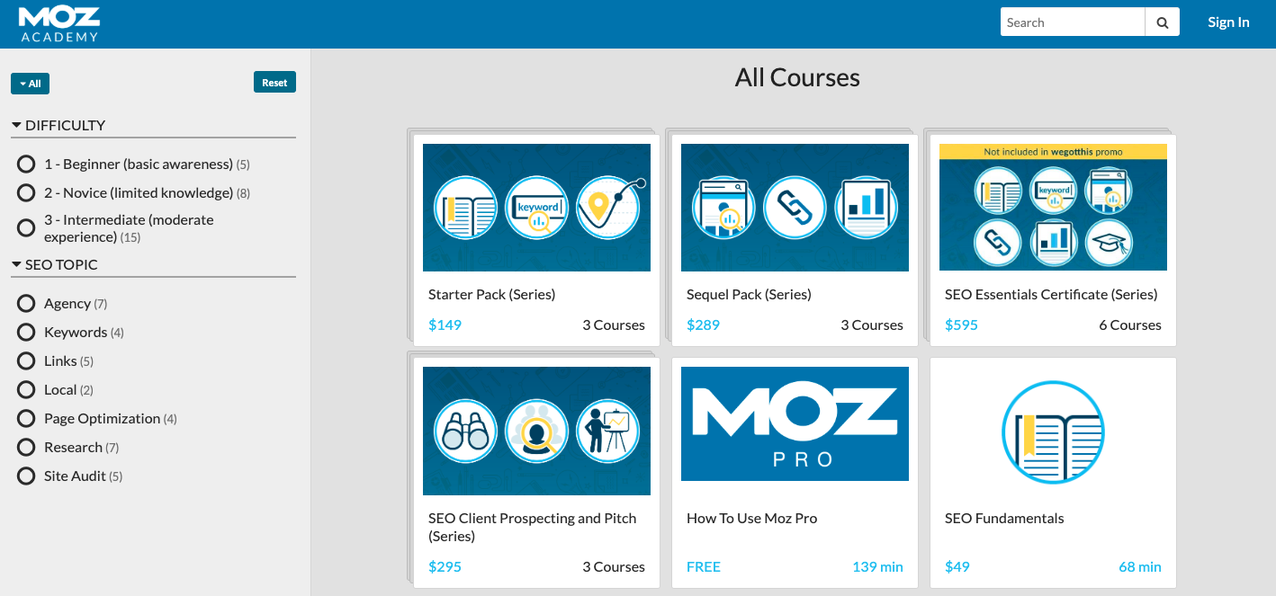 [Source]
The courses are normally $49 to $199 each, but they're currently free until May 31. Out of the 13 classes to choose from, these are our favorites:
Starter Pack: A set of three introductory courses covering the basics of SEO. You'll learn how to analyze search engine result pages, identify search intent, collect and organize keyword research, and more. Altogether, the starter pack should take roughly 4.5 hours to complete.
Sequel Pack: These three courses will take you beyond the basics of SEO and teach you how to improve content performance. You'll learn how to optimize pages for conversions, form a link-building strategy, and report on your SEO efforts. Plan to spend around four hours on these courses.
Technical SEO Site Audit: Sometimes, it's your site performance, not your keywords, that causes SEO issues. Learn how to identify and solve these technical site issues in this two-hour course.
If you have any questions while you're learning, join the Moz Q&A Forum to talk with other learners. You will need Moz Pro to access the forum, but you can always sign up for a free 30-day trial to get temporary access.

And if you want to keep learning about SEO after May 31, check out Moz' YouTube channel. With years' worth of whiteboard videos, it's one of the best free resources for educational SEO content.

How do I claim this offer? Click "Purchase" on any of the course pages and use the promo code "wegotthis."
Skillshare: 2 free months of unlimited classes
Instead of diving into one subject area, you may be more interested in learning about multiple marketing topics. If that sounds like you, check out the online learning site Skillshare. Its marketing classes cover a wide range of subjects, from design to social media. Right now, Skillshare is offering two months of free unlimited access to courses.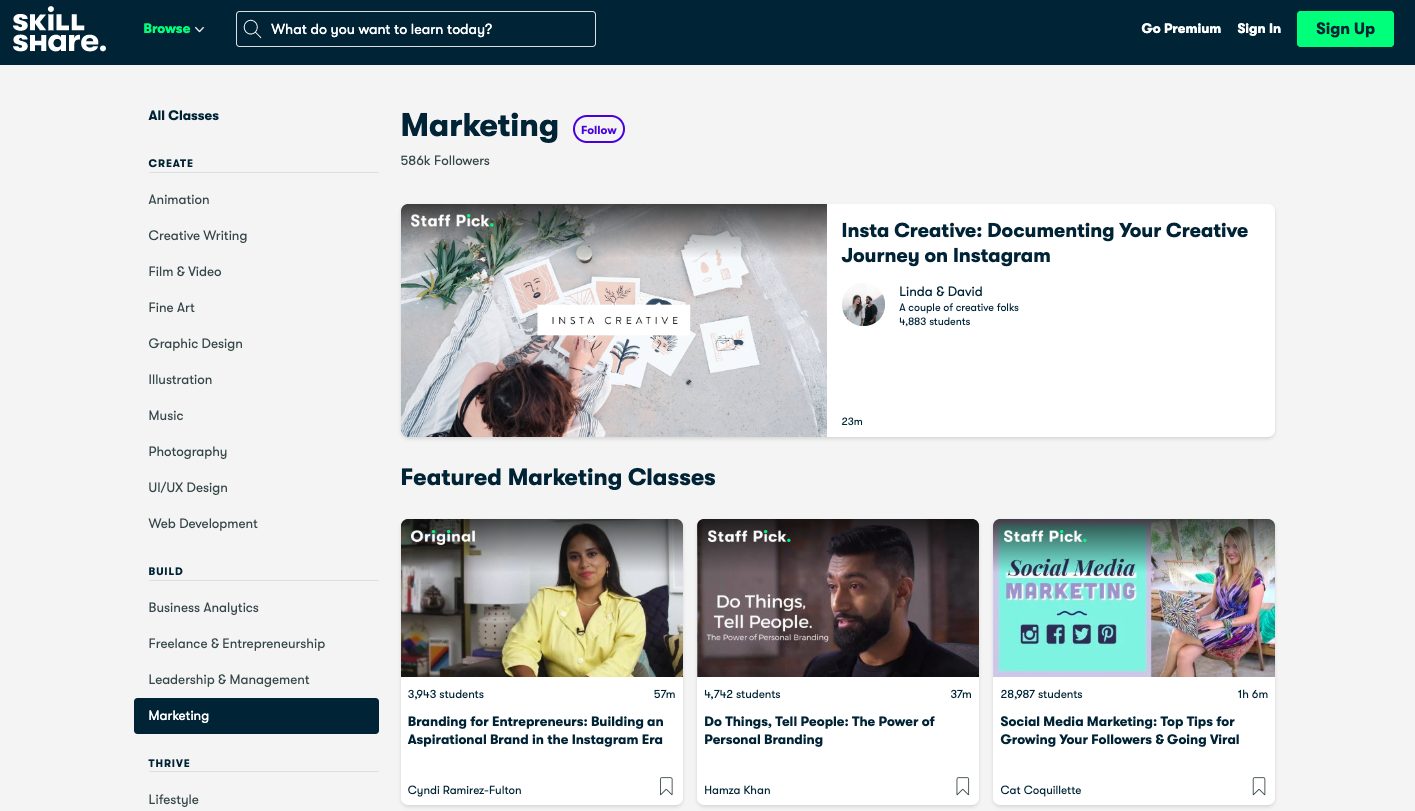 [Source]
For those hoping to strengthen their company's online presence, Skillshare has plenty of classes on branding and social media marketing. One course, called Context is Key, covers how to build a solid social media strategy, and it's had over 38K students.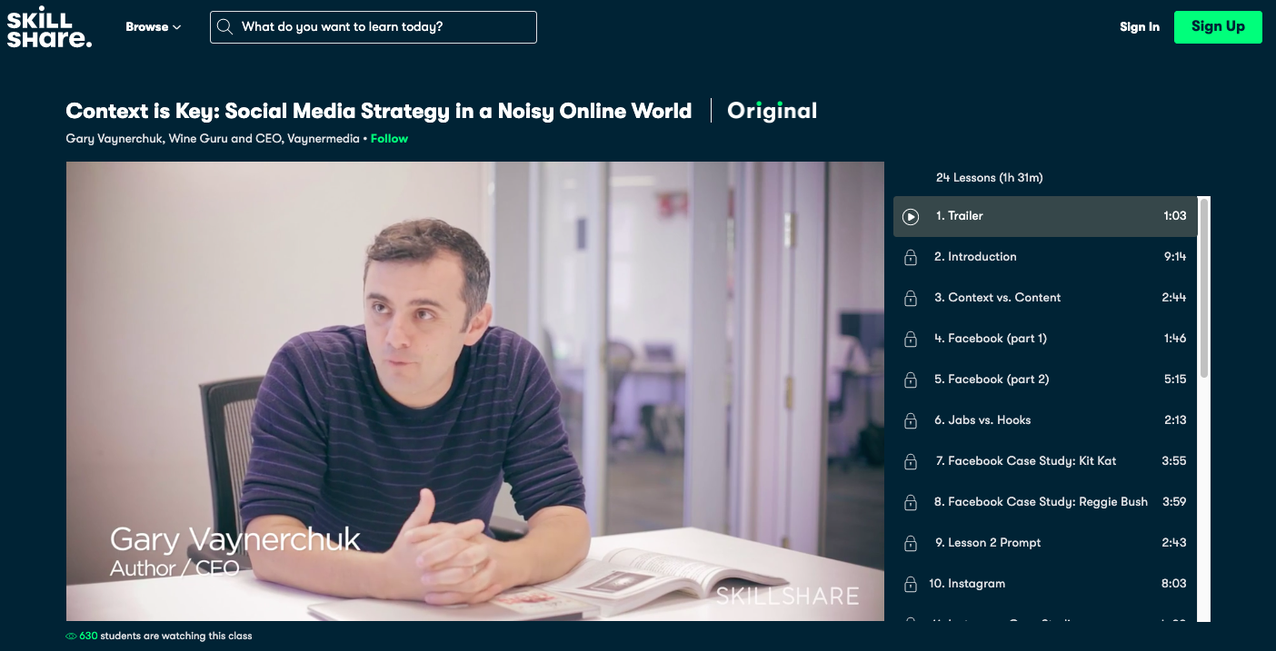 [Source]
Other popular class topics include SEO, storytelling for marketers, and copywriting. Each class typically takes about 1.5 hours to complete.

To retain what you learn in these courses, consider contributing to the "Discussion" section of the class page. There, you can ask the instructor and other students questions or share observations about what you're learning.

How do I claim this offer? Sign up for two free months by creating an account on this page.
Ahrefs: Free blogging for business course
To encourage people to stay at home, the SEO tool Ahrefs announced on Twitter that their five-hour Blogging for Business course would now be free. The tweet received 64 comments (mostly people saying thanks), 521 retweets, and 1.3K likes.

It's no wonder people got excited: The course is usually $799, and content marketers rave about it.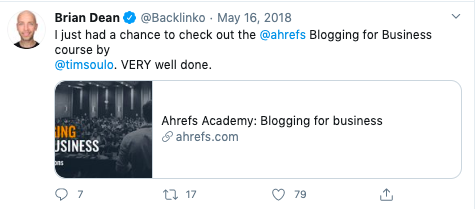 SEO expert Brian Dean of Backlinko shares positive feedback about Ahref's Blogging for Business course. [Source]
Ahref's course teaches many SEO tactics, like Moz's classes, but it also offers broader content marketing lessons. The class begins with an explanation of why growing a blog is worthwhile for businesses. Later on, students learn how to form content ideas based on keyword research, along with promotion strategies.

To get the most value out of Blogging for Business, you'll need a keyword research tool. If you're willing to pay, Ahref's tool is one of the best on the market (and the course is designed around using it). If you don't want to pay, you can always apply the course's lessons to one of these free keyword research tools.

How do I claim this offer? Click "Start" on this page.
For the last six years, the Content Marketing Conference (CMC) has been hosted in Boston in the spring. The 2020 conference was canceled due to COVID-19. However, the event organizers still found a way to give back to their community—by turning CMC 2020 into a free digital experience, as well as making past conference resources available.

After signing up for a CMC Academy account, you'll have free access to the first day of the conference, April 21. Check out the agenda and register for as many sessions as you want. If you're not sure whether you can make an event, no worries! Just click the star icon next to the session, and CMC will save the event in your "My Interests" column on the "Agenda" page.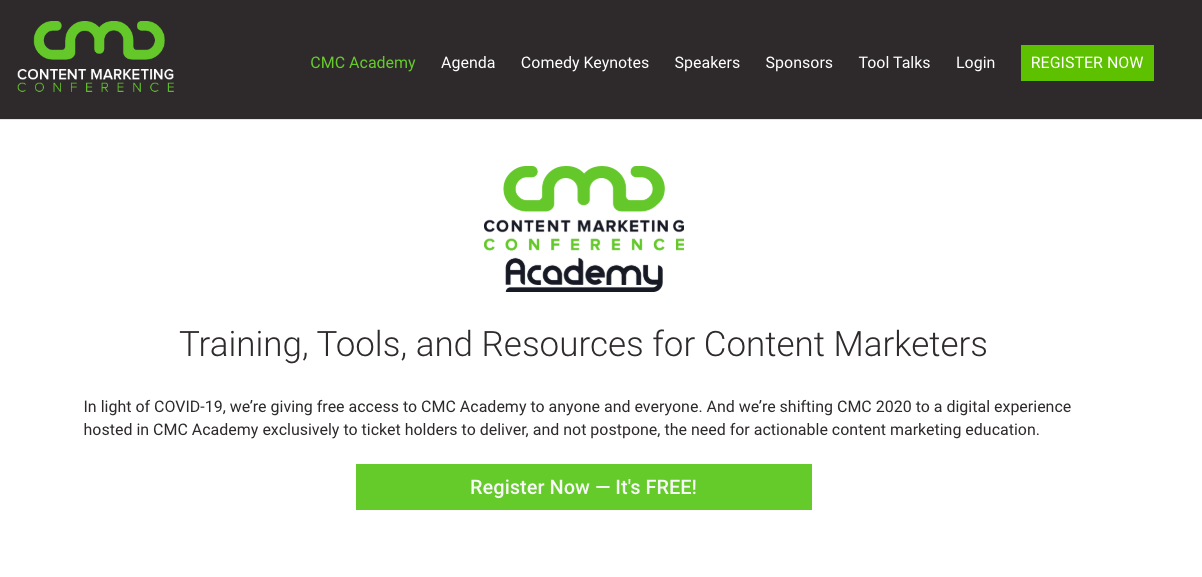 [Source]
Along with access to the 2020 event, CMC is sharing $12K worth of resources from their 2017, 2018, and 2019 conferences for free:
117 session recordings, decks, and transcriptions
40 keynote recordings and transcriptions
12 workshop decks and transcriptions
To top it all off, CMC is making several extra resources available: books, podcasts, templates, content plans, and more. The amount of free stuff they're giving away is ridiculous (in a good way), so be sure to take advantage of the offer by signing up for CMC Academy.

How do I claim this offer? Click "Register Now" on this page, and you'll be prompted to enter your name, company name, and email address.
Community resources
In the midst of social distancing, it's easy to forget that you're not alone in your business struggles. There are plenty of other ecommerce brands just like yours facing challenges due to COVID-19. Find solidarity and potential solutions by joining these online communities of ecommerce store owners and marketers.
If you're seeing less online store traffic than normal, you're not the only one. Many shoppers have cut down their online shopping due to the financial strains that have come with this virus. With that said, there are still consumers out there with disposable income who want to help small businesses. Our team made it easy for people to discover those stores with A Call to Shop Small—a searchable online directory where you can find over 2,300 ecommerce stores to shop from.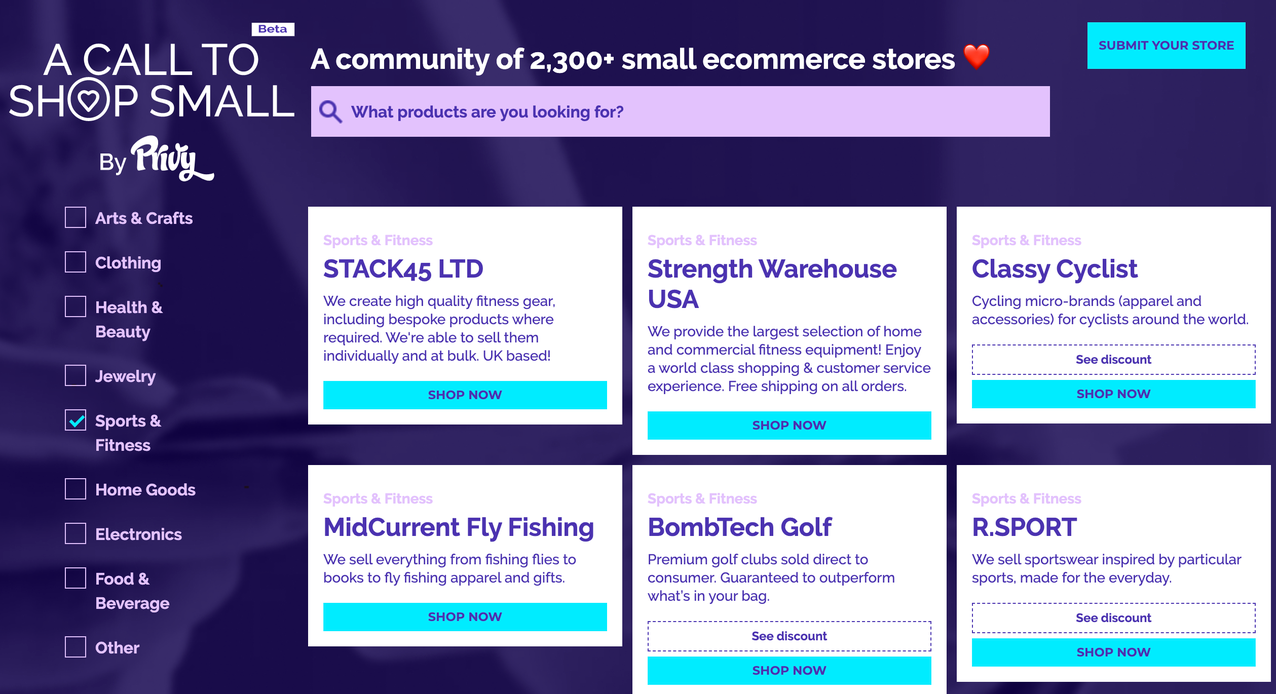 [Source]
If you feel like your store would be a good fit here, we would love for you to submit your business here. And don't forget to use the directory for your own shopping! The "Food & Beverage" and "Health & Beauty" categories are especially useful right now for stocking up on necessities.

How do I use this resource? Click this link to submit your store to the directory.
Whether you're looking for COVID-19 business resources or other entrepreneurs to bounce ideas off of, GoDaddy's OpenWeStand (OWS) site is the place to be.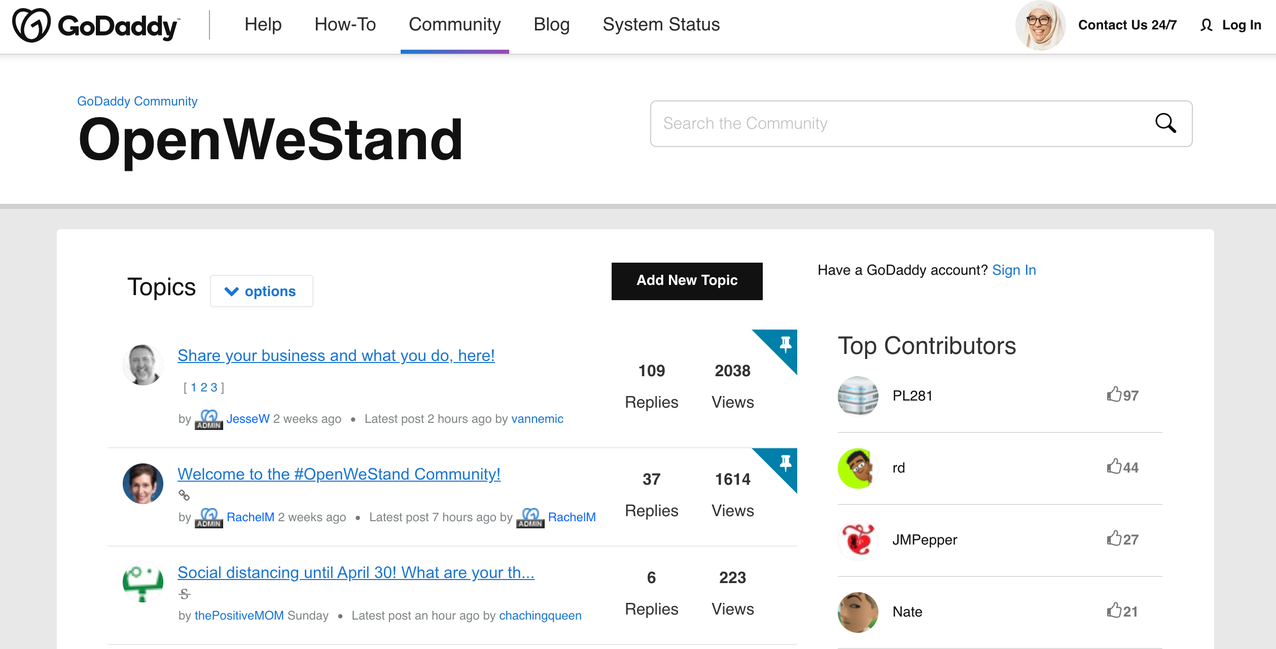 [Source]
There are a number of resources on the site to help small businesses stay as healthy as possible during COVID-19:
Other than the OWS initiative, GoDaddy is offering free website creation services for small businesses to launch and run a site with 24/7 support.
"We love everyday entrepreneurs, and in times like these, we're going to prove it."

– Aman Bhutani, GoDaddy CEO.
How do I use these resources? Visit the OpenWeStand site here. For the free website service, claim the offer at the bottom of this page.
Bolster your marketing with these free tools
Just because business is slowing down doesn't mean your marketing should come to a halt, too. Use the free tools on this list to strengthen your lead generation, build your marketing knowledge, and connect with other ecommerce brands. If you dedicate time to these resources now, you'll be ready to connect with customers when they're ready to make purchases again.
Subscribe for Updates
Get our best content on ecommerce marketing in your inbox 2 times a week.
Written by Lauren Hall
Lauren is a Brand Marketing Associate at Privy. She's the brains behind all things content. When she's offline, she's obsessing over her Bernedoodle pup, Monster, and plotting ways to being a full-time Vermonter ASAP.
Subscribe for Updates
Get our best content on ecommerce marketing in your inbox 2 times a week.