2021: A Year In Review
As 2021 comes to close, we wanted to share some things we learned from you this year.
You're ambitious.
You knew getting back on your feet after 2020 was going to be a big job, but you did it. In 2021, you and 700,000 other Privy customers delivered:
Don't just take it from us.
Watch Tony walk you through your accomplishments in 2021:
You're resourceful.
You've read our content and used our resources to grow your business. Throughout the year, our team has seen: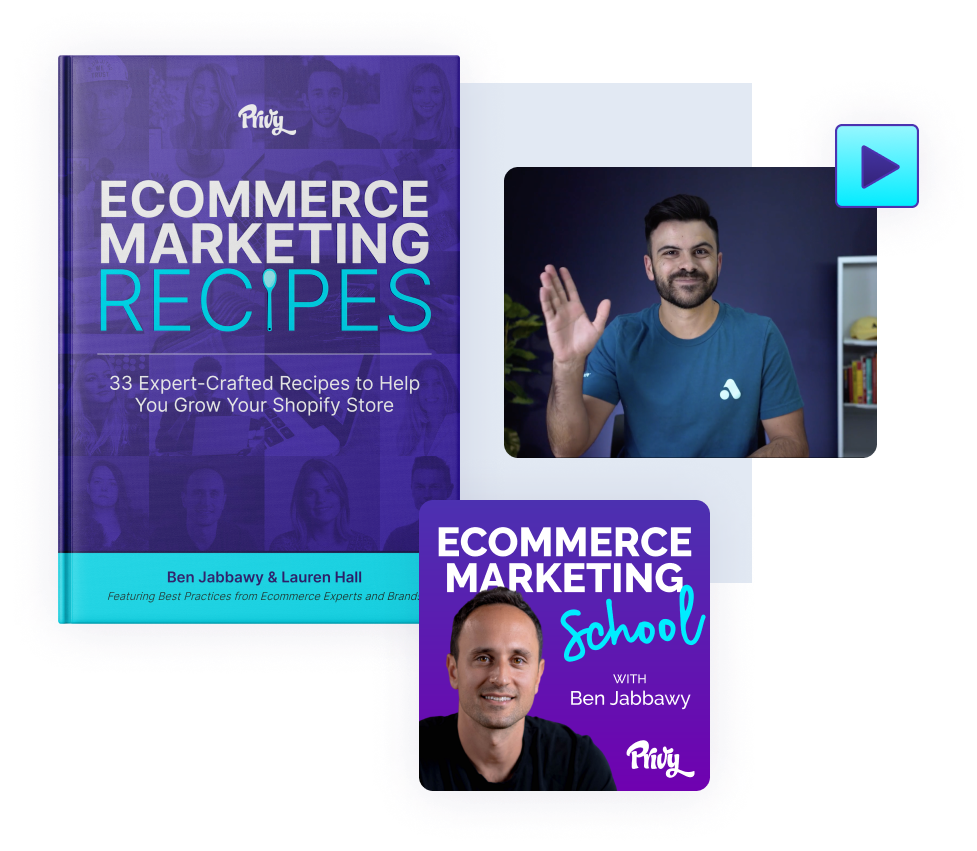 You're bold.
When you want something, you go for it. And when you asked for product features, you got them. Here are your favorite product releases from 2021:
You're the best.
You love giving us feedback, and we love to hear it. Here are your best thoughts from 2021:
"I've never had an actively growing email list like this, and I love seeing new subscribers come through every day without lifting a finger."
"I'm going through a big shift in my business and Privy helped make marketing the easiest part of the transition."
"Our experience with Privy has been perfect. Onboarding and training is top-notch. Bravo to the Privy team!"
"Great app and excellent onboarding and support that is a huge help with conversions and email. We were up and running fast and are looking forward to seeing the benefits on our store."
"We could not have this without you all. I mean, from the bottom of my heart, it's been an unbelievable experience with you guys."
"The support is incredible, and offers so many tips in marketing and potential customer retention! I recommend to anyone who is starting off in their business and is in need of help knowing how to expand their reach in email and text marketing."
"We will not hesitate to contact Privy for more help. We highly recommend Privy to everyone. We absolutely love Privy! Thank You!"
"Great app! Easy to use and set up and I love all the tips and help they share with us to help us boost our sales. Plus you can't beat their customer service! Highly recommend this app to any small business owner looking to grow their list."
"Amazing support with this app, I highly recommend using this. We have had some great results in a very short time. Thank you Privy Team!"
Here's what our customers are saying:
So here's to you. We can't wait to help you drive sales in 2022. Check out our guide below to get started:
100 Ways to Grow Your Shopify Store
There's no way around it. 2021 has been WILD.

But there has never been a better time to be in ecommerce. And we couldn't be more thankful for that. So we put together this guide with all the best content from the entire year as a way to thank you.

Because you're busy enough as it is. You shouldn't have to scroll endlessly through dozens of podcast episodes or page after page of blog posts and masterclasses to find exactly what you're looking for. That's what this guide is for. And it's packed with examples and tips to help you make 2022 your biggest and best year ever.
Get 100 Growth Tips Now
Sign up today to take advantage of our biggest offer ever.
After you sign up, you'll chat with your dedicated coach, unlock your unlimited access, and attend training.
Trusted by Top Companies